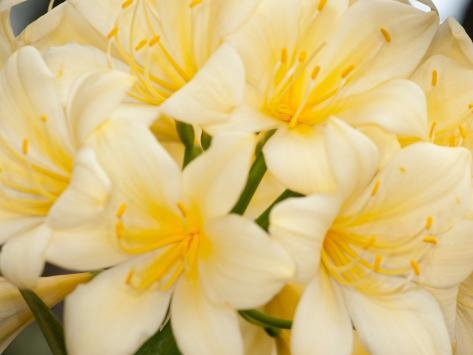 Longwood Gardens is releasing its second named clivia on March 17 when the North American Clivia Society holds its International Symposium and Show at Longwood Gardens. Clivia enthusiasts from around the U.S. will be in attendance when 'Longwood Fireworks' makes her debut. 'Longwood Fireworks' will be on display throughout the weekend.
'Longwood Fireworks' boasts a burst of yellow flowers above the foliage. The petals of the florets are reflexed and curve backward and form a round, full 9-inch umbel, creating an impressive floral display. Clivia 'Longwood Fireworks' won multiple awards at Clivia shows in 2010 and 2011 as an unnamed seedling.
Longwood began its breeding program in 1976, when clivias were commonly orange. The yellow clivia existing at the time were rare but not impressive, so Longwood decided to initiate a breeding program to produce a superior yellow clivia. One factor that slowed the program was the extended period of time that it takes for a clivia seedling to mature. Seedlings can take up to eight years to bloom from the time the seed is planted.
This is the second in a series of Longwood clivia cultivars expected to be released in the next five years. The first, 'Longwood Debutante' debuted in March 2011.
Beginning March 17, Longwood will offer a limited number of the rare 'Longwood Fireworks' for sale. Available in The GardenShop at Longwood, 'Longwood Fireworks' will sell for $899.
Guests can enjoy the North American Clivia Society Show March 17 & 18 in the Conservatory. The show is free with Gardens admission of $18 for adults; $15 for seniors (62 and older); $8 for ages 5-18 or with valid student ID, and free for ages 4 and under.