The largest project in our Gardens' history begins as we restore and renovate our beloved Main Fountain Garden.
New Heights Project Exhibit
Now Open
Free with Gardens Admission
Uncover the history and vision behind New Heights: The Fountain Revitalization Project. Located on the Conservatory Terrace, this open air exhibit overlooks the project site and explores the rich history, cutting-edge technology, inspiring horticulture, and amazing architecture that bring new life to our beloved Main Fountain Garden. Follow the largest project in our history as we preserve the vision of our founder, Pierre S. du Pont, and elevate one of Longwood's most significant Gardens to new heights.
As steward of one of the world's great fountain gardens, our aim is to protect and preserve this invaluable piece of Longwood's heritage built by our founder, Pierre S. du Pont. Since its debut in 1931, it has been in continual use and is in desperate need of this restoration and repair. This exciting project will focus on:
Honoring Our Legacy
Founder Pierre S. du Pont first turned on the fountains in 1931 after spending 20 years designing and building them
Old World Charm and 21st Century Technology
Architecture, restoration, and sensitive new design features are central to this project
A True Engineer's Garden
10,000 gallons of water circulated per minute; 100s of jets, pumps, nozzles; 1000s of lights, and more
Garden Design
Harkening back to a European aesthetic, which was Mr. du Pont's original intention
The Fountains
Reaching new heights, preserving legacy fountains, extending the season, with innovative and exciting new features
An Extraordinary Experience
Immersive, welcoming, with more seating and access to all 5 acres, enhanced lighting, expansive pathways
Our Main Fountain Garden inspires and delights all who experience its magic. In 2017 the jets will shoot higher, the lights will shimmer brighter, and the fountains will continue to enchant our guests.
Stay Connected
As the project progresses, there will be special programs, exhibits, tours, and opportunities for you to learn more about the experts and artisans involved in this important endeavor. In addition, we are planning new awe-inspiring experiences so that Longwood remains a world apart for you.
Sneak Peek
 Take a closer look at views of the Main Fountain Garden, paired with artist's renderings of the refreshed garden.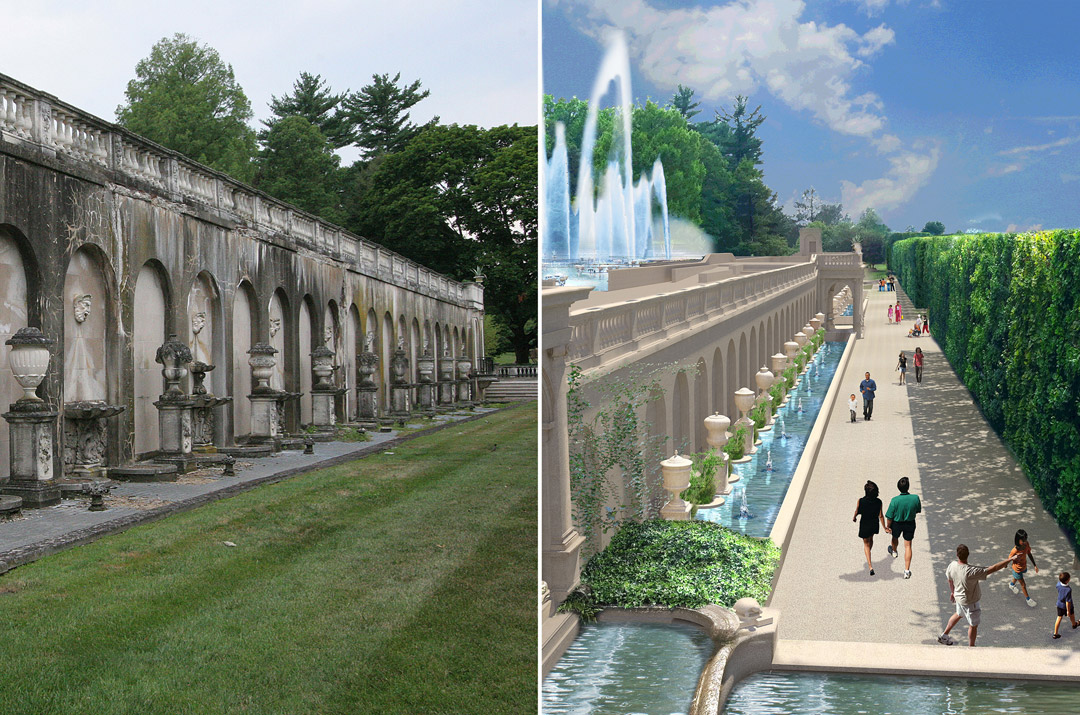 Upcoming Events
April 27 & May 4, 11:00 am & 1:00 pm
May 7 & November 5, 6:30–8:00 pm