Purr-fect Partners
March 18, 2009
Every March Dr. Tonya Nowell of Keystone Animal Hospital in Oxford PA makes the trip out to Longwood to administer an occupational health exam and give booster vaccinations. This year, thanks to the cooperation of all the human caretakers, and most of the cats, the good doctor, and her assistant Amy, checked out all 11 cats in record time.
Vincenzo almost succeeded in evading capture, but Dr. Nowell got down low, with cat treats in her hand and speaking soft and sweet like the cat whisperer, she won Vincenzo's trust; just before breaking it with a handful of vaccination shots. Nearly all the cats received a clean bill of health, though Smokey and Noel showed signs which require further monitoring. The tissue inside Smokey's eyelids too pale which the doctor said may indicate a chronic condition. Noel has lost some weight and did not enjoy having her abdomen squeezed by the veterinarian (I wouldn't either). Some cats are a little afraid of the doctor and require corralling, others like Belin purr through the whole affair.
Get to know Longwood's Rodent Control Task Force:
Belin
guardian of the historic Peirce-du Pont house, has a name with historic origins; "Belin" (pronounced BEE-lin) is Ms. Alice du Pont's maiden name. Belin is probably Longwood's most famous feline; however he has very humble origins. Rescued from a dumpster at The Terrace Restaurant in 2004, at first he was covered with grease and very afraid of people. Nowadays, Belin can't get enough human attention and he works closely with Longwood's guest service representatives, as an ambassador to the thousands who visit the House each year. One of his favorite spots is curled up on a chair in the Peirce-du Pont house conservatory.
Rebar
the tiny black and white Major Domo of the Hillside Garden, is one of Longwood's most senior felines. She grudgingly shares this space with other cats that need to be held temporarily in the two "Cat Hospitals". She is named after the steel metal rods often used as plant stakes, a material which she is every bit as tough as! One of Rebar's favorite games if playing chicken with the garden vehicles every morning as someone arrives to get her breakfast.
Kousa
looks a bit like a cross between a cat and a polar bear. She is large and white, and hibernates for most of the colder months inside the Carriage Shed on the eastern side of the garden. She is also stone-deaf, which means she isn't perturbed by all the noisy machinery in her area, where mulch and soil and debris are routinely being dropped off and picked up.
Smokey and Noel
are the lucky pair who inhabit the Idea Garden shop on the western side of the garden. Their home just happens to be the shop closest to the largest catnip patch on the property, which may explain their happy and affectionate personalities. Given a choice between a person and food, Smokey would choose the person every time. Noel is a foul weather friend; the colder it gets the more she wants to be on your lap. In the winter she sometimes sneaks into the conservatory where I have spotted her curled up happily next to seated guests.
Missy
lives with the arborists at Webb Barn east of the garden. She is a little calico with a license to kill. She takes her rodent catching duties far more seriously than most of Longwood's other cats, often leaving gifts for her caretaker. No prey is too fast or cunning for Missy. If only she were a bit bigger, she might play a role in deer population control. She keeps mostly to herself and gets her work done.

Smitty and Jojo are the sisters who patrol the nursery. Jojo is black with a white bib, stomach and toes. Smitty is nearly all black, with white only on her stomach. They show occasional sisterly affection toward one another, stopping to bump noses now and then, but usually stick to their own turf. Jojo spends much of her time in the area around the barns and tenant houses. Smitty loves people and hangs out in and around the nursery greenhouses.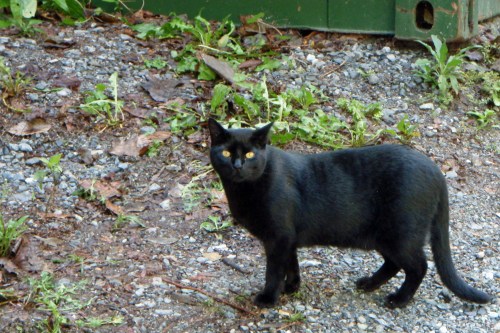 Spooky and Vincenzo
share a cozy little heated hut nearby the Terrace Restaurant. Their close friendship goes to show that opposites really do attract. Their appearances and personalities could not be more different. Vincenzo's long grey fur sports the just-rolled-out-of-bed look; while Spooky's sleek black coat can outshine any other cat in the garden. As for their personalities, "Spooky" is anything but Spooky; this charming Terrace Restaurant greeter has won the hearts of many guests. Vincenzo-more appropriately "VincenzA"- was originally discovered behind the Italian Water Garden and was named in part for her tough demeanor, but she is in actuality super shy. When Spooky occasionally goes exploring on his own, Vincenzo cries and cries for her missing friend.
Iggy
usually hangs out around Flower Garden Walk. He has a black coat with a white face, chest and boots; but don't let the tuxedo fool you, with a neurotic personality and a gift for getting into trouble, he more than lives up to his namesake--Iggy Pop. If he wants your attention he's not afraid to open his mouth and ask for it. His high-jinx include getting himself locked in a woman's bathroom, and caught in a have-a-heart trap set for capturing skunks.