Internship Areas
Each intern specializes in one of 15 internship areas.
Internship opportunities are 3 or 12 months with some areas of specialization only being offered for 12 months. 
For more information on specific internships, please contact:
Office of Domestic & International Studies
Email: edu-studies@longwoodgardens.org
Phone: 610.388.5401
Arboriculture
The Arboriculture Intern will "learn the ropes" in an unparalleled garden setting with a strong history of tree preservation and more than 90 Champion Trees!
This internship focuses on teaching skills necessary to excel in the modern work environment by providing hands-on learning opportunities. Students will explore tree biology and health, pruning, rigging, climbing techniques, tree support systems and workplace safety. Every student will start out as a ground person but skill and knowledge development is limited only by the motivation of the individual. Interns will gain experience with equipment such as chainsaws, chippers, stump grinders and aerial lifts while working with a progressive team of Arborists using the latest climbing techniques. Three month internships are available, however, a 12 month internship will prepare a motivated student for the Arborist Certification Exam given by the International Society of Arboriculture (other criteria must be satisfied to take the exam). During a 12 month internship, students will gain exposure to all material covered by the Certification Exam as they work with our Arborists, Nursery, IPM and Soils and Compost staff. Fall interns will also participate in setting up Longwood Gardens' renowned Christmas Light display. Good communication skills are extremely important and experience in Arboriculture, Urban Forestry or a related field is preferred. Applicants should be in good physical condition and capable of sustained physical labor in all weather conditions.
This is a 3 or 12 month internship. 
Plant Records Management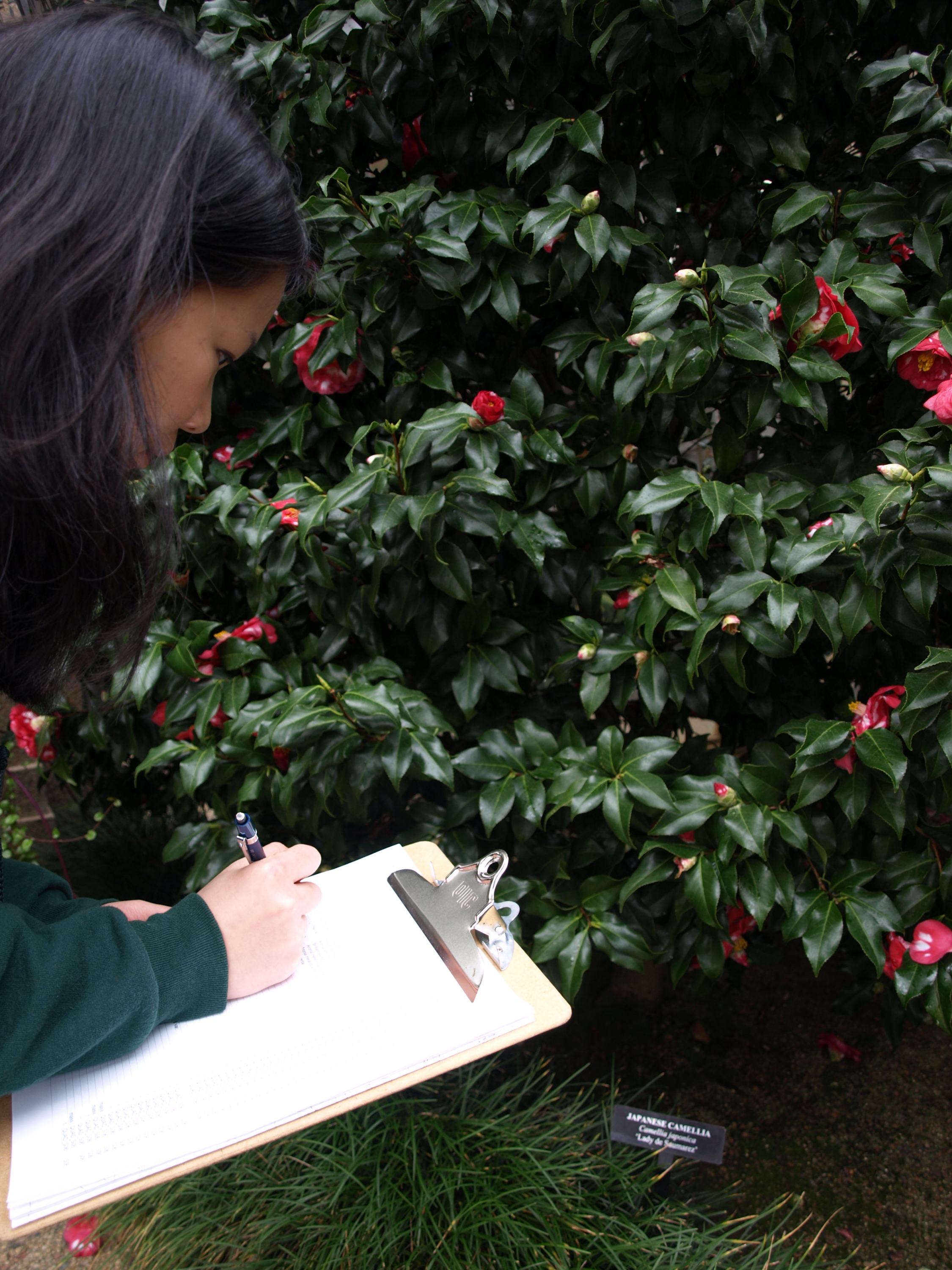 The Plant Records Management Intern works closely with the Plant Records Manager to learn the methods and techniques applied in maintaining plant records at a public garden.
Specific experiences include: accessioning, verifying plant nomenclature, inventorying, and producing plant records reports, utilizing the database BG-BASE; labeling, both producing educational labels for visitors and accession labels for staff; and mapping with a GPS and maintaining digital maps, utilizing the database BG-Map. The intern will develop a thorough understanding of the principles of plant nomenclature and gain familiarity with a wide variety of publications and other information resources, including archival files. A variety of computer skills and familiarity with plant identification, willingness to work independently and in adverse weather conditions, and a valid driver's license are required.
This is a 12 month internship.
Display Design
The Display Design Intern works closely with the Display Specialist on design projects in an effort to learn the process of implementing permanent and seasonal displays from concept to construction.
Duties include evaluating the effectiveness of current displays and assisting with drafting projects, presentation drawings, field note taking, and site measuring. The internship involves taking leadership roles with individual design projects as well as active roles in the staging and installation of indoor and outdoor designs.  Other duties include assisting with research for design and display development, taking part in presentations to various committees, and assisting with Christmas display design and implementation. The individual should possess a strong desire to learn and a high degree of self motivation. Excellent hand drafting and communication skills, willingness to work independently, and willingness to work outdoors are required. Experience with surveying, computer design programs and GIS are preferred, but not necessary. This position is ideal for a student in landscape architecture, landscape design, or architecture who has a strong interest in horticulture. A portfolio of 5 samples of creative work must accompany the application. 
This is a 12 month internship.  
Education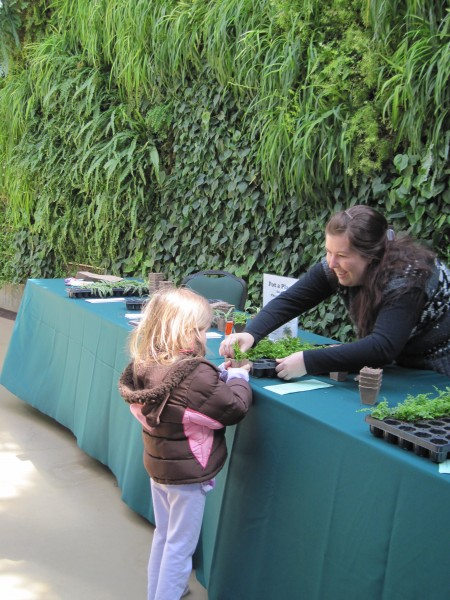 The Education Intern will collaborate with Longwood Gardens' various educational divisions to create dynamic and innovative educational programming for learners of all ages, especially School & Youth.
In this unique opportunity, the intern will gain a complete perspective of public gardens education by being immersed in Longwood's educational programming. The intern will assist with onsite and online curricular programming including school trips, summer camps, Scout days, student volunteers, interactive video conferencing programs, and teacher professional development. Tasks vary from day-to-day and are, generally, project based. Occasionally, the intern will assist other educational divisions, such International & Domestic Studies (college-level) and Continuing Education, with various projects. Interns with background knowledge of curriculum standards will find the experience to be beneficial. The successful candidate is a self-motivated, computer-literate, detail-oriented, and organized individual looking for a vibrant experience in a collaborative educational environment.
This is a 3 or 12 month internship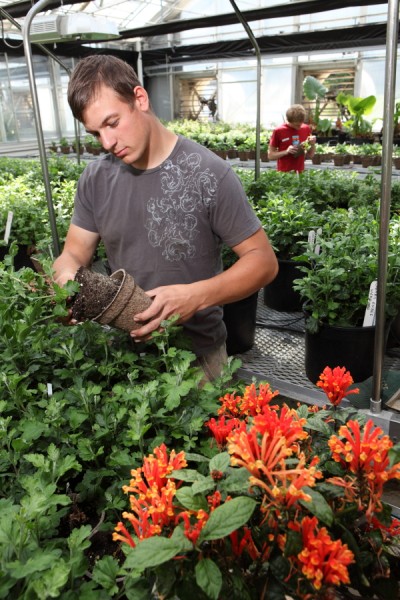 Greenhouse Production
The Greenhouse Production Intern learns the systems and horticultural skills needed to manage a state-of-the-art container production greenhouse through hands-on involvement in the daily operations of a production facility.
 
Interns will propagate plants by seed and vegetative means and will learn to mix various types of growing media. Responsibilities include assisting in the upkeep and cleanliness of the greenhouse and other work areas, and performing primary plant care in the absence of full-time staff. Other tasks include transplanting, potting, repotting, staking, tying, grooming, watering and fertilizing with automated systems, transporting potted plants to and from growing areas, and assisting with installations of large displays and garden-wide projects.  This experience is perfect for someone who intends to grow plants for a display garden or for commercial purposes. Opportunities range from 3-12 months. Willingness to work independently, willingness to work some weekends, and the ability to lift 50 lbs are required.
This is a 3 or 12 month internship.   
Turf Management
The Turf Management Intern will learn proper turfgrass management techniques through hands-on experience in the day to day management of the turf within Longwood Gardens.
 
The intern will sod, repair, renovate, and fertilize turf, in addition to mowing and string-trimming, weeding and edging beds, pruning shrubs and trees, preparing soil and compost, and assisting in other maintenance projects important to outdoor display horticulture. Seasonal tasks include leaf cleanup in the fall, natural areas cleanup, removal of woody invasive plants, and snow removal operations in the winter. The intern is expected and required to follow all proper safety practices. Willingness to work in adverse weather conditions, willingness to work independently, ability to lift 50 lbs, and a valid driver's license are required. 
This is a 3 or 12 month internship.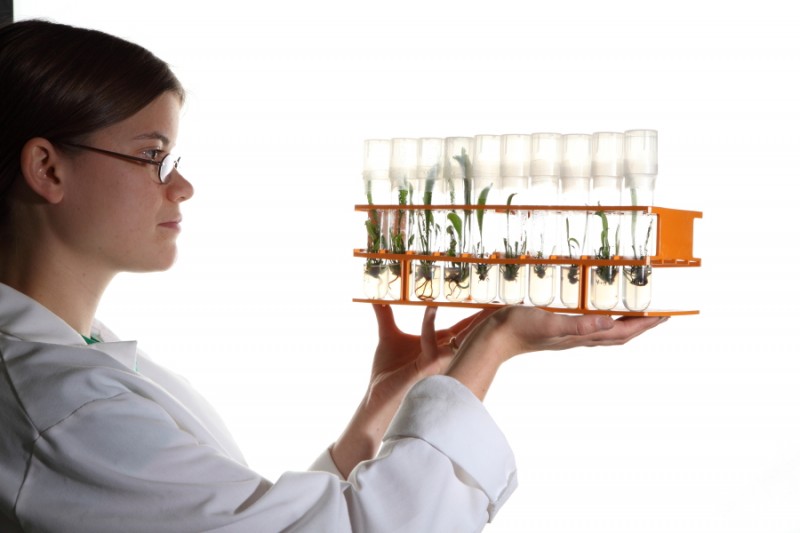 Horticulture Research
The Research Intern learns the daily tasks involved in operating a horticultural research facility through hands-on involvement with the research team and working with extraordinary hardy and non-hardy plants.
 
Research at Longwood focuses upon applied, practical studies to enhance the indoor and outdoor horticultural displays. The individual works in research plots at the Nursery and in the Research Greenhouses performing weeding, watering, mulching, soil preparation, fertilizing, pruning, planting and transplanting, labeling, and data collection. The intern will collect data on seed germination, bloom period, and hybridization results on a variety of plant trials including camellia hardiness, boxwoods, and on-going evaluations of new plants. Additional tasks include soil testing, virus testing, and propagation by seed, cuttings, grafting/budding, and plant tissue culture. Attention to detail is important. This internship is ideal for students eager to learn a wide range of plants. Opportunities range from 3-12 months (6-12 months is preferred). Willingness to work independently, willingness to work in adverse weather conditions, willingness to work some weekends, the ability to lift 50 lbs, and a valid driver's license are required. Acquisition of a pesticide applicator's license may be required.
This is a 12 month internship.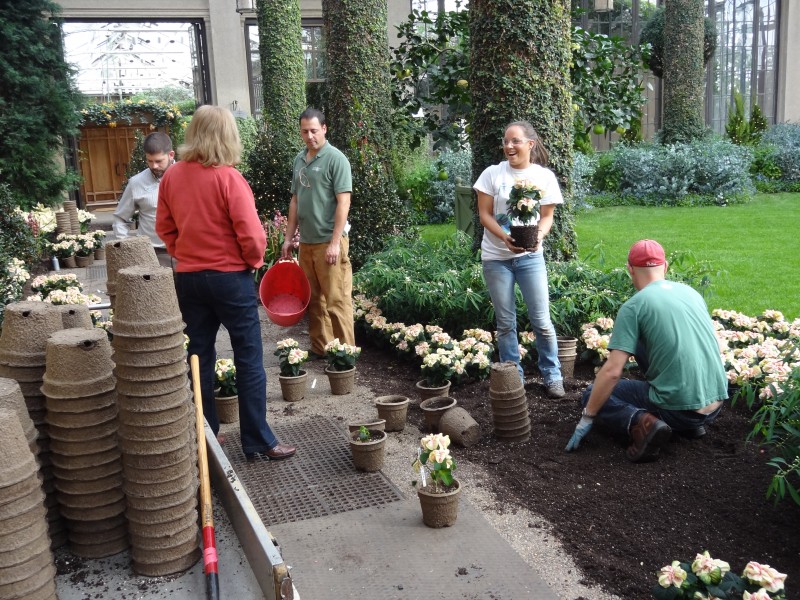 Conservatory Management
The Conservatory Management Intern will learn the special nature of gardening in conservatories through hands-on involvement in the day-to-day process of installing and maintaining greenhouse displays and collections.
 
Students work on seasonally changing displays which include annuals, perennials, tropical plants, and bulbs. Students may work with palms, aquatics, orchids, bananas, roses, ferns, succulents, bonsai, espaliered fruit, and Mediterranean flora. Duties include grooming, planting, and maintaining plant displays. Opportunities range from 3-12 months. A general knowledge of greenhouse environments and plant culture is preferred. Willingness to work independently, willingness to work in adverse weather conditions, willingness to work some weekends, ability to lift 30 lbs, and a valid driver's license are required.
This is a 3 or 12 month internship.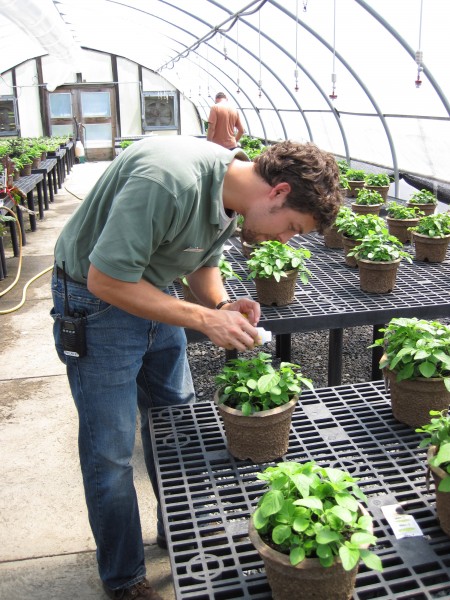 Integrated Pest Management
The Integrated Pest Management Intern gains plant health diagnostic skills such as proper pest scouting and identification techniques and the recognition of common plant disease/pest infestation symptoms on plants.
 
The intern assists the IPM staff in scouting for and diagnosing pest problems on a wide variety of crops grown in the greenhouse, conservatory, landscape, and natural environments. The intern performs applied research projects that investigate the biology and control of pests, designs and implements pest sampling and monitoring programs, releases beneficial insects in the conservatory, and evaluates the effectiveness of cultural practices, beneficial organisms, and chemical controls. The intern must obtain a pesticide applicator's license and will likely apply chemical pest control materials with an emphasis on safety, focusing on the least toxic yet effective methods of control. Additional responsibilities include developing lectures and displays and performing outreach educational programs concerning IPM. Opportunities range from 3-12 months (6-12 months is preferred). The ability to lift 50 lbs, willingness to work in adverse weather conditions, ability to work independently, and a valid driver's license are required.
This is a 12 month internship.   
Library & Information Services
We are seeking an MLS (or equivalent) student or recent graduate to gain experience in the operations and management of a special library and institutional archives.
Interns work in each section of the unit—Library, Digital Gallery, and Archives—to develop projects aimed at furthering the professional interests of the student while working to achieve unit strategic goals. This is a full-time, 12-month position.
Typical Duties and Responsibilities
Perform basic reference interviews and services. Become familiar with, and able to train others in, using Longwood Gardens' EOS International integrated library system (ILS), OCLC WorldCat, Agricola, and other relevant databases.

Arrange and describe archival collections, develop finding aids, and make recommendations regarding storage, conservation and preservation treatment of archival materials

Perform circulation maintenance routines, such as check-in/check-out, shelve books and compile usage statistics.

Assist and train patrons in the use of computers and software, A/V equipment, and copier.

Assist with Interlibrary Loan tasks as needed.

Assist with digitization/scanning projects.

Learn cataloging procedures and assist in cataloging materials (or object collections) as needed.

Assist with project work involving digital imaging, the ILS, and the Archives.

Perform various daily administrative and technical tasks.

Participate in student activities and field trips as scheduled.
Qualifications
Be pursuing or have recently completed a Masters of Science in Library Science (MLS) or related equivalent.

Be able and willing to work independently.

Have excellent communication and interpersonal skills, including ability to deal with people in a courteous, patient, and professional manner.

Have physical ability to push fully-loaded book carts and handle heavy or oversize volumes. Must be able to lift 50 lbs.

Be willing to follow all of Longwood Gardens' policies and procedures.

Have a valid driver's license.

International applicants:

Proof of proficiency in English is required from all applicants. A valid driver's license written in English or an international driver's license is preferred.
This is a 12 month internship.
Marketing & Public Relations
The Marketing and Public Relations Intern gains exposure to the latest in web-based communications, research, and overall business development by working with the Marketing and Public Relations staff to help develop and manage promotions, marketing, and public relations projects for the Gardens.
 
The primary focus of the internship will be to assist with the daily management and development of the Longwood Gardens website and other web-based vehicles. The intern will participate in database development and management to ensure effective communication to guests and the travel and tourism industry. Additionally, special projects within the marketing and public relations field will be assigned. The successful candidate will be a self-motivated, highly-organized team player with excellent computer skills and superior verbal and written communication skills. Graphic design skills and knowledge of Photoshop and Quark are a plus but not necessary. Training on all tasks and programs will be provided. Opportunities range from 6-12 months. Willingness to work independently, some weekend work, and a valid driver's license are required.
This is a 12 month internship.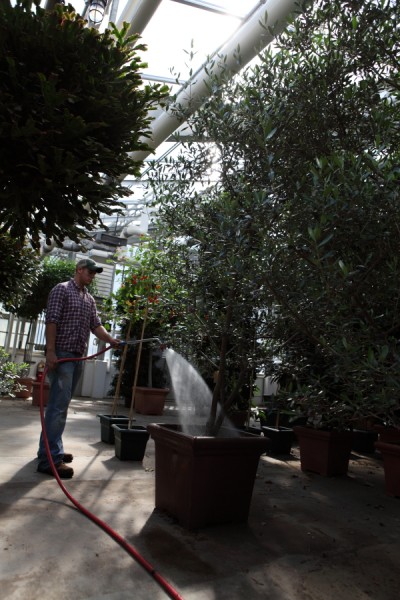 Nursery Management
The Nursery Management Intern learns propagation, potting, labeling, record-keeping, pruning, and transplanting techniques through involvement with the day-to-day operation of Longwood's nursery.
 
The intern prunes, maintains, and evaluates woody and herbaceous plant material and conducts general maintenance including weeding and mulching. Additionally, the student prepares trees and shrubs for transport and installation in the display gardens by hand digging, ball-and-burlapping, or using a tree spade. The intern will also assist with labeling plants and record-keeping. Opportunities range from 3-12 months. The ability to lift 50 lbs, willingness to work in adverse weather conditions, willingness to work independently, and a valid driver's license are required.
This is a 12 month internship.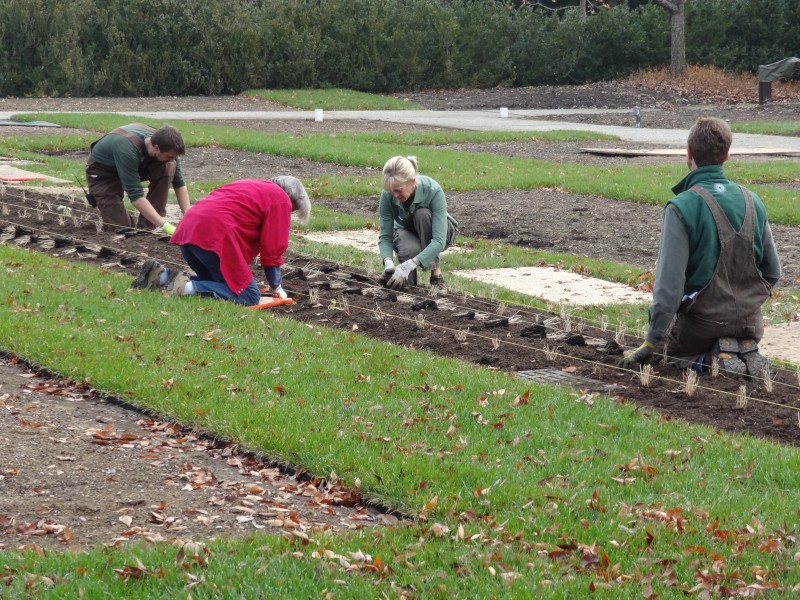 Outdoor Display
The Outdoor Display Intern maintains herbaceous and woody plants in several sections of the Gardens.
Duties include planting, weeding, mulching, watering, pruning, staking, and fertilizing. Students may work with woody plants, herbs, bulbs, ground covers, roses, vegetables, and fruits in some of Longwood's most intensively cultivated areas. In addition, students may prepare trees and shrubs for transporting from the nursery to the display area by hand digging, ball-and-burlapping, or using a mechanical tree spade. Opportunities range from 3-12 months. The ability to lift 50 lbs, willingness to work in adverse weather conditions, willingness to work independently, and a valid driver's license are required.
This is a 3 or 12 month internship.     
Performing Arts
The Performing Arts Intern gains exposure to the planning and execution of Performing Arts events at the Gardens.
 
The intern is responsible for maintaining Performing Arts sections of the Longwood website, and for managing all Performing Arts images in the Digital Gallery. The intern will also handle all communication regarding theemployee ticketing standby list program. Post-event zip code research will be conducted by the intern, as well as additional research projects as needed. Additional duties include tracking and logging ticket sales, creating concert programs, benchmarking, general artist services, and assisting in the development of the annual Longwood Gardens Performing Arts season brochure. Applicants must be able to multi-task and work independently in a busy office environment. Strong computer skills required (Word, Excel, Photoshop, Quark) and a strong knowledge of the performing arts is expected. Organ knowledge is a plus. Willingness to work evenings and weekends and a valid driver's license are additional requirements for this internship.
This is a 12 month internship.    
Rotational Summer Internship
Rotational Summer Internship in Public Horticulture offers students the opportunity to experience outdoor display, conservatory management and greenhouse production.
Featuring a monthly rotation through various display and production areas at Longwood, this unique internship program is meant to introduce students to the diversity of career opportunities available in public horticulture.  
Learn more about this unique internship experience here. 
Visitor Programs
Longwood Gardens is opening an expanded Meadow Garden in the summer of 2014 with seasonal native wildflower plantings, expanded interpretive trails and programs, and a restored farmhouse with interpretive galleries. This position will support our new interpretive programs and assist in the management of our new volunteer team in the Meadow Garden. The position will also have an opportunity to support and develop other interpretive projects throughout the Gardens.
Responsibilities include implementing and managing the hands-on interpretive materials, supervising interpretive volunteers and assisting in the training of these volunteers. Additional responsibilities may include assisting in development of interpretive displays, program evaluation, special events and activities, and writing interpretive materials.
Successful candidates must be self-motivated and possess great leadership, organization, communication, and interpersonal skills. A background in museum studies, interpretation, or public gardens is preferred. An interest in horticulture and design is a plus. Working knowledge of I-Pad (or other tablets) and applications, word processing and graphics programs is required. Applicants must submit a portfolio of writing and research for review.
This is a 3 or 12 month internship.