Join our expert Guides for a walking tour of the Conservatory where they will reveal the heritage and history of the stunning Performing Arts spaces nestled within the horticultural beauty of the Conservatory.
This ticket does not include admission to the Gardens.
Tours are approximately 45 minutes in length and meet at the Conservatory Information Desk. This tour is accessible by wheelchairs and other mobility devices.
Learn more about Exhibition Hall

Once used by the du Ponts for dances and dinner parties, we continue the tradition of hosting lavish performances and events in this space.
Learn more about the Ballroom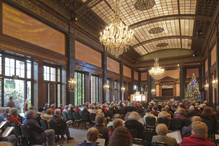 The Ballroom was originally constructed in 1929 to house Longwood's pipe organ and to serve as a venue for concerts, lectures, and dinners.