Student Exhibition Garden Talks
Come listen as our teams of Professional Gardener students reveal their visions for this year's Student Exhibition Garden, and watch this summer as their designs bloom and grow before your eyes.
These unique Gardens are designed by Longwood's Professional Gardener students. Annually students redesign, construct, and maintain this area in three separate collegiate-level courses.
The Professional Gardener program began in 1970 with the mission to educate and train individuals in the science and art of horticulture. This program continues today with the commitment to education and, specifically, to experiential learning as demonstrated in this garden.
Learn more about the Student Exhibition Garden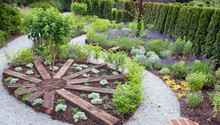 Students plan the Garden each year as part of their Landscape Design and Landscape Construction courses.