Garden Highlights
November 7-14, 2013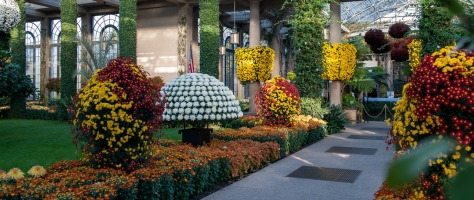 Oakleaf Hydrangea
Hydrangea quercifolia
Location: Peirce's Woods
Sugar Maple
Acer saccharum ′Legacy′
This sugar maple has glorious fall color.
Location: Peirce's Woods
Large Lake
Longwood visitors and geese both enjoy the Large Lake.
Location: Italian Water Garden
Grandiflora Rose
Rosa ′Aroyqueli′ Gold Medal™
Some roses still shine outside in our Rose Garden.
Location: Rose Garden
Japanese Maple
Acer palmatum ′Ornatum′
Location: Oak and Conifer Knoll
Single Mum
Chrysanthemum × morifolium ′Gethsemane Moonlight′
A bright patch in the Perennial Garden
Location: Idea Garden
Arkansas Amsonia
Amsonia hubrichtii
Location: Idea Garden
Ichang Viburnum
Viburnum ichangense
The shiny berries of this Viburnum add color to the late winter landscape.
Location: Flower Garden Walk
Prickly-pear
Opuntia phaeacantha
Colorful fruits adorn this prickly-pear cactus from southwest North America.
Location: Theatre Garden
Winterberry Holly
Ilex verticillata ′Red Sprite′
Location: Small Lake
Location: Student Exhibition Garden