Garden Highlights
October 26-November 2, 2012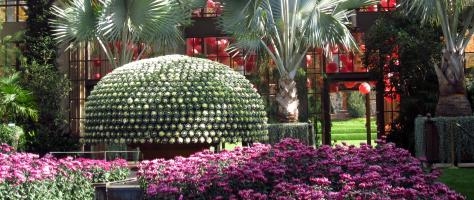 In the Spotlight, Week of
Panicle Hydrangea
Hydrangea paniculata ′DVP Pinky′ Pinky Winky™
Hydrangea paniculata 'DVP Pinky', panicle hydrangea, flowers start white and fade to pink.
Location: Flower Garden Drive
Trifoliate-orange
Poncirus trifoliata
Poncirus trifoliata, trifoliate-orange, is hardy but has inedible fruit and large thorns.
Location: Flower Garden Walk
Large Lake
Fall colors are peaking and here reflect on Large Lake.
Location: Canopy Cathedral
Japanese Stewartia
Stewartia pseudocamellia
Location: Flower Garden Walk
Peirce-du Pont House
The smooth sumac and aromatic asters are a striking color combination behind the Peirce DuPont House
Location: Peirce-du Pont House
Swiss Chard
Beta vulgaris ′Ruby Red′ (Cicla Group)
Beta vulgaris 'Bright Lights', Swiss chard, is still producing in the Vegetable Garden.
Location: Idea Garden
Toad-lily
Tricyrtis ′Sinonome′
Liliaceae tricyrtis 'Simomome' toad lily, displays its unusual purple flowers in the Perennial Garden.
Location: Idea Garden
Grandiflora Rose
Rosa ′Aroyqueli′ Gold Medal™
Location: Rose Garden