Garden Highlights
October 17-24, 2013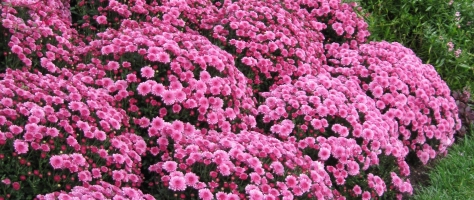 In the Spotlight, Week of
October 17-24, 2013
Aromatic Aster
Symphyotrichum oblongifolium ′Raydon's Favorite′
Mounds of color near the Meadow
Location: Meadow Garden
Swamp-haw
Viburnum nudum ′Winterthur′
Robins enjoy the matured fruits of Viburnum nudum.
Location: Peirce's Woods
Fragrant Ladies'-tresses
Spiranthes odorata 'Chadds Ford'
Location: Meadow Garden
Tatarian Aster
Aster tataricus
Tatarian aster is prolific on the Hillside.
Location: Hillside Garden
Garden Railway
The railway in the Idea Garden is a huge hit with toddlers and their parents.
Location: Idea Garden
Trifoliate-orange
Poncirus trifoliata
Poncirus trifoliata, trifoliate-orange, is an exotic tree in the Theatre Garden
Location: Theatre Garden
Floribunda Rose
Rosa ′Harpageant′ Easy Does It™
Location: Rose Garden
Main Fountain Garden
Location: Main Fountain Garden
Planting Bulbs
Spring bulbs being planted in the Idea Garden
Location: Idea Garden