Garden Highlights
October 31-November 7, 2013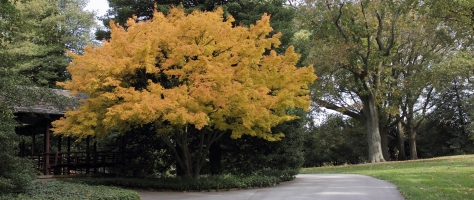 In the Spotlight, Week of
Bald-cypress
Taxodium distichum
Majestic deciduous conifer in bronze fall foliage near the Large and Small Lakes
Location: Peirce's Woods
Purplebloom Maple
Acer pseudo-sieboldianum
A glorious juxtaposition of color, located near the pump house and the Hillside Garden.
Location: Hillside Garden
Tatarian Aster
Aster tataricus
Location: Hillside Garden
Semi-double Mum
Chrysanthemum × morifolium ′J.C. Weigelan′
A late semi-double mum spilling out over the walkway and begging to be noticed
Location: Idea Garden
Heptacodium
Heptacodium miconioides
Location: Oak and Conifer Knoll
Oakleaf Hydrangea
Hydrangea quercifolia
Location: Peirce's Woods
Purple Beautyberry
Callicarpa dichotoma
Location: Hillside Garden
Large Lake
A bounty of fall color viewed from across the Large Lake.
Location: Peirce's Woods
Japanese Maple
Acer palmatum ′Sango-Kaku′
Location: Oak and Conifer Knoll
Open Air Theatre Fountain
A visitor favorite; the fountains are still perfoming on the hour
Location: Open Air Theatre