Garden Highlights
December 14-21, 2012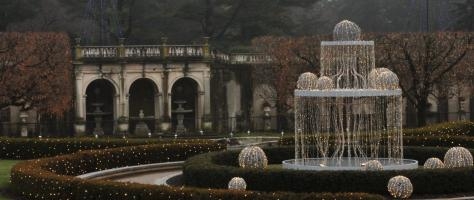 In the Spotlight, Week of
Amoena Azalea
Rhododendron ′Amoenum′ (Obtusum Group)
Rhododendron 'Amoenum', amoena azalea; a playful combination of red and green foliage shouts out Christmas in the outdoor gardens.
Location: Hillside Garden
Main Fountain Garden
When the lights begin to glow, the Main Fountain Garden comes alive.
Location: Main Fountain Garden
Idea Garden
Thomas is out for a spin with his pals, James and Percy, ready to entertain young visitors throughout the Christmas season
Location: Idea Garden
Groundcover Rose
Rosa ′Meipsidue′ Fire Meidiland®
Location: Topiary Garden
Peirce-du Pont House
Don't miss the Peirce-du Pont House richly decorated both inside and out for the holidays
Location: Peirce-du Pont House
Visitor Center
Decorated wreaths hang in the Visitor Center at the Gardens entrance.
Location: Cow Lot
Canopy Cathedral Treehouse
A pinecone tree snuggled into a corner of the Canopy Cathedral Treehouse.
Location: Canopy Cathedral
Wildlife Tree
A unique natural topper for the Wildlife Tree near the Canopy Cathedral Treehouse
Location: Canopy Cathedral