Garden Highlights
December 12-18, 2013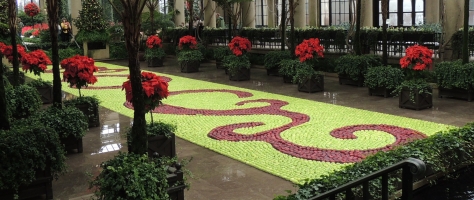 In the Spotlight, Week of
Holiday Lights
Every year, Longwood arborists begin work in September stringing and wrapping lights for this extraordinary spectacle. All of our display is illuminated with LED lights – using about 90% less electricity than traditional holiday lights. At the end of this season, we will remove the lights and store for the following season.
Location: Cow Lot
Carolina Wren at Wildlife Christmas Tree
Location: Canopy Cathedral
Winterberry Holly
Ilex verticillata ′Winter Red′
The mass planting of this showy shrub is a winter highlight in the Chimes Tower area.
Location: Chimes Tower and Waterfall
Yellow-berried American Holly
Ilex opaca ′Longwood Gardens′
Location: Peirce's Woods
Chinese Holly
Ilex cornuta ′Burfordii′
Location: Main Fountain Garden
Holiday Lights Near Large Lake
The Canopy Cathedral Treehouse near the Large Lake is beautifully decorated for the holidays.
Location: Canopy Cathedral
Atlas Cedar
Cedrus atlantica
Location: Oak and Conifer Knoll
Green Hawthorn
Crataegus viridis ′Winter King′
This lovely plant year-round, is fruited in winter.
Location: Idea Garden
Main Fountain Garden Christmas Lights
A half-million lights surround you to illuminate the Gardens and create a twinkling world of wonder.
Location: Main Fountain Garden
Garden Railway
Placed within a festive garden comprised of broad-leaf evergreens, conifers, and deciduous plantings, five G-scale trains traverse more than 450 feet of track and travel past miniature Longwood landmarks.
Location: Idea Garden
Dusty Zenobia
Zenobia pulverulenta ′Woodlanders Blue′
Location: Peirce's Woods
Foster Hybrid Holly
Ilex × attenuata ′Longwood Gold′
x
Location: Idea Garden