Garden Highlights
December 19, 2013- January 2, 2014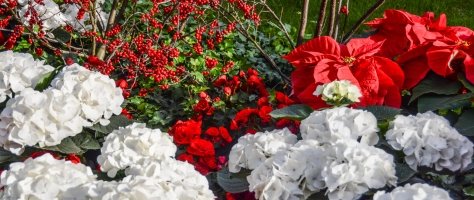 In the Spotlight, Week of
Norway Maple Allee
Lined up along the walkways, classic lanterns ready to light the way for evening holiday visitors
Location: Main Fountain Garden
Peirce-du Pont House
Location: Peirce-du Pont House
The Garden Railway
Placed within a festive garden comprised of broad-leaf evergreens, conifers, and deciduous plantings, five G-scale trains traverse more than 450 feet of track and travel past miniature Longwood landmarks.
Location: Idea Garden
Canopy Cathedral Treehouse
The Canopy Cathedral Treehouse is beautifully decorated for the holidays.
Location: Peirce's Woods
Fraser Fir
Location: Peirce-du Pont House
Visitor Center
Fruit adorn decorations in the Visitor Center.
East Garden Loop
Lighted pathways and 18 lighted, wooden tree forms border the Small Lake
Location: Peirce's Woods
Wildlife Tree
Edible natural ornaments, including gourd birdfeeders which are refilled each day, on this Chamaecyparis obtusa tree provide a holiday feast for our wildlife.
Location: Peirce's Woods
Foster Hybrid Holly
Ilex × attenuata ′Longwood Gold′
x
Location: Idea Garden
Golden-twig Dogwood
Cornus sericea
′Silver and Gold′
Location: Idea Garden
Christmas Lights
Lighted pathways, starry skies, five floating cones of light on the Large Lake delight visitors willing to take an evening walk.
Location: Peirce's Woods
The Gardener's Tree
The Gardener's tree is a towering tree embellished with silver and gold ornaments.
Location: Cow Lot
Open Air Theatre
Enjoy Christmas music and colorful fountains at the Open Air Theatre
Location: Open Air Theatre
Love Temple
Even the Love Temple is part of the light display.
Location: Peirce's Woods
Rose Arbor
Location: Cow Lot