Garden Highlights
January 11-18, 2013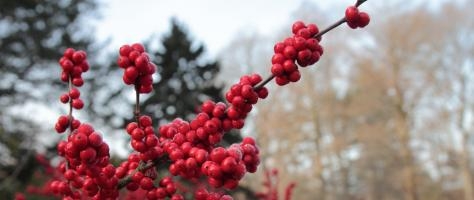 In the Spotlight, Week of
Winterberry Holly
Ilex verticillata ′Winter Red′
A large display of Ilex verticillata 'Winter Red', winterberry holly, borders the walk toward the base of the Chimes Tower.
Location: Chimes Tower and Waterfall
Large Lake
Memorial to Indian Hannah, the last of the Lenape Indians, in a peaceful setting surrounded by ferns overlooking the Large Lake.
Location: Peirce's Woods
Pieris
Pieris ′Brouwer's Beauty′
Pieris 'Brouwer's Beauty', an evergreen shrub with deep red buds in winter opening to creamy white flowers in spring.
Location: Peirce's Woods
Flower Garden Walk
One of the two whispering benches in the Garden. This one is located at the end of the Flower Garden Walk
Location: Flower Garden Walk
Yulan Magnolia
Magnolia denudata
Magnolia denudata, yulan magnolia, with fuzzy white buds patiently waiting for spring, near the center of the Flower Garden Walk
Location: Flower Garden Walk
Heavenly-bamboo
Nandina domestica
Nandina domestica, heavenly-bamboo; reddish foliage with bright red berries and small white buds against the front of the Conservatory
Location: Main Fountain Garden
Foster Hybrid Holly
Ilex × attenuata ′Longwood Gold′
Ilex × attenuata 'Longwood Gold', Foster hybrid holly, provides a touch of color to the Example Garden
Location: Idea Garden