Garden Highlights
February 8-15, 2013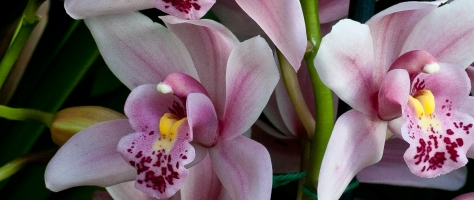 In the Spotlight, Week of
Witch-hazel
Hamamelis × intermedia ′Arnold Promise′
Location: Cow Lot
Witch-hazel
Hamamelis × intermedia ′Jelena′
Hamamelis × intermedia 'Jelena'; one of the witch-hazels facing our changing weather
Location: Peirce's Woods
Witch-hazel
Hamamelis × intermedia ′Primavera′
Location: Theatre Garden
Chimes Tower
Yellow witch-hazel and red winterberry holly
Yellow witch-hazel and red winterberry holly are beautiful accents in front of the Chimes Tower.
Location: Chimes Tower and Waterfall
Winter-aconite
Eranthis hyemalis
Winter-aconite can be seen blooming in several areas of the Garden.
Location: Idea Garden
Location: Peirce-du Pont House
Japanese Yew
Taxus cuspidata
Topiaries, Taxus cuspidata , Japanese yew and Taxus baccata, English yew, topped with fresh fallen snow!
Location: Topiary Garden
Sweet-bay Magnolia
Magnolia virginiana ′Jim Wilson′ Moonglow®
Location: Waterlily Display
Reeves Skimmia
Skimmia reevesiana
Skimmia reevesiana, Reeves skimmia, behind the Peirce-du Pont House, are covered with red berries.
Location: Peirce's Park