Garden Highlights
February 20-27, 2014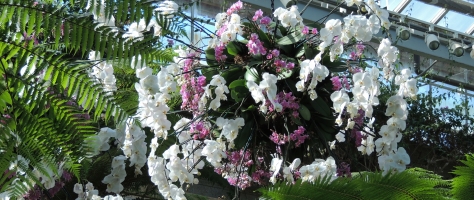 In the Spotlight, Week of
Idea Garden Orchard
Winter has descended upon the Idea Garden Orchard.
Location: Idea Garden
Cow Lot
Stroll the outdoor walkways in winter where one can share the peaceful harmony of a sleeping landscape.
Location: Cow Lot
River Birch
Betula nigra ′Cully′ Heritage®
Location: Hillside Garden
Orchids in Visitor Center
Orchids in the Visitor Center provide a preview of the thousands of orchids now on display in the Conservatory.
Witch-hazel
Hamamelis × intermedia ′Jelena′
Location: Cow Lot
Location: The Terrace Restaurant
Flower Garden Drive planters
Trailing green ivy persists in the snow along the Flower Garden Drive.
Location: Flower Garden Drive
Historic Pump House
Location: Main Fountain Garden
View of Conservatory
Winter view of the Conservatory
Location: Cow Lot