Clivia miniata 'Longwood Fireworks'. Photo by Alan Petravich.
This is the second introduction from Longwood's clivia breeding program, which started in 1976. 'Longwood Fireworks' boasts a burst of yellow flowers that fills the skies above the foliage. The individual petals of the florets are reflexed and curve backward and the florets are arranged in a perfect sphere, creating an impressive display. The stamens curve and extend beyond the petals. The form and arrangement of the floret give the impression of the petals blowing back and the stamens shooting out to produce an explosion of bloom.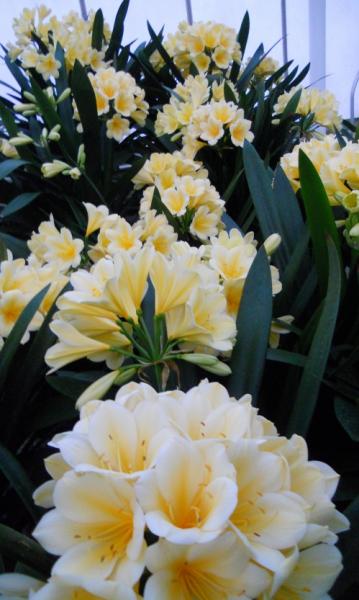 Clivia miniata 'Longwood Debutante' in the research greenhouses.
Last year, before receiving its name, 'Longwood Fireworks' was entered into the North American Clivia Show and won First Place and Best in Division ribbons. Traditionally, the summer skies above Longwood are filled with fireworks that accompany fountain shows and now we have award-winning floral fireworks as well.
You can see Clivia miniata 'Longwood Fireworks' in the Conservatory beginning March 17. Last year we released the first plant from our clivia breeding program—Clivia miniata 'Longwood Debutante', which will also be on display in the Conservatory in March. A limited number of both plants are available for sale in our GardenShop.
If you are interested in more clivia festivities, don't miss the North American Clivia Society Show on March 17 & 18 at Longwood Gardens. Clivia enthusiasts from across the country will exhibit their prize plants, and Longwood will be showing plants from our breeding program—including a sneak peek of possible future clivia introductions. Stop by the information table during the show to have your clivia growing questions answered and cast your vote on Saturday for the People's Choice Award.
If you have a prized clivia at home that will be in bloom on March 17 & 18, please bring it to show off. There will be Novice classes this year for flowering and non-flowering plants, which are open only to those who have never won a Blue Ribbon for a clivia plant. Additionally, you can bring you plant for display in the Enthusiast's class. In this class, your plant will not be judged, but you can still show it off. I hope to see you and your plant at the Clivia Show!
The 2011 North American Clivia Show at Longwood Gardens. Photo by Alan Petravich.
Categorized Under: