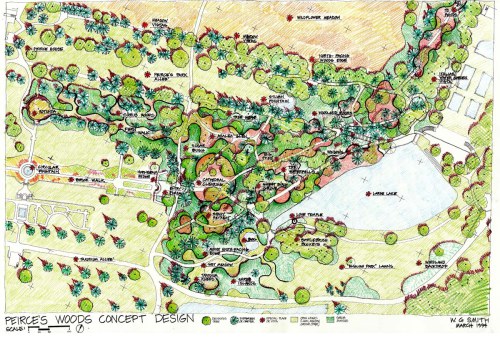 Peirce's Woods Concept Design by Gary Smith, 1994.
Gardens are always changing. While the Mona Lisa hangs in the Louvre looking much as it did 500 years ago, every year, every season, and even every hour you are in a garden it is constantly in flux.
As a gardener you can either try to fight this change or work with it. In the 10 years I have been working in Peirce's Woods I have done both. I have fought the loss of canopy by replanting young replacement trees, pruned back shrubs to prevent them from becoming too overgrown, and battled encroaching invasive weed species. At the same time I have worked with changing light levels, poor drainage, and disease pressures by modifying the shape of sweeps, and adjusting the plant palette with a "right plant-right place" philosophy.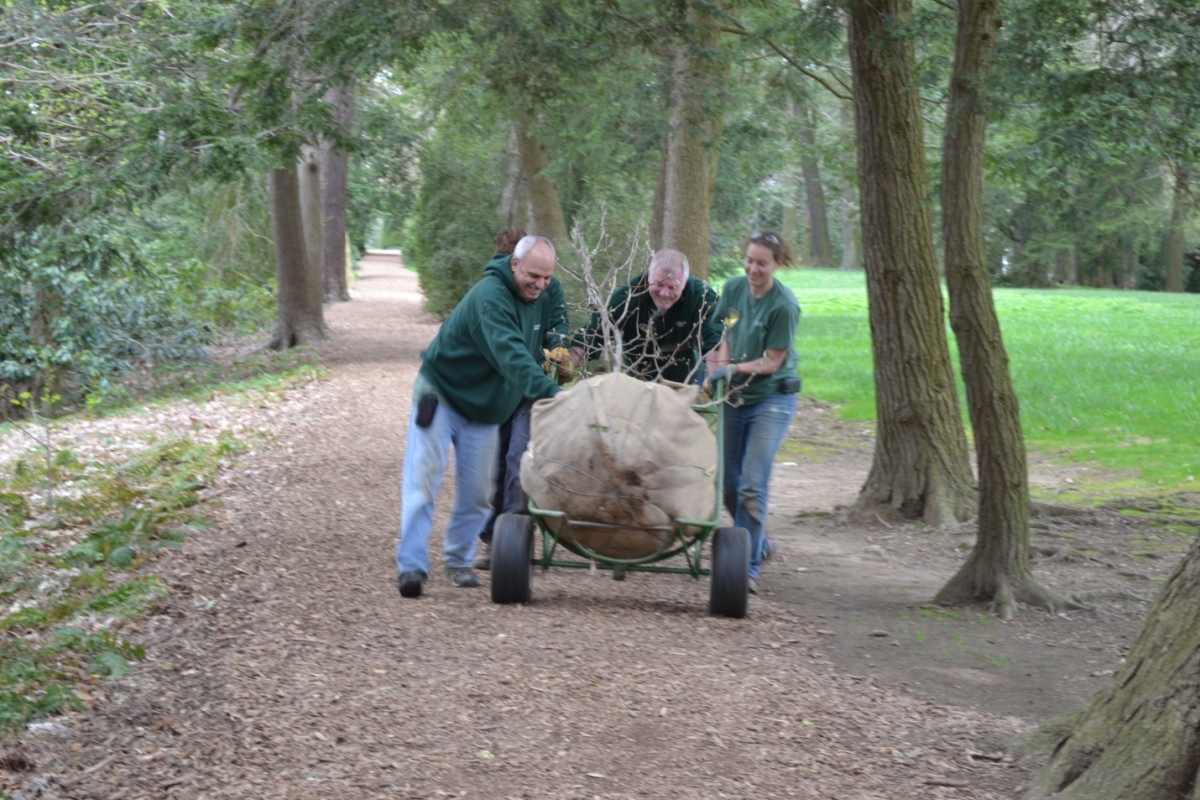 Transporting a yellow cucumber magnolia (Magnolia acuminata var. subcordata 'Peirce's Park'), April 2013.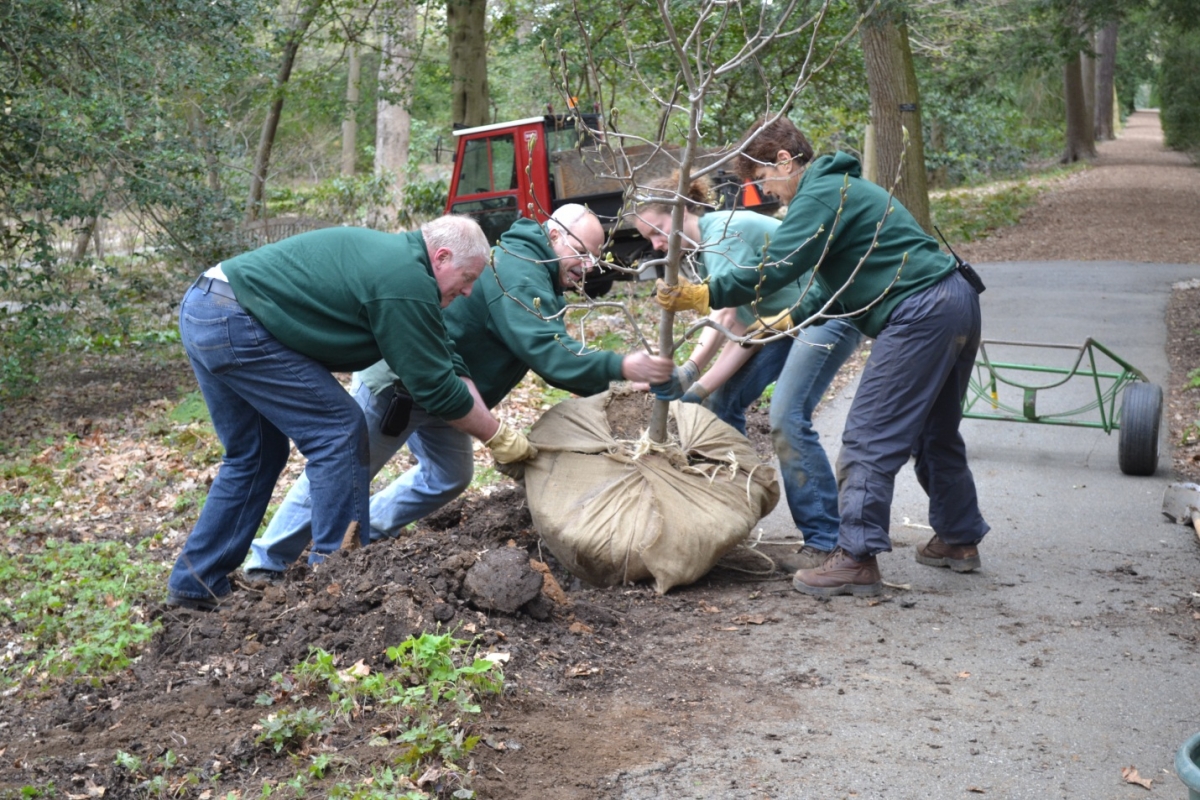 Planting the yellow cucumber magnolia, April 2013.
In some areas, such as Cathedral Clearing—the main entrance to Peirce's Woods off the Flower Garden Walk—losses of large, over-mature trees from the canopy have reduced some of our spring shade-loving ephemerals, and opened up opportunities to expand the original woodland plant palette to incorporate more sun-loving native species while we re-establish the canopy. In other areas, such as Carpinus Walk, which borders the Large Lake, small trees that were planted during the late 1990s are now shading out their shrub and ground cover companions. Many azaleas in this area have become too shaded to bloom, so I have been working to transplant them to areas with more favorable light conditions.
Overall, the shrub layer and small flowering trees in Peirce's Woods have become very well established, and their presence helps define "room" spaces within the design.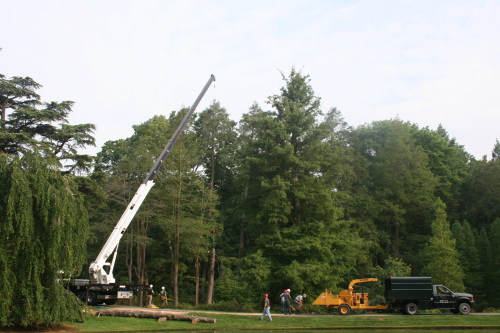 South Wood's Edge declining hemlock removal, 2009.
One area that has undergone a lot of change during the last five years is the South Wood's Edge, which was designed to have strong fall and winter interest. In 2009 the grove of severely declining hemlock trees that dominated the entrance had to be removed. This in turn required a change in the understory of shade-loving shrubs and ground covers.
South Wood's Edge flowering goldenrod and aromatic asters, fall 2012.
South Wood's Edge flowering goldenrod and aromatic asters, fall 2012.
We established large sweeps of brilliant yellow goldenrod (Solidago sphacelata 'Golden Fleece') and purple aromatic asters (Symphyotrichum oblongifolium 'October Skies'), which make way for golden-twig dogwood (Cornus sericea 'Flaviramea') and red fruited winterberry hollies (Ilex verticillata 'Winter Red'). This change has been very successful in creating an inviting and thriving entrance way.
One area that continues to get better every year is the Silverbell Tunnel in the area known as the Shady Retreat. The path in this area is lined with silverbell (Halesia) trees, which are being trained to arch over the walkway and form a tunnel, which is beautiful to walk beneath in the spring when they are all in full bloom, usually in mid-May.
Go Beyond this Saturday, May 4, 2013! Join me at 11:00 am, 12:30 pm, and 2:00 pm as I take you on a journey through the history, design, and management of Peirce's Woods during our Beyond the Garden Gates Day.
Shady Retreat, entrance to Silverbell Tunnel.
Step into Peirce's Woods through this video that shows Longwood coming to life in the spring.
Categorized Under: