Longwood's Christmas display develops around a theme—some unifying concept that ties together the colors and imagery throughout the Conservatory. The theme is chosen by our horticulture staff, who then involve colleagues from throughout the Gardens to brainstorm ideas and come up with different ways to express the theme. This year we were inspired by the motifs of classical French design. As soon as the French theme was chosen, we all agreed, "There must be a parterre garden!"
The French gave us parterre gardens during the Renaissance, and over the following centuries evolved them to be incredibly beautiful extensions of the grandest châteaux. Characterized by elaborate patterns of planting beds that are delineated by tightly clipped, low growing hedges and pathways, French parterres exemplify the notion that beauty comes from order.
Parterre detail from Château de Courances. From Jardins de France, vol. 2, by P. Pean, 1925. Courtesy Longwood Gardens Rare Book Collection.
My challenge, as Longwood's Landscape Architect, was to design a parterre within the context of our historic Exhibition Hall. The floor of the Exhibition Hall is unique in that it is recessed a few feet below the surrounding walkway. This makes it particularly well-suited for a parterre as it gives viewers a slightly elevated perspective of the patterned beds and details. The space also offers formality, symmetry, and 360-degree views that allow for varying perspectives, and a long, linear shape. Finally, the Exhibition Hall is backdropped by Longwood's Music Room, and I quickly started to see the Music Room façade as the château to our parterre.
During much of the year, the floor of the Exhibition Hall is flooded to reflect its surroundings. Photo by Duane Erdmann.
Standing at the far south end of the Exhibition Hall, our guests have a long view of the space and Music Room façade beyond. The view is grand, but we wondered if we could make it feel even grander. After all, there is a long history of falsifying perspective in garden design by playing with proportions and lines. Our founder, Pierre S. du Pont, played with perspective when he designed Longwood's Italian Water Garden in 1925.
With this objective in mind, I sketched and studied several concepts inspired by my favorite French parterre gardens, most notably the gardens of Versailles, Vaux le Vicomte, and Château de Courances. In the end, we settled on a design intended to elongate the view through strong lines that lead the eye and elements of repetition.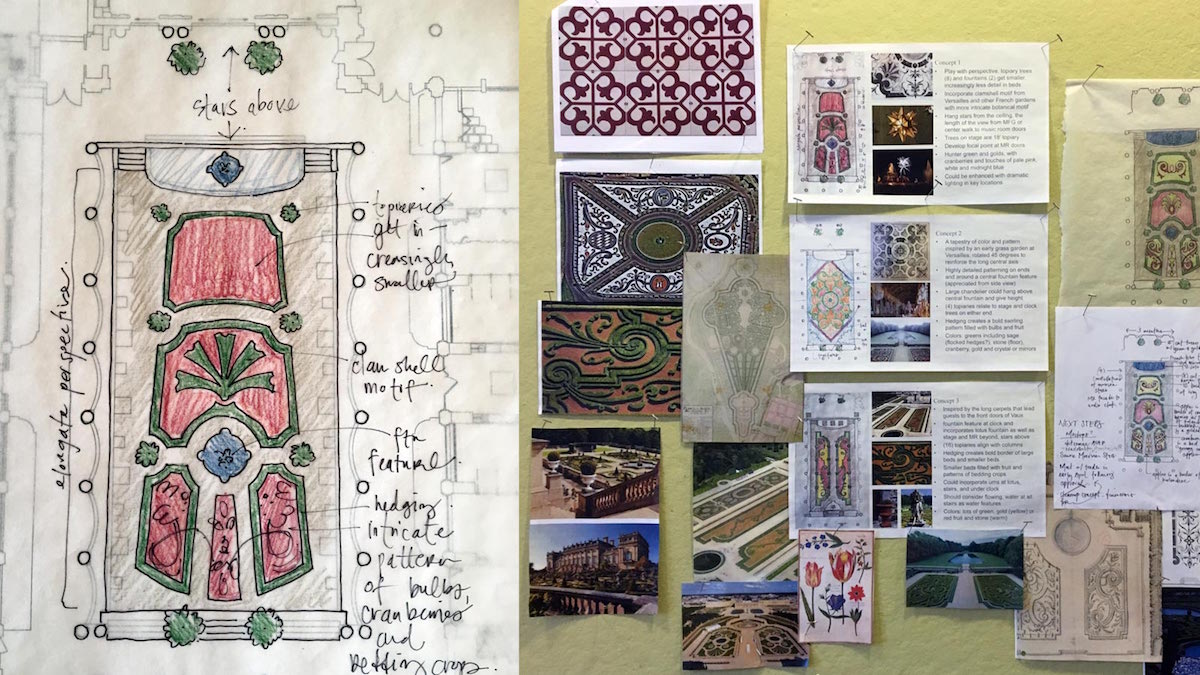 "Hedging" creates bold borders and three distinct "planting beds." Each bed is similar in shape, but skewed and scaled to play with perspective. Drawing and design board by Erin Feeney.
North parterre of Crewe Hall, Cheshire, designed by W. A. Nesfield in the 1840s. From "William Robinson: The Wild Gardener" by R. Bisgrove, (Frances Lincoln: 2008), p. 21. Via Wikimedia Commons.
After defining the larger beds of our parterre garden, I began defining the patterns and textures that would fill these beds. I was looking forward to this part of the design process, but it wasn't without its challenges. Intricate patterns require fine textured materials, designs must be legible from a distance and with only a slight elevation, and the height of materials must be low and fairly consistent so that all parts of the display are viewable.
I was inspired by the classic clamshell motifs from Versailles and other French gardens as well as the swirling botanical patterns present in so many parterre gardens around the world. The botanical flourishes in a sketch by artist and landscape architect William Andrews Nesfield (1794-1881) were the direct inspiration for our final design.
The idea to float fruit in the display came to us pretty early on. We have, for past Christmas displays, successfully floated both apples and separately, cranberries on the floor of the Exhibition Hall. Fruit offers eye-catching color and is sized to fill channels that are just a few inches wide. Combining several types of fruits (and nuts) allowed for bold contrast in both color and texture.
But of course, this had to be tested and we had to figure out a way to contain and separate the floating fruit. Our carpenters mocked up their ideas and eventually built a system of plywood and metal edging that is tall enough to "fence" the fruit, but short enough to be invisible when viewed from above.
Longwood carpenters spent nearly 500 hours perfecting the custom fruit containment system in the weeks leading up to installation. Photo by Morgan Horell.
The fruit on the floor of the Exhibition Hall floats at about three inches. Photo by Morgan Horell.
With the containment system constructed and the fruit on order from several local farms, we finalized details and approached installation week with confidence. Installation went fairly smoothly and as planned, thanks in most part to our two logistical leads—Bob Scanzaroli and Wendy Gentry—who together have nearly 40 years of experience on Longwood Christmas displays! They prepared for absolutely every scenario and brought a level of knowledge and understanding to the project that is essential when approaching displays on this scale.
Installation of our parterre garden during Christmas changeover. Photo by Morgan Horell.
Many staff played a role, from inspiration to installation, in our parterre garden display. Photo by Eileen Tercha.
Longwood's plumbers, masons, painters, and electricians also played a role in creating our parterre garden. They designed, built, and creatively lit the pool and fountain that sits near the center of the display, as well as the three taller jets at the north end.
The finished display on the Fern Floor of Exhibition Hall, with custom designed "tilework" in the lotus pool. Photo by Hank Davis.
Installation of Longwood's parterre garden for A Longwood Christmas involved more than 20 individuals over four days for a combined total of nearly 300 hours. We hope you'll make a visit to see the fruits of our labor, on display now through January 7.
The fruit used in our display came from local farms. Once the display ends it will be donated to a local farm for compost and to feed livestock.
Categorized Under: