Light Nights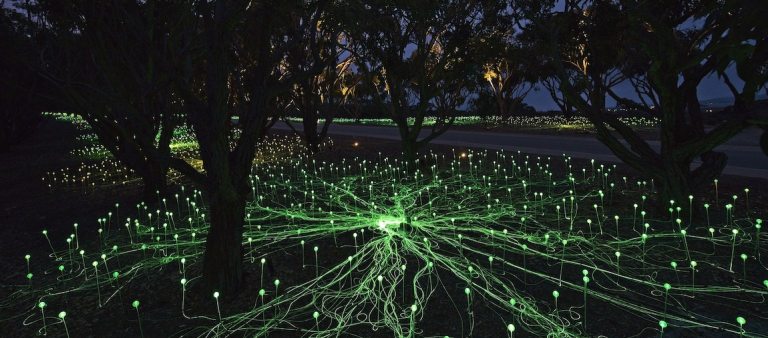 Dates & Price
October 14, 2022
5:00–8:00 pm
---
Free with Gardens Admission
Timed Admission Tickets required
Timed Reservations required for Members after 3:00 pm Thursdays–Sundays
Reservations not required for Gardens Premium Members and Innovators
Join us the second Friday of each month throughout Light: Installations by Bruce Munro for our fantastically fun themed Light Nights. Enjoy live music, fountain performances, family activities, and more—all inspired by Light—during these special evenings.
Wondrous Water: Friday, October 14
Explore the element of water with Light—including the immersive C-scales installation, inspired by our water gardens— as well as an informative talk on the importance of water and an imaginative fountain performance.
Live Music in the Beer Garden
5:00–6:00 pm and 7:00–8:00 pm
Slowey & The Boats (Hawaiian-inspired Steel Guitar)
Talk in the Beer Garden: The Power of Water
6:00–7:00 pm
As nature's most important nutrient, water connects and maintains all ecosystems, and all life, on our planet. Join Senior Research Scientist John Jackson, Ph.D., and Director of Watershed Restoration Matthew Ehrhart, both from Stroud Water Research Center—which seeks to advance the knowledge and stewardship of freshwater systems through research, education, and watershed restoration—for an eye-opening discussion on the importance of water in our landscapes, our regions, and beyond. 
Illuminated Fountain Performance
8:15 pm
Pure Imagination
Visit the Gardens Year-Round and Attend this Event for Free