Fuchsias Galore!
July 21, 2009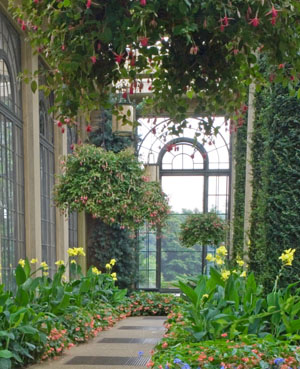 Fuschia baskets in the Conservatory.
It's my favorite time of year in the Conservatory with the arrival of more than 60 Fuschsia baskets, each measuring more than three feet in width! Longwood's dedicated production team has been nurturing these plants since August, 2008, when the cuttings were taken. In late October, almost 30 small plants were potted into individual stainless steel hanging baskets, and they began their winter vacation in the historic Estate production greenhouses. With the onset of the longer springtime days came blossoms by the thousands to delight all who pass underneath! Fuchsia 'Lord Beaconsfield' is the most popular hybrid grown for the Conservatory, due to its exceptional heat tolerance.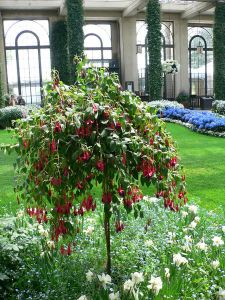 Fuchsia standard in the Conservatory.
Fuchsias are even more popular in Europe, coastal California and New England where summertime temperatures rarely exceed 85 degrees. Other popular cultivars displayed at Longwood are 'Mrs. JD Fredericks' and 'Swingtime'.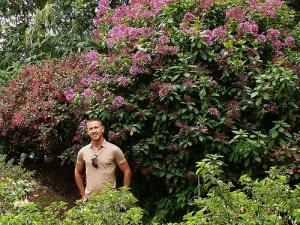 Fuchsia arborea in Ecuador.
The name for these beautiful plants comes in honour of Leonhart Fuchs, a German botanist who was born in 1501. The cultivars you enjoy today are hybrids of Fuchsia magellanica and Fuchsia regia. Most fuchsias are native to Mexico and throughout Central and South America, all the way to the southernmost tip of Argentina. Here I am, next to Fuchsia arborea in Ecuador where it was towering more than 20' in the air!
Many guests ask how we go about hanging the 50 pound baskets (which typically stay on display through mid-September). The workday begins at 7am, and we try to have our equipment usage complete before 9am when our guests begin to arrive. Large articulating lifts are driven to the location where chains hang from the roof. We use a rope and pulley system to hoist the baskets in place and then secure them with two stainless steel connectors to ensure a safe fit.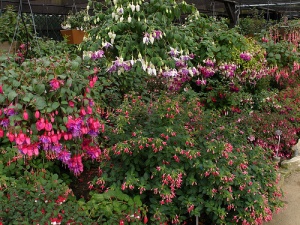 Fuchsia collection in California.
When caring for Fuchsia 'Lord Beaconsfield' it's important to remember that they don't appreciate direct sun, but they do want as bright a location as possible. Morning sun is ideal with high afternoon shade. Fuchsias prefer good air circulation to keep the leaves dry. We fertilize with a well-balanced liquid feed similar to Peter's Professional Plant food on a weekly basis. Water when the plant just begins to wilt. Be careful not to over water on cool and cloudy days. Watch for mealybugs in the axils, aphids on the new growth, scale on the stems and botrytis on thick interior foliage.
Once you find the right spot for your Fuchsiayou'll certainly be hooked on collecting more. There are hundreds of cultivars available in every shade of pink, red, purple and white. Be sure to try some of those with variegated foliage to offer an added bit of zest for your summertime garden!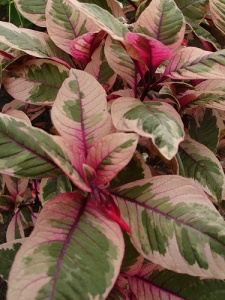 Fuschia 'firecracker'.