Illuminating Gardens
May 15, 2012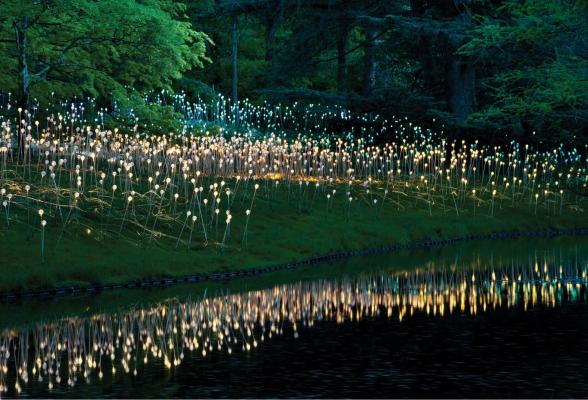 Light: Installations by Bruce Munro.
Recently one of our Facebook Fans posted on our page about her concern the peace and serenity of Longwood would be lost as we continue to become more commercial. I find the commercialism comment interesting, because clearly there is a perception among some that our programming is more about the financial bottom line rather than our mission.
Our vision for Longwood is to be a great garden of the world. But what does it mean to be a great garden? We are continually exploring and discussing this concept. For Longwood, great gardens are defined by timeless beauty and an ability to engage all of the senses.
We are excited to present this summer the first major exhibition of British light artist Bruce Munro. Some may view this as a step toward commercialism, but frankly, it's quite the opposite. The very reason that we would even consider to present something so unexpected at Longwood is to further fulfill our vision to be a great garden of the world. Munro's imaginative lighting designs will provide a new lens from which to view and explore what defines a great garden.
Every year we present our holiday light display, which everyone loves, but holiday lights are truly about the spirit of the season. They are beautiful, fun, and colorful. Munro's work at Longwood is softer and far more sublime because there is no heaviness of the hand. Bruce's illuminations are neither flora nor fauna in representation, but seem to me at least, to be a bridge between the two in our Gardens where they appear to have naturally existed forever.
The commercialization of arts and culture is an on-going debate and topic of conversation inside and outside of the profession. I can recall years ago when it was controversial for gardens like Longwood to have a restaurant or even a gift shop. This is the very reason why our restaurant is tucked deeply away from the Gardens. The thought of the time was to keep food service out of sight and out of mind. Today, we couldn't imagine being without a dining facility, and having it more front and center would be preferable.
This past holiday season we implemented new timed ticketing practices and we will be doing the same for the Light display this summer. The very reason we made the difficult decision to have timed ticketing was to control crowds and ensure that the Longwood experience was of the highest quality possible.
Our philosophy and promise at Longwood is that we aren't just selling tickets, but we are providing an experience that is a world apart from all others. The Longwood experience has evolved over time and is shaped by the legacy of our founder, P.S. du Pont. While excellence in horticulture has always been the primary aim of the place, Longwood was designed to entertain, educate, and immerse people into a beautiful living theater.
Commercialization is far from our interests at Longwood. The Longwood experience is authentic and cannot be replicated any other place in the world. I hope you will come to Longwood this summer to see our Gardens in a new light.