100 Flowers: 1 Plant
November 13, 2012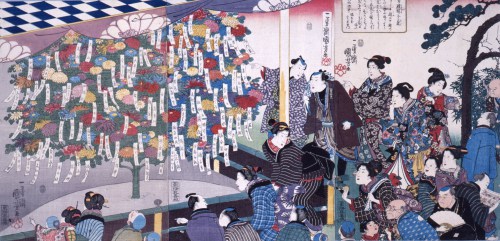 © Bunkyo Museum, Tokyo, Japan Artist: Kuniyoshi Utagawa Hyakushu-tsugiwake-giku (hundreds varieties grafted chrysanthemum).
One hundred different chrysanthemum flowers grafted onto one plant? What an extraordinary thought! Our mum team would love to take credit for this great idea; however, this horticulture art form has surprisingly been around for hundreds of years in China and Japan. Today you can find it on display in only two places worldwide, and Longwood Gardens is proud to be one of them.
Five years ago, my friend showed me a note card with a picture of a multi-flowered chrysanthemum. It was an old Japanese wood block print, or Ukiyoe, made in the 18th century (Edo period). He asked, "Can you make this?" I had no idea how it was made. Throughout 2008 and 2009 I visited Japan to learn how to graft mums from Mr. Hiroshi Saito, and how to recreate the traditional 100 cultivar bloom from Mr. Akiyoshi Oshiro. Mr. Oshiro was the first to recreate this 18th century chrysanthemum art at the Hamamatsu Flower Park in Japan. He generously shared his special skill with me, which I brought back to Longwood Gardens.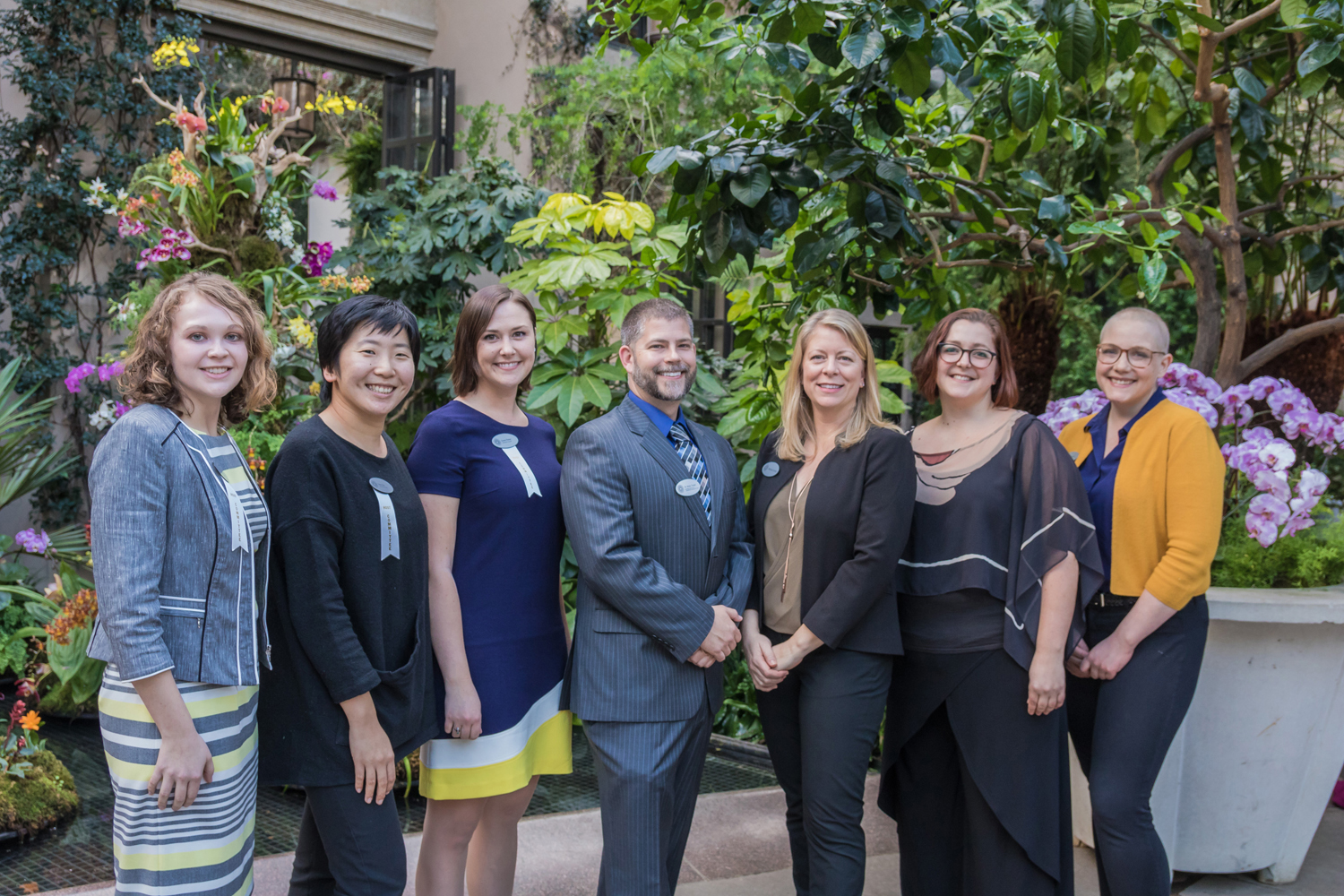 Mr. Oshiro's 100 cultivar grafted mum (Hyakushu-tsugiwake-giku) at the Hamamatsu Flower Park.
In 2009 we made our first attempt at a 100 cultivar mum. It had only 36 different flowers. Someone mentioned that it was so ugly, so we practiced our skill, and by 2010 we successfully displayed 96 flowers. In 2011 we reached our 100 cultivar goal.
The mum starts off as a small cutting in October—an entire year before it goes on display. We grow, train, and pinch it the same as we would a small 1,000 bloom mum. By June, the single plant has almost 200 stems and is ready to graft. The mum gets divided into four sections, each section receiving around the same number of stems. Mum varieties used for grafting are selected by their bloom time, color, flower shape, and size. Some of the mum varieties are from Longwood's own stock, but other varieties are bought from domestic suppliers as small cuttings and grown specifically for this project. Unfortunately, in the United States we do not have as many varieties to choose from as in China or Japan, and we are unable to import any new varieties.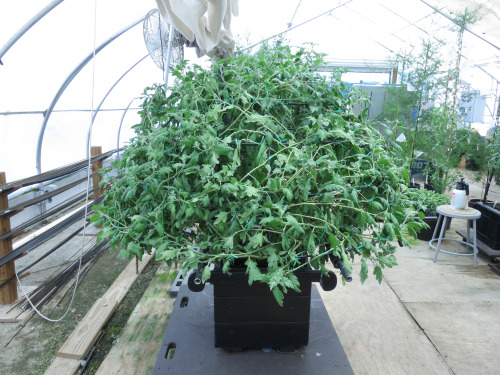 The 100 cultivar mum in June, when it's ready to graft.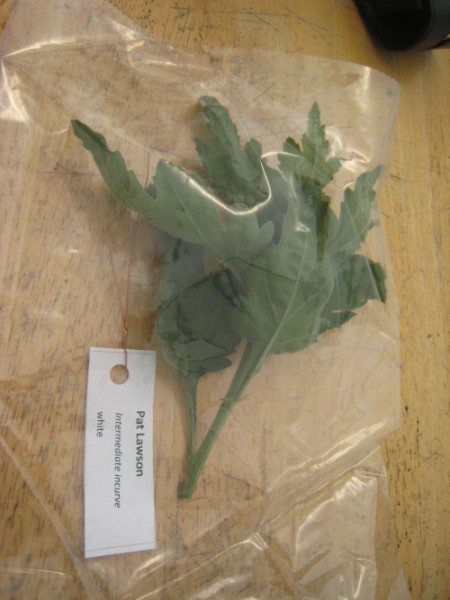 A cutting labeled with its name, color, and flower type.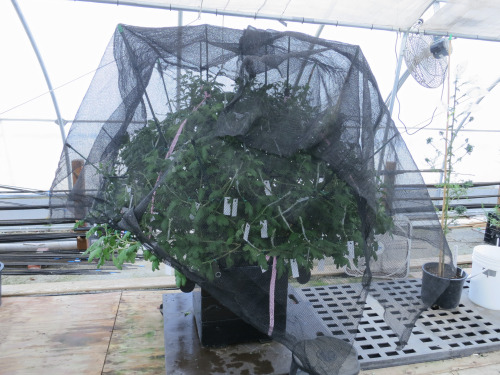 The grafted mum is kept under shade and misted to ensure the grafts do not dry out.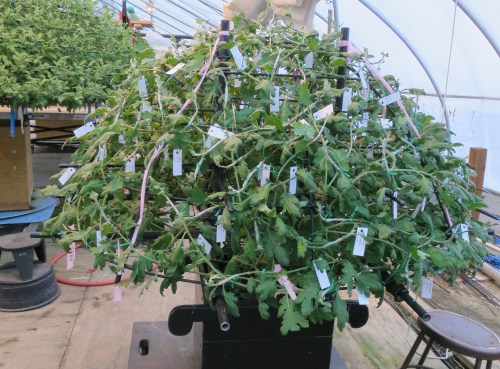 After about two weeks, the grafts have taken and the mum starts to grow.
We start grafting the first week of July, approximately 25 to 30 stems a day. To learn about this technique, read our blog or watch our video. After each cutting is grafted on to a stem, it gets a label with its name, color, and flower type. Once grafting has started, the mum is kept under shade and is misted to insure the grafts do not dry out. In about two weeks the grafts will have taken to the base mum and should start to grow. During the summer, we remove the side shoots and keep the stems tied down so that the flowers are easier to arrange in the final form.
In September, we disbud each stem so that a single large flower for each variety remains. In October, we start framing for the final shape. Longwood's framing is a modified version of the traditional Japanese style—ours looks more like a wedding cake. Each flower gets a rindai (white ring) placed underneath to support the flower so that it stays in good condition. The final decorated mum is positioned on a turn table so visitors can view all of the different chrysanthemum varieties.
In 2012, our mum has a total of 113 varieties and 146 flowers. You can find it in the East Conservatory. We hope you enjoy our rendition of this 18th century Japanese chrysanthemum art!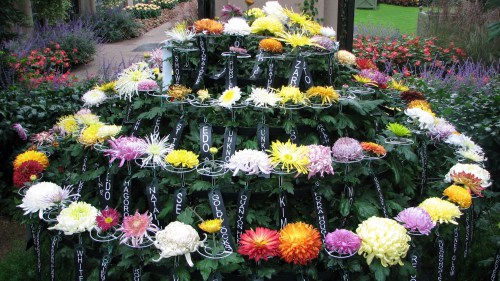 Final framing begins with a large mass of tangled mum stems and ends with a wedding cake of beautiful individually placed flowers.