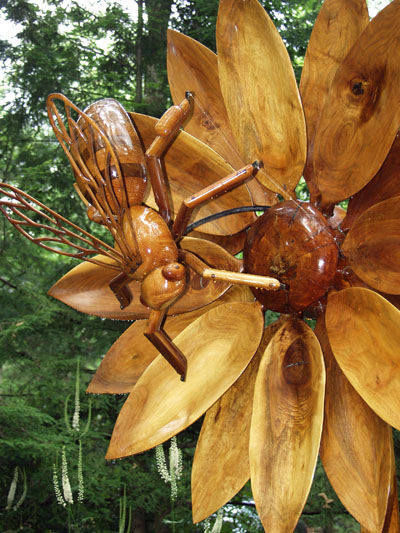 Bee and Flower.
Editor's Note: Longwood welcomes David Rogers to "Behind-the-Plants!" David is an artist specializing in larger-than-life sculptures made from natural materials. Several pieces from his Pollinators series are on display now in Longwood's Idea Garden, through September 6.
My very first commission at a public garden was at Longwood in 1993. It was a dry branch construction called the "Stickasaurus." This sculpture was my interpretation of a 'stick' dinosaur'. At the time, no other artist had worked on site doing a full-scale work in progress. It created quite a stir and many visitors showed up weekly, if not daily, to watch the work progress. It was both challenging and extremely exhilarating at the same time. I created that piece in the fall out of materials all found on the property. The finished piece measured some 40' long x 12' wide x 15' high. After the piece was completed and showed during the Chrysanthemum Festival it was partially dismantled and stored. A year later the segments were relocated and rebuilt on a private client's property in Pound Ridge, NY where the Stickasaurus still stalks its prey. Subsequent to that installation I exhibited three more projects here at the Gardens. In 1995, my traveling exhibit called "Big Bugs" featuring much-larger-than-life sculptures of arthropods all made from natural materials came to Longwood. This exhibit has been very successful and has been touring botanical institutions in the US for the last 15 years. As the Big Bugs grew, expanded, and matured, so did I. The challenge of having a very successful nationally touring exhibit made for a very interesting learning curve. The demand for the show coupled with the collective mission statements of the host institutions made for a demand for more pieces with educational tie-ins. So I went to work on some very specific kinds of animals. In some promotional materials that I used with the Big Bugs exhibit, I had written about a new group of pieces I'd hope to create. These pieces would be called the "Pollinators Series."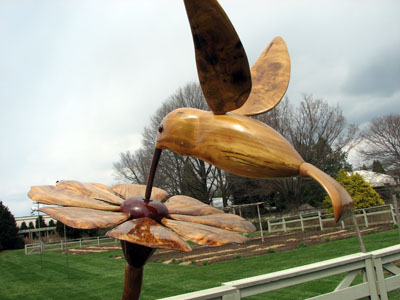 Hummingbird.
In 1998-1999 I debuted some of these at the "Art in the Garden" festival at Disney World. These pieces included the Bee and Flower (see above), Bee and Hive and Butterfly. I never got around to the Hummingbird, as was my intention.
Last spring a call came from my friends at Longwood and they wanted the Pollinators, but the hummingbird was an absolute must if we were to have a successful exhibit. I agreed. So now I had to create my first bird. It was a different kind of challenge for me, after all, I'd spent the last 16 years working on animals that had 6 or more legs! I chose some new woods I'd never worked with before to create the Hummingbird. I selected Tulip Poplar for the bird's body and wings and Ambrosia Maple for the flower petals. "Ambrosia wood" is any wood that has been infected with the ambrosia beetle. The interaction with this insect creates quite a bit of staining within the natural grain of any wood it attacks. Now that the new exhibit is here and installation is complete, I have the great joy of seeing my art work once again in a truly amazing garden. It all fits together very nicely in the perfect natural environment. As an artist, one thing I really work on is trying to find the symmetry. Coming back to Longwood to debut The Flower Force: David Rogers' Pollinator Series featuring the new Hummingbird and Flower has a lot of meaning and symmetry for me.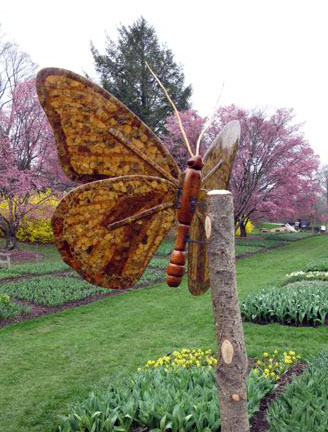 Butterfly.
Categorized Under: