Here at Longwood, we delight in the interplay of nature and people, welcoming guests to interact with our landscapes, get an up-close look at the art of horticulture, and find surprising moments along the way. Next summer, we have the immense honor of taking that interplay a step (or ten) further, when artist Bruce Munro returns to Longwood after his debut exhibition a decade ago that has proved to be a guest favorite, even after all these years. Light: Installations by Bruce Munro, returns with eight NEW installations throughout Longwood's indoor spaces and outdoor vistas, on view June 30 through October 30, 2022. Light will not only transform our landscapes … but captivate all who experience it.
Best known for his immersive, large-scale, light-based installations, British artist Munro is inspired largely by his interest in shared human experience, keeping sketchbook journals for the last 40 years to record moments and memories of feeling at one with the world. He first discovered light as a medium after graduating art school with a degree in fine art and then working in Australia as a research and development designer for a lighting company.
Realizing that his recorded sketchbook moments and memories could be expressed by light—a medium he describes as "so very pure and true"—and spurred by his passion to reuse materials to create new works, in his early forties Munro began to create using repurposed manufacturing components and light. "I was given some advice in my mid-twenties to stick to one thing," shares Munro. "Light was something that I loved, so it was an easy decision. Many years later, when I decided to bring to fruition ideas and experiences that were buried in my sketchbooks, many of which were inspired by light, it felt natural to express them using light as my medium," he continues. "Our experiences of being connected to the world in its largest sense, of being part of an essential pattern, became my true subject matter."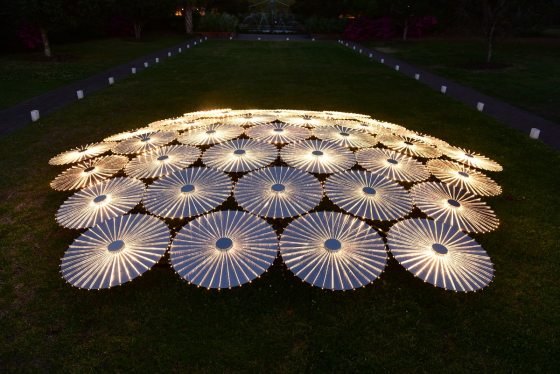 Next summer, Munro returns to Longwood ten years after making his debut exhibition in our Gardens. Since his debut exhibition in our Gardens, Munro has wowed audiences the world over with his artwork. From Mexico City to Phoenix, Australia to Japan, his art evolves with each exhibition. "Ten years is a long time; it's one sixth of my life so far," muses Munro. "Today, I am more focused as an artist. Instead of slowing down, I feel that I am speeding up. Time is precious and there is so much to do."
Reflecting on his first exhibition at Longwood, which served as his very first garden exhibition in the United States, Munro points out the role of the garden and how it influences his work. "Gardens make a huge difference as they relax our mood," he shares. "I remember watching visitors enter and exit Longwood during the installation phase of my first exhibition. People always left with a relaxed demeanor. Gardens are good for our mind, body, and soul. My hope for those guests experiencing the new exhibition is that the leave with a lighter heart."
Light: Installations by Bruce Munro will feature eight new, unique installations thoughtfully placed in a number of Longwood's indoor and outdoor spaces. Guests will find wonder and magic at the 18,000 illuminated bulbs that make up his luminous Field of Light. Munro found inspiration for this work in January 1992, when he and his fiancée (now wife) Serena embarked on a camping trip across Australia's Red Centre. During their trip, Munro was struck by the desert's "incredible feeling of energy, where ideas seemed to radiate from the earth along with the heat. There, Munro "dreamt of a field of lights that, like the dormant seed in a dry desert, would quietly wait until darkness falls and then under a blazing blanket of southern stars, bloom with gentle rhythms of light." It wasn't until 2004 that Munro created Field of Light first in the field behind his home in rural Wiltshire, and between 2004 and now has recreated Field of Light in many forms and in many locations … including in Uluru, the place that originally inspired it. Here at Longwood, Field of Light will adorn the landscape amid our Large and Small Lakes, and with it spirits will undoubtedly soar.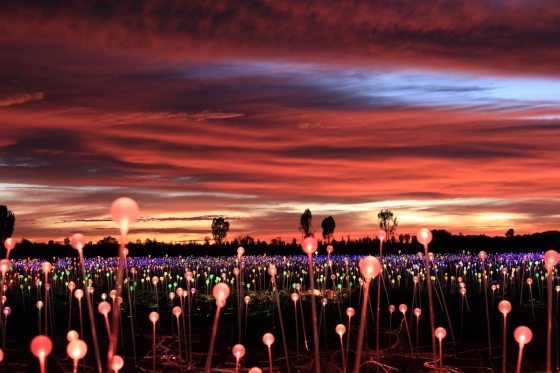 In addition to Field of Light, Munro's upcoming exhibition will bring new dimensions to beloved Longwood spaces, including our expansive Orchard, serene Pear-Shaped Basin near the Chimes Tower, iconic Conservatory Exhibition Hall, and more. In addition to the bright sights, Light will feature sounds, too. This element of sound is inspired by Munro's love of old valve radios, and the snippets of sound and music, or the shifting soundscape, that emerge from static fuzz when tuning them. "I have long felt that light and sound are natural dancing partners," shares Munro. "I was a chorister at school and have always loved music. At the beginning of lockdown, I set myself a task to listen to classical composers, starting with the present and working my way back in time. It's been an incredibly rewarding experience, and many of my works have a sound element."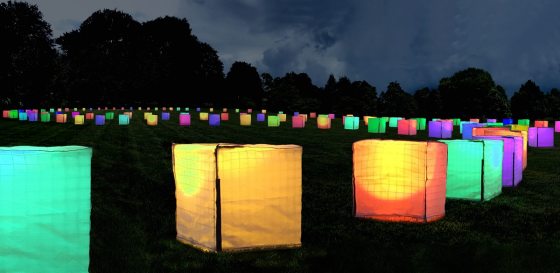 Since this exhibition is best viewed at night, Longwood will open one extra evening each week throughout the exhibition. Light: Installations by Bruce Munro will be on view Thursday through Sunday evenings, June 30 through October 30, 2022. Guests may purchase tickets and make Member reservations beginning March 7, 2022. Until then, check back for more insights from Munro, as well as installation sneak peeks and exhibition updates to help light the way.
Categorized Under: