As part of the Fellows Program, our 2021–22 Fellows spent two months at individual field placement sites across the country to learn from thought leaders, immerse themselves in their host organizations' culture, and share and grow their own expertise. While international field placements are typically offered as part of the Fellows Program, only domestic field placements were offered this year because of the pandemic.
Here, our Fellows reflect on their time spent at their host organizations, their lessons learned, and memories made along the way.
Katie Serock
The Huntington Library, Art Museum, and Botanical Gardens (San Marino, CA)
The Huntington Library, Art Museum, and Botanical Gardens is an internationally renowned collections-based nonprofit institution that supports and promotes the humanities, arts, and botanical science. Originally, Henry Huntington and his superintendent William Hertrich introduced, cultivated, trialed, and experimented with exotic and edible plants from around the world to see if they could adapt to the Southern California climate. This was the beginning of the plant collections, which now has more than 27,000 living plant taxa and 16 themed gardens.
I was drawn to the Huntington after a visit to Southern California gardens in January. I was in complete awe of the diversity of their collections and beauty of the gardens and grounds. I was lucky to have connected with the Huntington's leadership during my winter visit: this professional relationship helped me understand the expanse of projects and vision for the gardens, and I knew that's where I wanted to spend my field placement.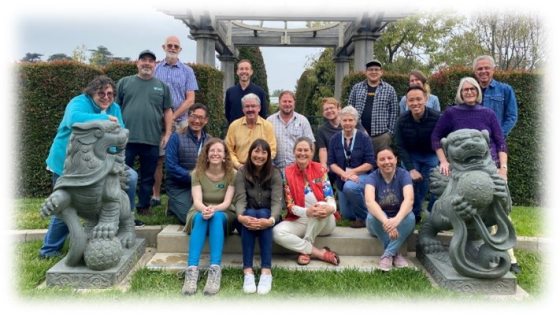 The Huntington Botanical Gardens are where people meet nature and create relationships with the environment for a more abundant future. I was able to work on projects focused on recognizing and mitigating current environmental threats and finding solutions for the future to reduce and regenerate within the organization. One of my favorite projects was contributing to the Huntington's strategic plan the first week I was there. I was able to apply the coursework, classes, and exposure from the Fellows Program. I worked with Nicole Cavender, the director of the Botanical Gardens, and her team to collect information, facilitate, and collaborate to identify tasks, roles, budget, and timelines. Being part of this planning process was empowering and made me feel like I was making an impact.
After the strategic development framework was complete, we dove deeper and focused on one goal: to be leaders for a sustainable world. The plan was focused on five sustainability themes: climate change, water, energy, waste, and biodiversity. For each theme, we developed a task list and budget for how to mitigate, change, or improve issues at all levels of the Huntington with short-, mid-, and long-range goals. I couldn't have asked for greater exposure to something I feel so passionately about, especially during the water crisis in California.
The Huntington also provided me the opportunity to better understand various roles, educational opportunities, and programs to connect the public to themes of sustainability, home- and community-scale urban agriculture, food, medicine, botanical science, horticulture, water conserving techniques, plants appropriate for Southern California, and nature. Their Experiential and Teaching Gardens show visitors how plants are grown, where their food comes from, and the tools needed for adopting sustainable horticultural practices in their home or community gardens.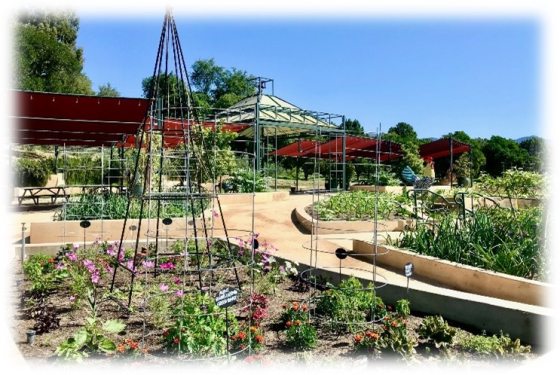 My exposure at this garden was exactly what I was looking for in my field placement and I am eternally grateful for the camaraderie, leadership, and openness of the Huntington staff. My values and vision for public gardens was hyper-focused at the Huntington and helped me to develop and shape what I want for my career in horticulture.
Noemí Hernández Castro  
Desert Botanical Garden (Phoenix, AZ)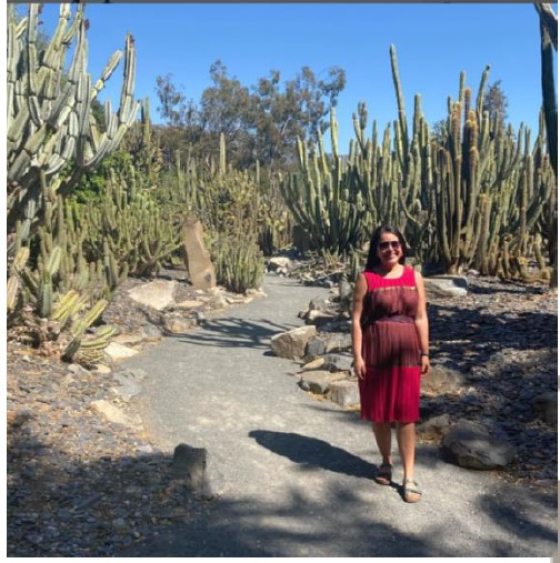 Prior to the Fellows Program, I was on staff at the National Botanical Garden in Mexico City, working with the National Collection of Cactaceae and Crassulaceae. I was able to do a site placement in the unique Desert Botanical Garden in Phoenix, Arizona. This excited me a lot because they hold the National Collection of Cactacea, as designated by the North American Plant Collections Consortium (now known as the Plant Collections Network).
Although the garden has 140 acres, only 55 are under cultivation because of a stewardship program. Their work to protect and preserve desert plants, animals, and habitat really resonated with my background, values, and professional aspirations.
Desert Botanical Garden received me warmly – not only with late-spring heat, but also with a marvelous, knowledgeable, and hard-working team. I was able to work on a cacti propagation project with horticulture staff, using some of the seed bank accessions. This brought me back to my professional roots and was a great opportunity to combine and share technical expertise.
Another great opportunity was working with the research and conservation staff on multiple projects, like sampling plants for a saguaro census, the emblematic plant of Phoenix; plant monitoring after the "Telegraph fire," one of the largest wildfires of 2021; and even doing plant collecting to enrich the cacti collection. All of these experiences fulfilled me, not only with knowledge gained but also with a sense of accomplishment in what I do, given that I firmly believe in using my work to help, solve, and better life for plants, fauna, and people during the Anthropocene.
Following my Fellows experience, I will be going back to Desert Botanical Garden as the plant form specialist for cacti. My story shows that we do go back to the places where we loved life, or at least, to the plants we are passionate about.
Nick Lazio
Atlanta Botanical Garden (Atlanta, GA)
Growing up in North Carolina, I viewed the Atlanta Botanical Garden as the Longwood of the south. I knew that going to Atlanta would be an ideal place to learn how they have become a regional and international leader in plant collections development and conservation. Just like Longwood, their renowned conservatory, plant displays, and amazing exhibits make it a jewel in the heart of a metropolitan area. The vibrancy of new growth from the conservation programs, new gardens, and even another location north of Atlanta in Gainesville got me excited to spend my two months in such a dynamic place.
Until visiting, I did not know that ABG is the only garden to feature a tropical high elevation greenhouse that keeps temperatures maintained at a maximum of 76 F during the day and 55 F at night with high humidity. This is especially impressive given the hot, humid climate of Georgia. The garden is also home to the Southeastern Center for Conservation, which is a hub for partners in conservation and research throughout the southeast. I quickly learned that this work has a global reach, from the partnerships the conservation team has cultivated with countries in South America to the work done through the International Plant Exploration Program to help Vietnam develop horticulture and conservation programs that further support plant exchange.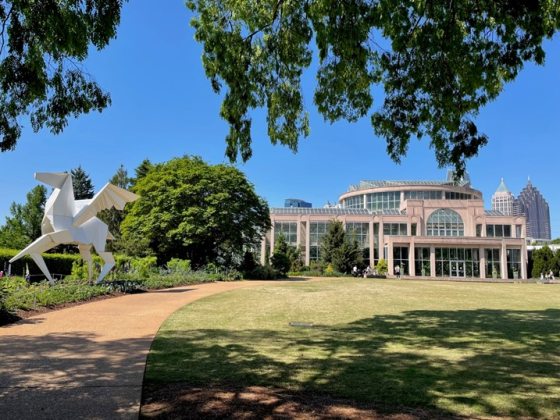 While at the Atlanta Botanical Garden, it was a unique experience being able to work between the main garden and the Gainesville location, a garden that opened in 2015 to serve as a destination for people in North Georgia and home to the International Plant Exploration Program's evaluation nursery. One of my main projects was leading a documentation program that created a partnership between the National Arboretum and the garden to document the new and unique plants that were being introduced to the country, training staff how to take herbarium vouchers that where then sent to the National Arboretum's herbarium to be available for future research. It was an amazing experience to get to work with one of my role models and mentors Scott McMahan who manages the International Plant Exploration Program, learning from him how the garden has supported this effort, which helps foster relationships between countries and help introduce new plants to the southeast.
One of my projects while working with the horticulture leadership team was helping them develop the content and organize the layout of the website, facilitating better communication with the public and giving them a look at what was going on behind the scenes. It was those moments that also allowed me to see how interconnected the garden is with other institutions throughout the south. Visiting these institutions also gave me a better sense of how to lead a botanical garden's collections development in the future. 
Usman Ibrahim 
Arnold Arboretum of Harvard University (Boston, MA)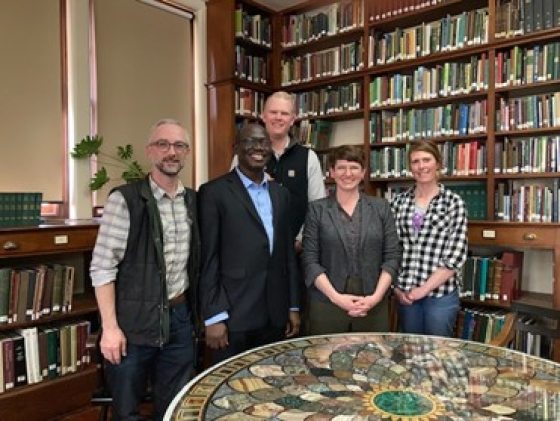 A 281-acre preserve in the heart of Boston, the Arnold Arboretum of Harvard University was started 150 years ago and stewards one of the world's most comprehensive and best-documented collections of temperate woody plants, with a particular focus on the floras of eastern North America and eastern Asia. Free and open every day, this jewel in the Emerald Necklace park system was designed by Frederick Law Olmsted and engages the public through educational opportunities and programs for all ages (arboretum.harvard.edu/about/). The mission of the Arnold Arboretum is to discover and disseminate knowledge of the plant kingdom to foster greater understanding, appreciation, and stewardship of Earth's botanical diversity and its essential value to humankind. This is accomplished through three areas of activity: research, horticulture, and education.
In view of the long history of the arboretum and its reputation worldwide, being at the Arboretum for field placement offered the opportunity to learn more about its organizational structure and operational activities. In turn, this provided broader knowledge for launching  the new Ahmadu Bello University Gardens in Nigeria, where I will serve as executive director after the Fellows Program. The Arnold Arboretum was an excellent place for me to conduct this study because of its similarity to the Ahmadu Bello University Gardens in that they are both attached to great universities. My experience at Arnold will help my work in supporting the development of public horticulture in Nigeria.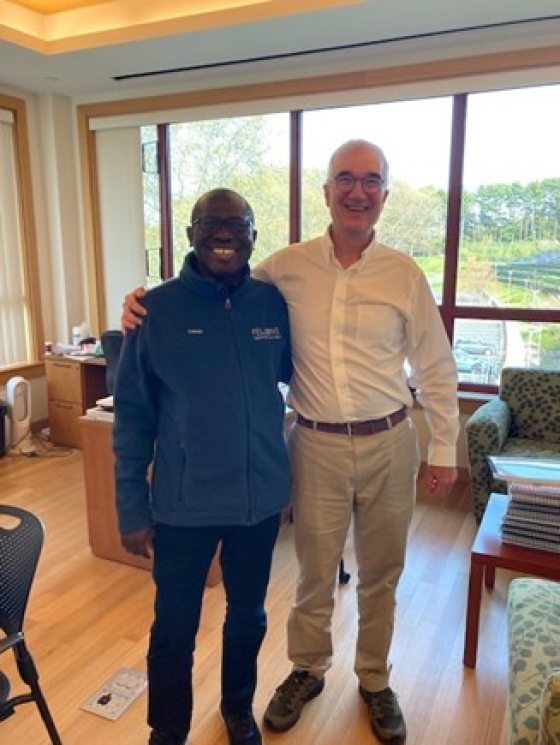 I obtained information for my study from the Arnold Arboretum website, committee reports, publications, policy manuals, and other documents to understand the Arboretum's mission, vision, and goals and to compile a general overview of its structure and operations. To dive deeper into how departmental activities align with the mission, I conducted interviews with all department heads, as well as group discussions with living collections staff. I participated in a number of meetings at both strategic and operational levels to learn how they are conducted to support the mission. Based on the literature I reviewed and one-on-one interactions with all operational leaders, I ascertained major takeaways and formed recommendations to support the Arboretum's current practices. To advance my role as the pioneer executive director of the Ahmadu Bello University Gardens, I have summarized my findings as a Fellow at both the Arnold Arboretum and at Longwood Gardens to help me plan for a fruitful, successful, impactful, and exciting leadership career in my country.
It was delightful to share my self-awareness story with the staff of the living collection at the Arboretum and share my findings with the Longwood Fellows in how to facilitate effective communications to become a highly collaborative team.
Zach Borngraver
Longwood Gardens (Kennett Square, PA)
My field placement was non-traditional in every sense of the word. In January 2022, I suffered a life-changing injury that would leave me incapacitated in the ICU for 11 days. My leadership journey as I knew it had ended. Or so I thought.
Weeks after I returned to Longwood, I had to make the difficult decision to slow down and stop pursuing my professional career and focus on reducing my stress and exercising as much as my body could handle—doctors' orders. It was time for me to turn inward and focus on my health if I didn't want to become another statistic.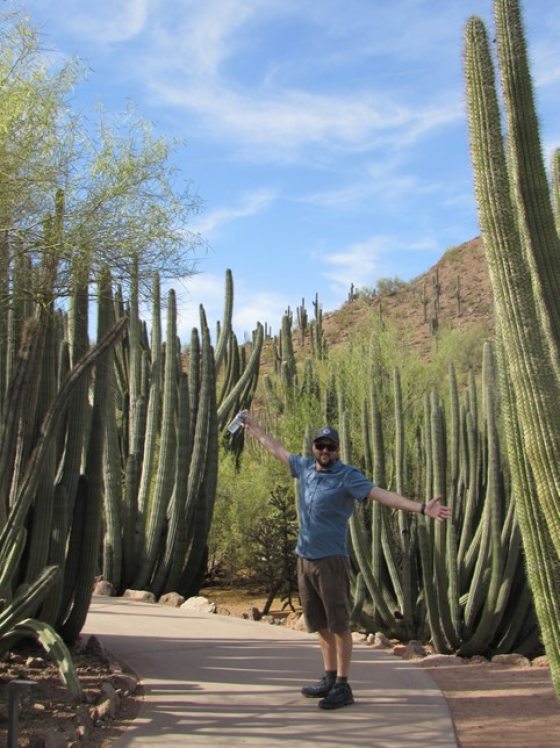 Fortunately for me, I had the full support of my fellow Fellows, the Fellows Program, and the leadership of Longwood and Longwood's Board. While looking inward and focusing on myself I still needed a sense of purpose. I thought to myself, "What would Paul Redman [Longwood President and Chief Executive Officer] do?" Paul would have planned for this, I jokingly thought to myself. But since I hadn't planned for it, I did the next best thing. I put together a strategic plan complete with goals, objectives, timelines, and key performance indicators to gauge my recovery success.
This was a game-changer. While I continued on my path to recovery, I began to see a massive shift in my overall physical, mental, and emotional health. I began to think more clearly and regain the confidence that seemed to have vaporized in early January. I began visiting and discussing with multiple garden leaders about overcoming adversity and the role gardens play in the healing process of the communities we live in. I sat in on all the Longwood board committee meetings I could to better understand the conversations that were being had and the strategies required to move organizations toward the direction leaders want to move. Suddenly I was beginning to pull together all the pieces from the last year. I was once again able to think clearly and strategically and recognize the importance of garnering support from your stakeholders.
As someone with a passion for creating more equitable access to the natural world, my field placement, while non-traditional, gave me a great new perspective on how this may look in the real world. I would like to thank the staff of Longwood Gardens for their continued support through this process.
Categorized Under: