Although we may be best known for our floral displays, turfgrass is an essential component of the overall health and appearance of our Gardens—and caring for our turfgrass is an ever-evolving science. Of Longwood's total 1,100 acres of land, 170 of which are considered finished cut turfgrass, meaning those acres consist of uniform, long-lived groundcover that can tolerate traffic and low mowing heights. As many with yards can attest, keeping turf looking pristine requires a combination of skill and knowledge that comes from experience. Here at Longwood, turfgrass care is also rooted in our firm commitment to practicing environmental stewardship, and in our dedication to following research-based, sound ecological practices in the care of our Gardens. The way we water our turfgrass is no exception—and with automated controls that provide a wealth of real-time data, we can make informed, timely decisions on how best to care for our turf in an ecologically responsible way.
From soil testing to irrigation, practicing an ecological approach is a thread that runs through all aspects of our turfgrass program. Everything starts with the soil; we test our soil frequently, utilizing 70 individual turf areas, and then amend our practices as necessary based on the data we collect. Our irrigation approach is key to our turfgrass management, and serves as a large part of our water conservation practices that are designed to reduce waste across Longwood facilities.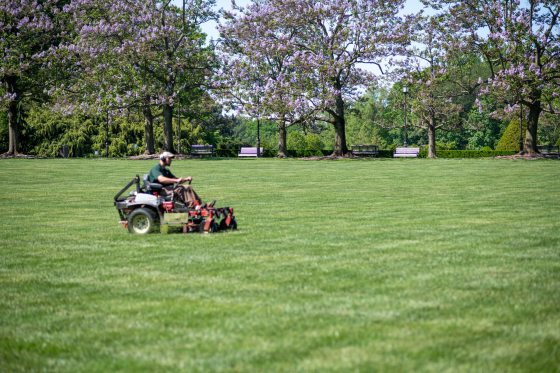 Of our turfgrass, 8.3 acres are irrigated, and include our Main Fountain Garden, East Plaza Land form, Cow Lot, Italian Water Garden, and Rose Garden.  These 8.3 acres feature an UgMO Technologies commercial irrigation system that allows us to automate the irrigation process by enabling 164 soil sensors to communicate real-time data to controls that optimize irrigation events. These areas are irrigated because they are critical to the aesthetics of these garden spaces; other turfgrass areas provide a backdrop for displays or do not receive a similar level of foot traffic and therefore don't require such a high level of care.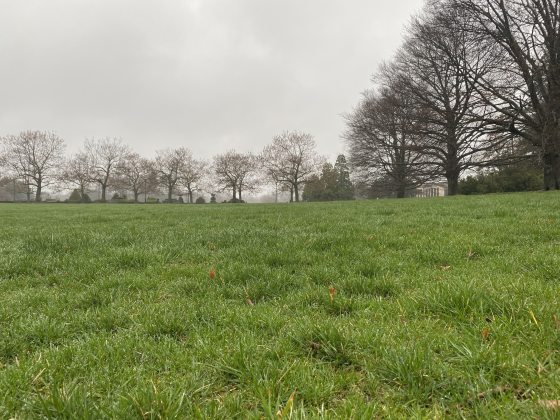 Our primary goal for using an automated irrigation system is to leverage and advance our unique soil-based approach to turf management. With the UgMO system, we are able to measure actual soil moisture levels to reduce irrigation time and water consumption. When we have an irrigation event or a rainfall, we can see how the soil reacted. Did it slowly dry down? Did it hold that moisture for a while? In addition to providing percent volumetric water content to help us make zone-specific watering decisions to optimize water use and meet the needs of the landscape, the soil sensors also monitor temperature and salinity, which can help us inform some of our integrated pest management strategies, or the practice of using multiple management strategies to minimize the use of pesticides and advance our sustainable practices.

By monitoring soil temperatures, we know when insect or disease pressure will increase so we can make timely pest control applications if needed. By knowing soil temperatures, we can reduce or extend the time fungicide applications are needed, thus reducing another input. All in all, the irrigation system shows us, in detail, the good and bad in our growing environment and gives us another tool in our toolbox to use when determining exactly how to grow our turfgrass better. Our team reviews and uses the data daily, and can make the appropriate adjustments or fixes quickly.
Using the automated irrigation system and being able to access its extremely valuable data has yielded impressive results in our goal of reducing water. Using that data, we are able to efficiently and accurately track the irrigation and precipitation totals by location. Using that data, we found, for one, that from 2018 through 2021, we were able to reduce annual water utilization in the Main Fountain Garden and Cow Lot by approximately 28 percent It's important to note that while reducing our water utilization, we have not seen a negative impact on our turf or landscape.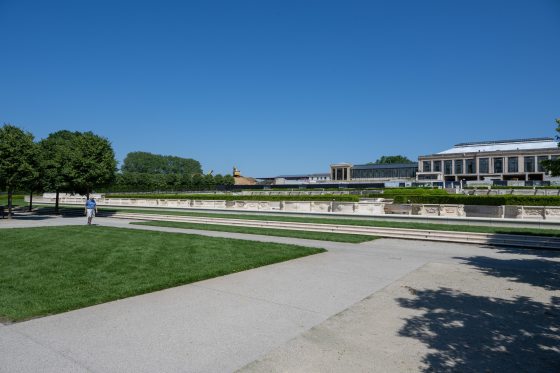 Efficient irrigation use is one of the many ways in which we work to practice ecologically responsible practices here in our Gardens. Keeping our turfgrass beautiful and healthy—while doing so in a responsible way—is a complex practice, but ongoing research and technology is paramount in our approach and our ever-evolving practices. This data helps guide our turfgrass program by providing valuable information, helping us efficiently manage our turf, and often reducing the amount of intervention needed to achieve the desired aesthetic and our ecological goals. With some help from research and data, the grass can always be greener.
Categorized Under: