The word "regenerate" has multiple meanings that are interestingly connected. Spiritually, "regenerate" means to give a new and higher meaning or purpose to something. Biologically, "regenerate" means to regrow or bring about new and more vigorous life. Both of these definitions convey a sense of renewal that is simultaneously greater than and connected to the past. Nearly the entire Longwood Fellows cohort (Fellow Amanda Hannah was on a professional journey through the western United States at the time) recently had the chance to explore both sides of regeneration during a trip to Pittsburgh, Pennsylvania, where we connected with Phipps Conservatory and Botanical Gardens and Pittsburgh Botanic Garden.
At Phipps, the Fellows had the opportunity to learn about the principles of regenerative thinking during a workshop led by Phipps Chief Executive Officer Richard V. Piacentini and Senior Director of Communications Joe Reed. At its core, regenerative thinking is a framework to help us see the reciprocal relationships upon which the world is built. We explored the seven principles of regenerative thinking developed by author Carol Sanford: wholes, essence, potential, nestedness, nodality, reciprocity, and development. This framework has been important to Phipps in developing its holistic strategic plan, capital projects, and community engagement programs. Keeping these principles in mind, we completed exercises and engaged in discussions focused on how to apply the tools of regenerative thinking.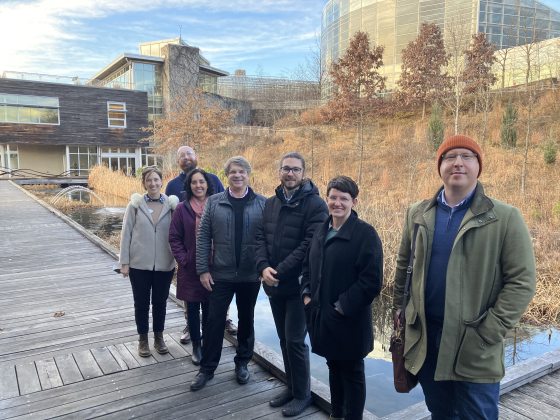 Following this engaging workshop, the Fellows embarked on an amazing tour of some the outstanding ways Phipps has applied regenerative thinking on their campus. Phipps created some of the greenest buildings in the world by considering all stakeholders, including the Earth, in their building design and ensuring that their work serves the development of the larger system as a whole. Piacentini noted that a critical part of this work was to make the commitment and then work backwards to chart the route to the goal, rather than self-impose limitations before the work even started. Fellow Rae Vassar notes, "It was inspiring to see the Center for Sustainable Landscapes at Phipps. It's hard to think that one could experience the natural light and airflow throughout the buildings, the beautiful and comfortable exterior gathering places, and the sense of calm inside and out and not be convinced that this is an impactful way to build."
Phipps' leaders also pointed out that this way of seeing and thinking about the world is far from new. It has existed as a foundational understanding within Indigenous cultures, traditions, and philosophies around the world since long ago. Modern Western cultures are only just now beginning to grapple with appreciating and understanding the deep wisdom present within these knowledges across the globe. This visit to Phipps left us with many important questions to continue exploring and new philosophies to apply within our own leadership practices.
The Fellows continued exploring regeneration with a visit to the Pittsburgh Botanic Garden. There we were greeted with warm hospitality by Executive Director Keith Kaiser, Chief Financial Officer Robert Mermelstein, Horticulture and Conservation Director Sue Myers, Development Director Beth Exton, and Education & Exhibits Director Mark Miller. The gathering kicked off with a tour of the garden's new welcome center, which was constructed using best practices of biophilic design. With the calming forest canopy as our backdrop, we briefly toured the new facility and then settled in to hear the leaders share their story of the garden's founding, growth, and goals in the future.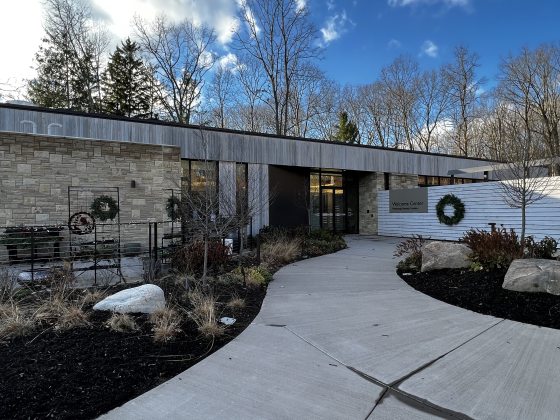 Pittsburgh Botanic Garden's story is an impressive celebration of healing the wounds of the land and creating a diamond of a garden on a site previously used as a coal mine. Before the initial team could even consider putting new plants in the ground, they needed to address the environmental impacts left behind to ensure the growing garden's success. Pittsburgh Botanic Garden first had to remove the remaining coal and strategize long-term regeneration of the soil. Old mines on site also filled with water, leaking out beautiful, but deadly, milky blue and highly acidic mine drainage containing toxic heavy metals. Pittsburgh Botanic Garden has succeeded in removing remaining surface coal and creating infrastructure to treat the mine drainage before it reaches the groundwater and flows downstream to nearby watersheds.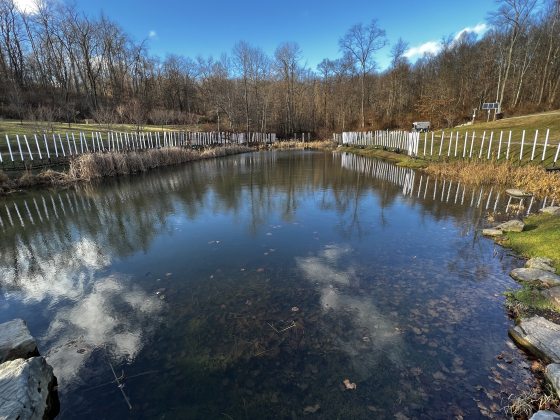 This garden is a powerful demonstration of regeneration in the context of conservation and reclamation, bringing new and more vigorous life to the land. It also demonstrates Pittsburgh Botanic Garden's commitment to a core part of its mission: to conserve the environment and inspire people to value plants, garden design, and the natural world. Mermelstein shared with us a key strategy for successfully pursuing such work: an "Iron Triangle" consisting of finance, operations, and mission. By maintaining a balance between these sides, the garden has been able to grow steadily and sustainably toward its goals. The Iron Triangle image is also one of garden's many acknowledgements of the historical and present context of the region, as it is the strongest shape in engineering and appears in the many bridges of Pittsburgh.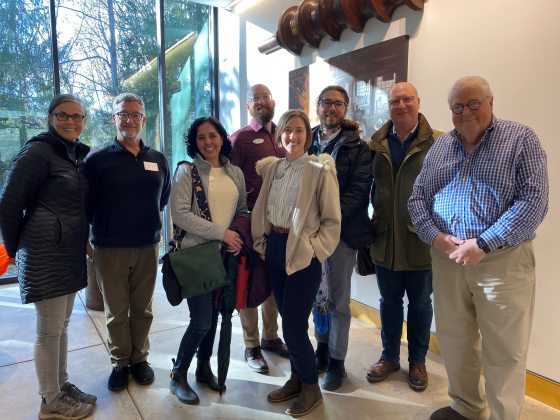 The Fellows are grateful to have had the opportunity to explore the theme of regeneration with Phipps Conservatory and Botanical Gardens and Pittsburgh Botanic Garden. Fellow Rama Lopez-Rivera reflects the opinion of all of the Fellows when he says he "was impressed and inspired by both Phipps's and Pittsburgh Botanic Garden's cutting-edge approach to operating in an environmentally conscious way." Working strategies to cope and heal from the consequences associated with climate change and global pollution are more important than ever. All too often, finding working solutions to overwhelming problems is paralyzing and polarizing. Using the lens of regeneration can help us face this challenge. The Fellows are grateful to add regeneration to the toolkit as developing garden leaders. Gardens are a place to celebrate beauty, but through their development and operation they can also regenerate the land and create a healthy environment for the flourishing of both plants and people.
Categorized Under: