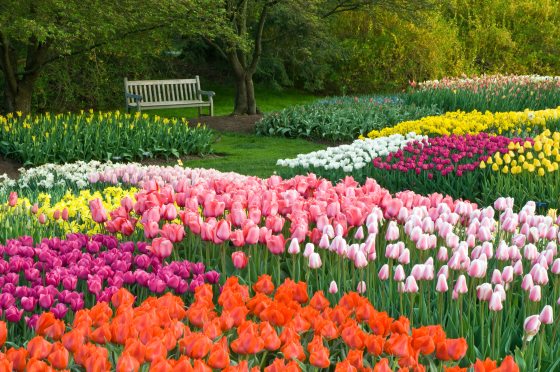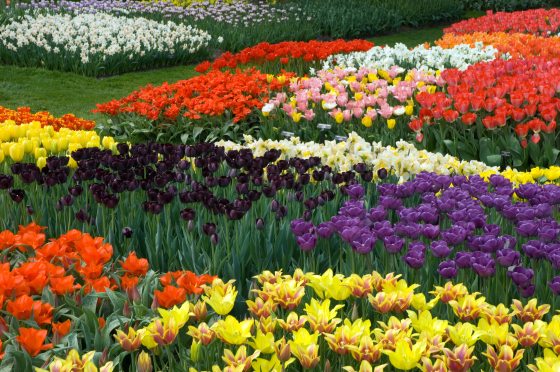 One of Longwood Gardens most welcomed seasons takes place each year with its colorful and lush spring display. Within each of the many spring horticultural displays, spring flowering bulbs usually play a major role.  Longwood Gardens staff, students and volunteers participate in planting several hundred thousand bulbs each year. 
Bulbs are used in both indoor and outdoor displays.  Bulbs grown for use in the indoor conservatories are potted, watered and moved into large coolers where they spend severalmonths developing roots and meeting their chilling requirements. Once completed, pots are moved into greenhouses and grow for a specified time prior to flowering.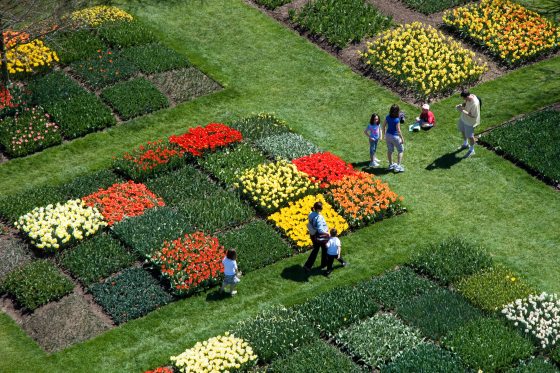 Bulb displays are planned more than a year in advance. Bulb orders are placed each spring from various bulb supply companies. Most of our spring flowering bulbs are produced and shipped from Holland. Bulb shipments usually arrive at Longwood in early October and planting begins shortly thereafter. Recently Longwood staff members have developed a new bulb display in the Idea Garden. This display plays two major roles; as a strong educational component both for our guests and staff, and as a strong display in itself.  The display primarily features tulips and Narcissus(daffodils), displaying division types of each, grown in a trial garden setting where we can observe varieties new to Longwood. This is a huge resource for those who are interested in seeing tulips and narcissus varieties in bloom, or for those who just enjoy being surrounded by thousand of blooming bulbs. The Idea Garden bulb display is planted each fall, around the last two weeks in October. Prior to planting this display, the summer flowering annuals display is removed. Once removed the planting beds are prepared for bulb planting. This preparation includes edging planting beds, amending planting beds with composted pine bark, tilling and raking. Once the beds are prepared we are then ready to plant bulbs.
The planting process begins with having our plans, bulbs and labels in order. Once materials are on site we begin with laying out the bulbs. Since all planting spaces are the same size we use a template with dibbles running along each side. These dibbles mark the soil, helping us to place the bulbs at the correct spacing and in straight rows. After marking the planting spaces with our template, we then begin the process of laying out the bulbs. The planting team will work together placing bulbs meticulously in selected beds. Once the entire bed has been laid out it will be ready to plant. The goal for the planting team each day is to remain on schedule, laying out and planting 15 to 18 thousand bulbs. The planting process usually takes about a week to complete with a crew of 6 to 8.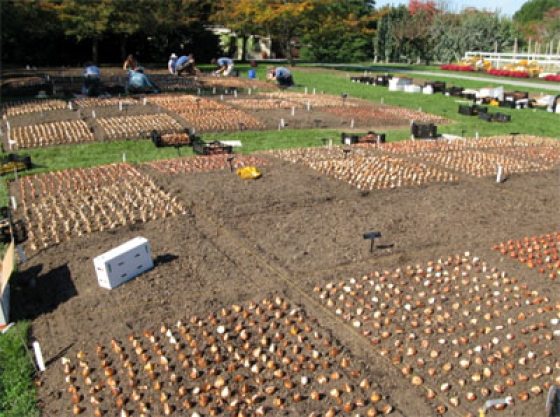 The planting process is not as difficult as one would think. The soil in our planting beds is extremely friable and this allows us to plant at an efficient pace. Planters will complete the entire process on their knees using one hand to lift the bulb while the other uses a trowel to dig a hole. As planters refine their techniques, bulbs can go into the soil quickly. Bulbs are planted to a depth of 5" to 6" from the base of the bulb. Within the Idea Garden bulb display we feature about 70,000 spring flowering bulbs. Bulbs are planted in variety specific squares or in variety combination's. The overall existing geometric garden design has worked well with designing this garden.  The fourteen front beds consist of a total 5,600 square feet. We plant in groups of 250 bulbs per 25 square feet.  This gives us 224 planting spaces in this area of the display. In the back portion of the display we trial bulb combination plantings. These bulb combination's have been selected by gardeners. Each group is evaluated several times during their bloom period for color combination's, longevity of bloom time, height and interest. Within this space we have 35 different combination's.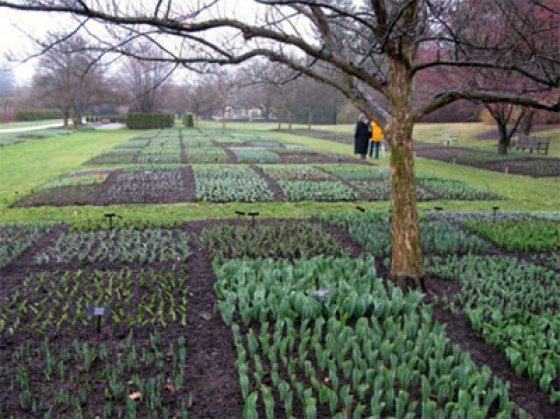 After a bed is completely planted it will receive a final raking to even out the soil. The last and final step is to protect the bulbs from squirrels and deer. To do this we use plastic deer netting stretched out on top of each bed, covering every square foot. The netting is attached to the bed using sod staples. This netting will remain on the bed throughout the winter. When the bulb foliage begins to emerge in late winter the netting will be removed and we change protection methods. At this time we use an electric fence to deter the deer from eating the bulb foliage.
The electric fence is set up each evening and taken down each morning. In early May as the last of the late blooming varieties begin to fade, it is time to remove the bulbs. Bulbs are removed from the display beds, one at a time using digging forks to loosen bulbs from the soil. Once bulbs are removed from our display they may find their way into other garden locations or they are composted.  To ensure a high quality display in these beds, Longwood Gardens purchases fresh bulbs each year.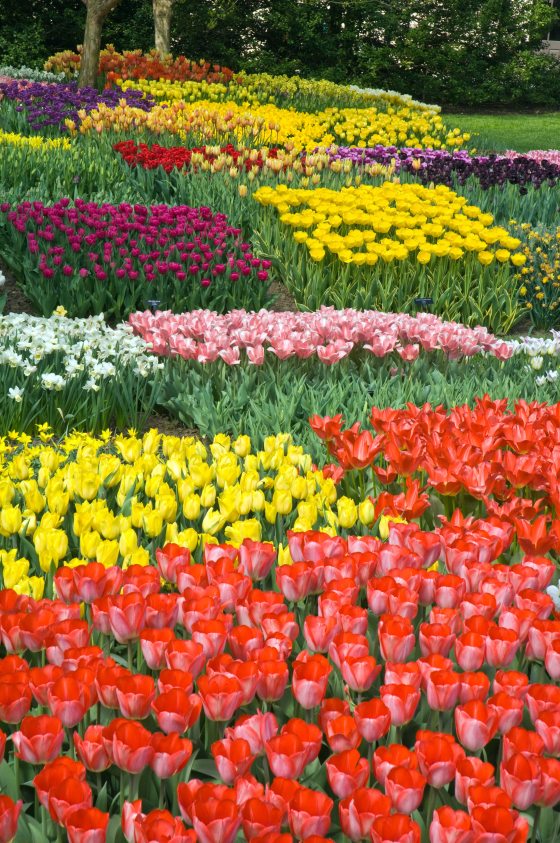 Categorized Under: