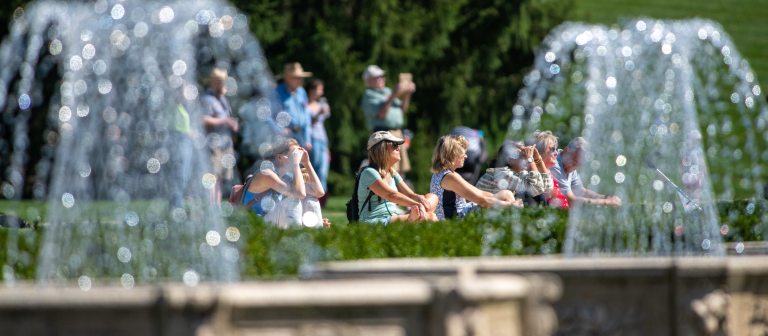 Running seasonally, our daily fountain performances are the stars of the Main Fountain Garden experience.
Enjoy the thrill of what 1,719 jets can do—from spinning and dancing to music, to soaring as high as 175 feet—with daily performances.
Please note: Daytime fountain performances are not illuminated; however, evening performances after dusk are illuminated. Fountain performances may be canceled due to severe weather.
May 11 through August 30, 2023
Mondays, Wednesdays & Sundays at 11:15 am, 3:15 pm, 5:15 pm
Thursdays, Fridays & Saturdays at 11:15 am, 3:15 pm, 5:15 pm, 8:15 pm
August 31 through October 29, 2023
Mondays, Wednesdays & Sundays at 11:15 am, 3:15 pm, 5:15 pm
Thursdays, Fridays & Saturdays at 11:15 am, 3:15 pm, 5:15 pm, 7:15 pm