Main Fountain Garden Performances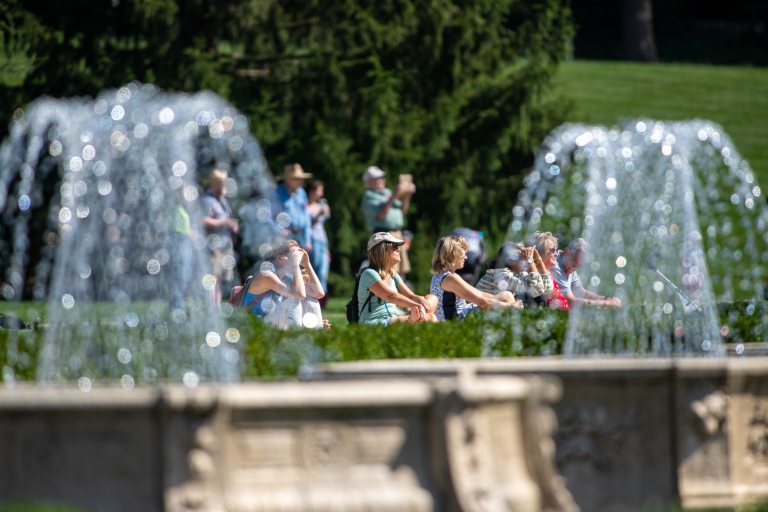 Dates
Friday, September 30

11:15 am, 1:15 pm, 3:15 pm, 5:15 pm, 6:15 pm, 7:15 pm, 9:15 pm

Saturday, October 1

11:15 am, 1:15 pm, 3:15 pm, 5:15 pm, 6:15 pm, 7:15 pm, 9:15 pm

Sunday, October 2

11:15 am, 1:15 pm, 3:15 pm, 5:15 pm, 6:15 pm, 7:15 pm, 9:15 pm

Monday, October 3

11:15 am, 1:15 pm, 3:15 pm, 5:15 pm

Wednesday, October 5

11:15 am, 1:15 pm, 3:15 pm, 5:15 pm

Thursday, October 6

11:15 am, 1:15 pm, 3:15 pm, 5:15 pm, 6:15 pm, 7:15 pm, 9:15 pm

Friday, October 7

11:15 am, 1:15 pm, 3:15 pm, 5:15 pm, 6:15 pm, 7:15 pm, 9:15 pm

Saturday, October 8

11:15 am, 1:15 pm, 3:15 pm, 5:15 pm, 6:15 pm, 7:15 pm, 9:15 pm

Sunday, October 9

11:15 am, 1:15 pm, 3:15 pm, 5:15 pm, 6:15 pm, 7:15 pm, 9:15 pm

Monday, October 10

11:15 am, 1:15 pm, 3:15 pm, 5:15 pm

Wednesday, October 12

11:15 am, 1:15 pm, 3:15 pm, 5:15 pm

Thursday, October 13

11:15 am, 1:15 pm, 3:15 pm, 5:15 pm, 6:15 pm, 7:15 pm, 9:15 pm

Friday, October 14

11:15 am, 1:15 pm, 3:15 pm, 5:15 pm, 6:15 pm, 7:15 pm, 9:15 pm

Saturday, October 15

11:15 am, 1:15 pm, 3:15 pm, 5:15 pm, 6:15 pm, 7:15 pm, 9:15 pm

Sunday, October 16

11:15 am, 1:15 pm, 3:15 pm, 5:15 pm, 6:15 pm, 7:15 pm, 9:15 pm

Monday, October 17

11:15 am, 1:15 pm, 3:15 pm, 5:15 pm

Wednesday, October 19

11:15 am, 1:15 pm, 3:15 pm, 5:15 pm

Thursday, October 20

11:15 am, 1:15 pm, 3:15 pm, 5:15 pm, 6:15 pm, 7:15 pm, 9:15 pm

Friday, October 21

11:15 am, 1:15 pm, 3:15 pm, 5:15 pm, 6:15 pm, 7:15 pm, 9:15 pm

Saturday, October 22

11:15 am, 1:15 pm, 3:15 pm, 5:15 pm, 6:15 pm, 7:15 pm, 9:15 pm

Sunday, October 23

11:15 am, 1:15 pm, 3:15 pm, 5:15 pm, 6:15 pm, 7:15 pm, 9:15 pm

Monday, October 24

11:15 am, 1:15 pm, 3:15 pm, 5:15 pm

Wednesday, October 26

11:15 am, 1:15 pm, 3:15 pm, 5:15 pm

Thursday, October 27

11:15 am, 1:15 pm, 3:15 pm, 5:15 pm, 6:15 pm, 7:15 pm, 9:15 pm

Friday, October 28

11:15 am, 1:15 pm, 3:15 pm, 5:15 pm, 6:15 pm, 7:15 pm, 9:15 pm

Saturday, October 29

11:15 am, 1:15 pm, 3:15 pm, 5:15 pm, 6:15 pm, 7:15 pm, 9:15 pm

Sunday, October 30

11:15 am, 1:15 pm, 3:15 pm, 5:15 pm, 6:15 pm, 7:15 pm, 9:15 pm
Dates & Price
May 5–October 30, 2022
---
Lawn and bench seating are available throughout the Main Fountain Garden
---
Free with Gardens Admission
Timed Admission Tickets required
Timed Reservations required for Members after 3:00 pm Thursdays–Sundays
Reservations not required for Gardens Premium Members and Innovators
Running seasonally, our daily fountain performances are the stars of the Main Fountain Garden experience.
Enjoy the thrill of what 1,719 jets can do—from spinning and dancing to music, to soaring as high as 175 feet—with daily 12-minute performances:
Now through October 30, 2022
Daily at 11:15 am, 1:15 pm, 3:15 pm, 5:15 pm
Thursdays, Fridays, Saturdays & Sundays at 6:15 pm, 7:15 pm, 9:15 pm
Please note: Daytime fountain performances are not illuminated; however, evening performances after dusk are illuminated. Fountain performances may be canceled due to severe weather.
Visit the Gardens Year-Round and Attend this Event for Free
Illuminated Fountain Performances
Find a place to sit—or stand back in awe—as water in all shapes, sizes, and heights combines with music and infinite colors.
---
Thursdays, Fridays, Saturdays & Sundays
Now–Oct 30, 2022
8:15 pm