When it's time to plant a tree at Longwood, I look to plant one with a story. As a Longwood arborist and the curator of the Peirce's Trees collection, including the trees in Peirce's Park—the oldest cultivated section of the Gardens and the home of several Pennsylvania state champion trees—I'm excited to share the newest story behind our latest Peirce's Park planting … a four-foot-tall Platanus occidentalis (sycamore), planted April 18, 2019 at the east end of the park, near the Sylvan Fountain. While this particular tree is new to Longwood, it already offers rich historical significance and plenty of intrigue.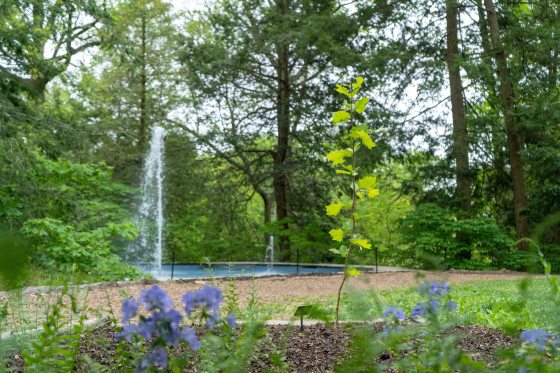 Our new sycamore originates from the incredibly massive tree just a few miles down the road at Brandywine Battlefield State Park in Chadds Ford. Planted around 1730, the tree is often called the Lafayette sycamore, and towers at the southwest corner of the Gideon Gilpin House. Originally the home of a Quaker farmer, the house served as the quarters for the 19-year-old Frenchman Marquis de Lafayette, who saw his first military engagement in America, and was subsequently wounded, during the September 11, 1777 Battle of Brandywine.
Revolutionary War lore told that de Lafayette recovered from his wound under this tree … a legend that has since been disproven. Nevertheless, this tree undoubtedly has stories to tell, serving as a witness to the largest single-day engagement of the American Revolution and becoming a symbol of the battlefield itself. It has even been featured in Andrew Wyeth's painting Pennsylvania Landscape, a depiction of the Gideon Gilpin House as seen between the branches of the Lafayette sycamore.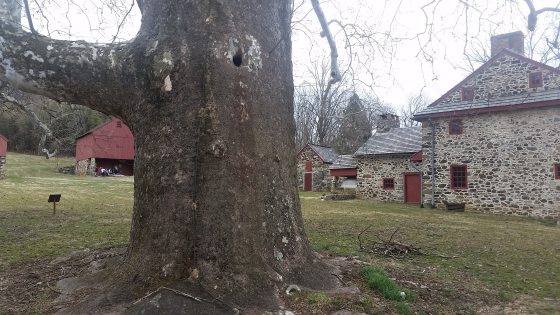 A new exciting chapter for this tree now begins at Longwood. In the effort to preserve the original Lafayette sycamore tree's genetics, as well as grow our collection, we reached out to Brandywine Battlefield State Park in hopes of propagating it. We took cuttings from the original tree in 2017 and then propagated it here at Longwood in our nursery. The result is our new tree now planted in Peirce's Park, two more recently planted near the springhouse at Brandywine Battlefield State Park, and an additional seven to be planted at the Haverford College Arboretum ... all of which are genetic matches to the original Brandywine Battlefield sycamore.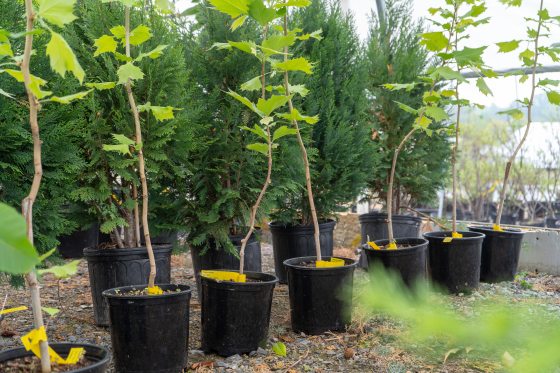 Our new sycamore is now establishing itself in its new home but will soon grow an estimated two to three feet per year, in hopes of ultimately measuring 80 to 100 feet tall. There are other hopes for the tree, as it's a fantastic example of our Specimen Tree Replacement Plan. Formalized in 2015, the plan works to ensure that Longwood's historic trees, as well as those of partnering cultural organizations, endure. Through this plan, we preserve the germplasm, or genetics, of original trees dating back to the 1800s, state champion trees, and those valuable to the aesthetic landscape of our Gardens, so we can replace those trees with a mature and genetically identical specimen when needed. When a tree is affected by disease, growth, or disaster, the plan determines whether the tree can be propagated and cloned, a replacement can be purchased, or an alternative plant can take its place.
With this latest effort, we're preserving the genetics of the Lafayette sycamore through a new tree here in our Gardens, as well as other sycamores for our region … all ready to grow their own stories.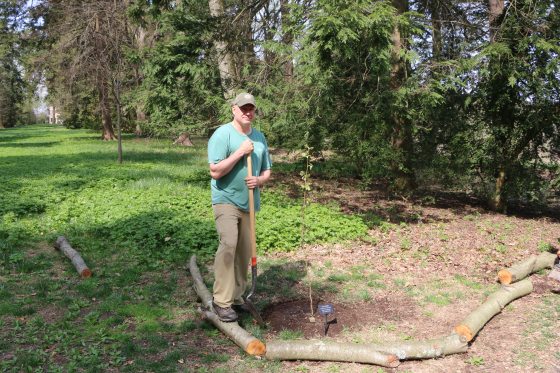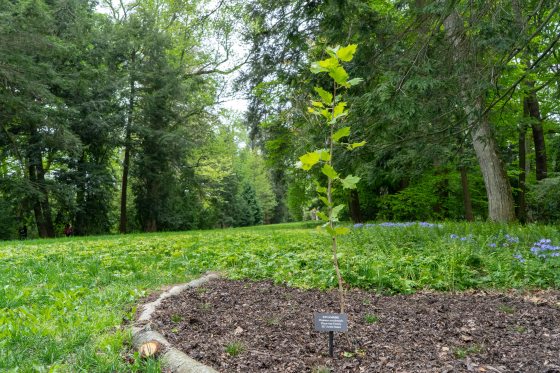 Categorized Under: