If you've visited our Idea Garden in the past year, you may have noticed something new.We have transformed part of the Idea Garden into our new Combination Garden, an intimate and exuberant mix of woody, herbaceous, and seasonal plants, all layered into one dynamic space just next to our Main Fountain Garden. Small trees and shrubs mingle with perennials, annuals, grasses, and bulbs in a design that celebrates the unique beauty of each season in the garden.
Since the late 1950s, the Idea Garden has been dedicated to educating home gardeners by showcasing plants that thrive in southeastern Pennsylvania. As trends change over the years, the Idea Garden has evolved to keep up-to-date with plants and garden designs of interest to a broad audience. Over the years, sections have been dedicated to groundcovers, ornamental grasses, vines, and roses. From 2013 to 2018, this corner of the Idea Garden was known as the Trial Garden, where new cultivars and plant combinations were tested in designs created by staff. Guests voted for their favorite design and the winning staff member received bragging rights for the year.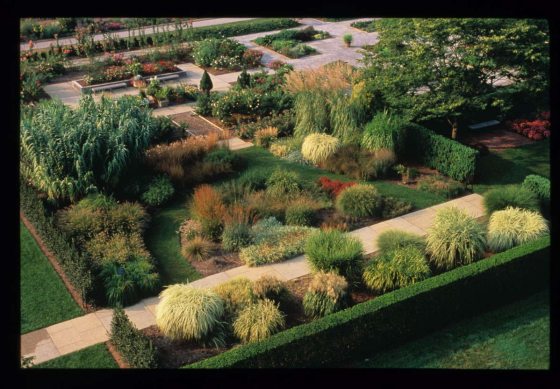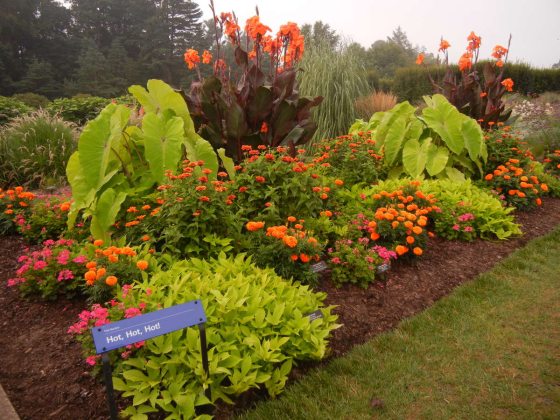 In 2018, we continued the evolution of this area by designing our new Combination Garden to replace the Trial Garden. Born out of a desire to create a space that inspires in all seasons, our Horticulture team used a wide range of plants to build a composition with year-round interest. Structural trees and shrubs provide year-long anchors, bulbs and flowering trees radiate beauty in spring, long-blooming perennials and annuals sparkle summer through autumn, and undulating grasses lend texture through all seasons. By combining lower-growing herbaceous plants with mid-level shrubs and tall canopies of nearby mature trees, this multi-layered garden border blends seamlessly from soil to sky, giving a sense of enclosure while also offering long vistas and views. Upright European hornbeam (Carpinus betulus) trees dot the beds, which, as they grow, will be clipped into rectangular columns, grounding and bringing order to the exuberant mix of plantings. In contrast to the broad openness and formality of the adjacent Main Fountain Garden, the Combination Garden is intimate and intricate, with sophisticated plant combinations and stunning details.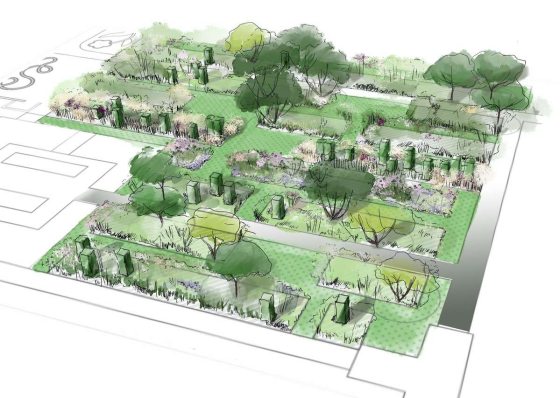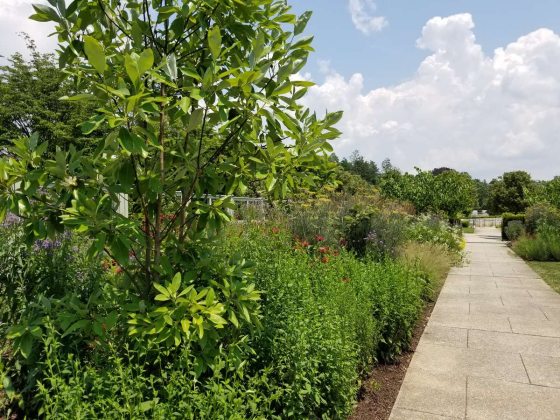 We broke ground on the Combination Garden in late 2018. We configured the beds from the previous grid pattern to encourage guests to meander and explore, as well as resodded the area, dug out old soil, and brought in fresh compost. Our horticulturists planted the European hornbeam and other small trees. In spring 2019, we began bringing in perennials and shrubs. Senior Horticulturist Michael Strengari recalls that it was challenging to source plants and have them arrive on time; ship dates for some perennials were delayed as late as August, so staff had to temporarily fill in with seasonal plants while waiting for permanent plants to ship.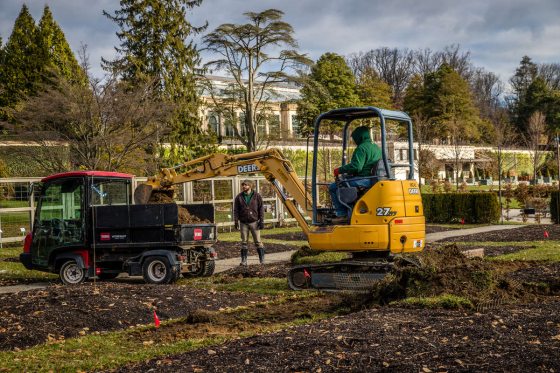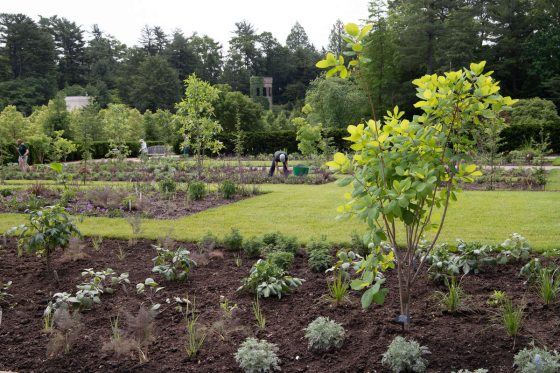 About 70 percent of the plants in the Combination Garden are permanent plantings of perennials, shrubs, grasses, and trees, while 30 percent of planting space is devoted to seasonal plants of mainly annuals and tropicals. Perennials are used in blocks or long sweeps, with seasonal plants dotted among them to create nuanced vignettes. Delicate plants, such as pincushion-flower (Scabiosa atropurpurea 'Fata Morgana') and Jame sage (Salvia x jamensis 'Red Velvet') are used to soften the transition between large plants. Biennials and annuals create ever-changing combinations, with something new to see each year. Small trees and shrubs serve as the "bones" of the garden, providing form and interest in the winter, and visually bridging the height gap between low-growing perennials and tall tree canopies. One of the design goals of the Combination Garden is to highlight the year-round beauty of plants, so spent blooms, seedheads, and dried leaves are allowed to linger, giving guests the opportunity to enjoy the full life cycle of plants. Strengari will often tuck in a few new plants that have never been grown at Longwood. He notes that the Combination Garden is uniquely suited to testing out new plants: here, he doesn't have to commit to a large-scale planting of a single variety, so the stakes are low if a plant doesn't perform well.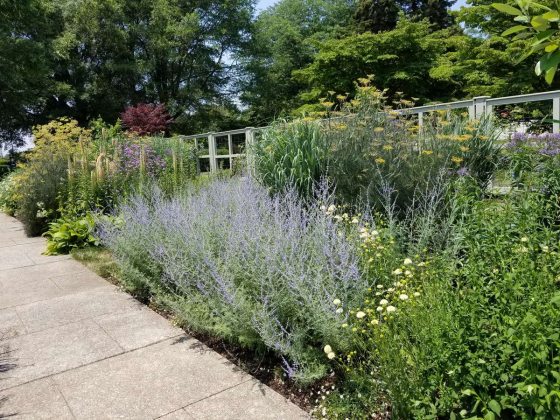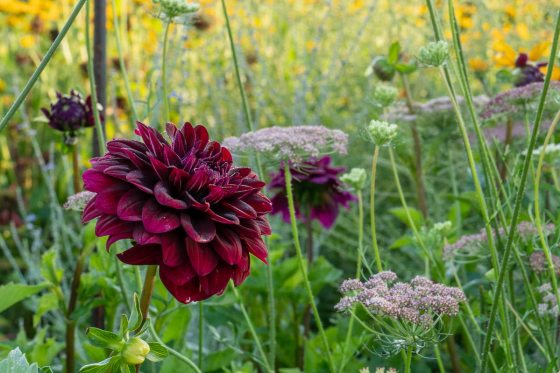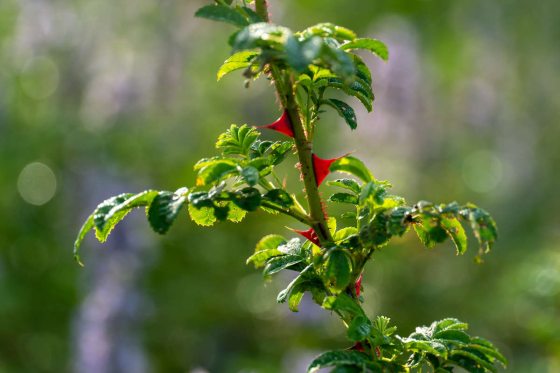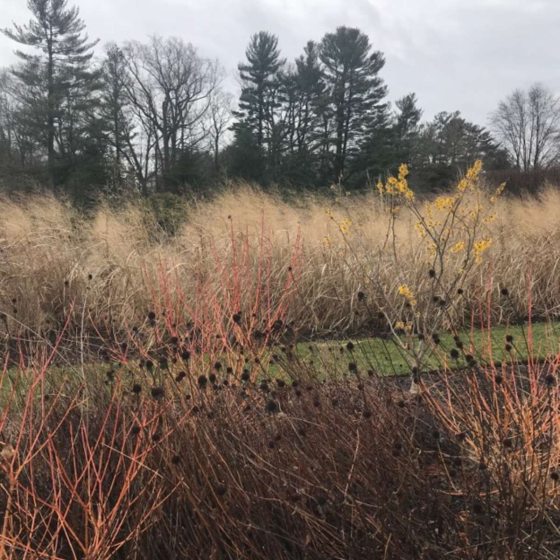 As the Combination Garden is composed mainly of permanent plantings, maintenance tasks are very different from other spaces at Longwood that feature seasonally rotating displays. For one, there are no huge seasonal plant change-outs, leaving staff time to focus on pruning, pinching, staking, and cutting back perennials. Strengari emphasizes the importance of keeping perennials in check; without regular maintenance, these sprawling plants would easily take over the open spaces meant for annuals.  Self-seeders, such as fennel, need to be assessed to determine if they work where they seed themselves or if they need to be weeded out. Many perennials must be divided every few years. Their divisions may be used to fill in beds in the Combination Garden, or they may be shared with other gardens at Longwood.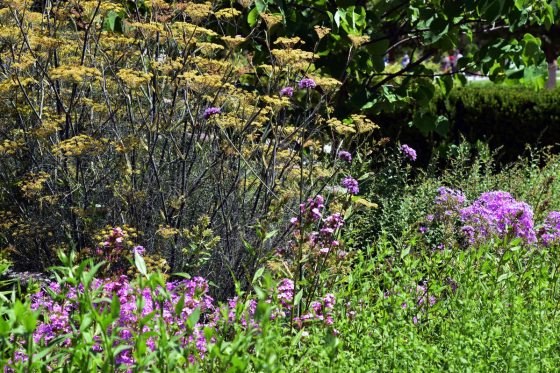 Strengari credits two German gardens with inspiring many of the design and management practices he has implemented in the Combination Garden. The Trial Garden at Weihenstephan Gardens north of Munich and the Hermannshof Garden south of Frankfurt are both known for their colorful border gardens where plants are interwoven in harmonious combinations. Both gardens emphasize the use of plants that are well-suited to local conditions and require little maintenance once established. Many of the perennials in our Combination Garden are now well-established and mature. The trees will fill out and begin casting shade over the next few years, and the European hornbeam will soon be large enough to be clipped. 
Director of Outdoor Landscapes Andrea Brunsendorf hopes the Combination Garden will inspire home gardeners to find a flair for design in their home garden borders.  She suggests layering in plants of varying heights, textures, and seasonal interest to create an impactful garden. Anchoring perennial gardens with shrubs and grasses will provide year-round color and form. Massing several plants of a single variety together in sweeps will have more impact than sprinkling them piecemeal throughout the bed. Think about winter interest; leave seedheads and dried grasses standing and consider plants with winter blooms, such as witch-hazel (Hamamelis x intermedia cultivars), or colorful stems, such as blood-twig dogwood (Cornus sanguinea cultivars).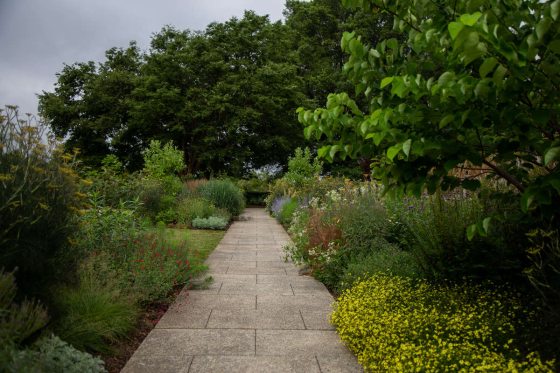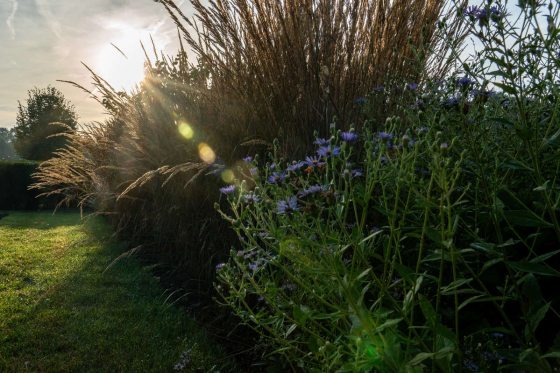 Whether or not you garden at home, our new Combination Garden is sure to inspire.  There's always something new to see, no matter the time of year.
Categorized Under: