It goes without saying that this year has been unlike any other. While it's been a year full of challenges, it's also been one of hope and resilience … and it was exceedingly important that a spirit of cheer shine through in each and every aspect of this year's A Longwood Christmas display.  While it's always about beauty here at Longwood, this year's Christmas display is also one brimming with comfort, warmth, and the coziness of nostalgia. It's a celebration of our A Longwood Christmas traditions and a recognition of just how much the holidays mean to us all. As Longwood's Associate Director, Display Design, take it from me that each and every inch of this year's holiday display is—by design—meaningful, poignant, and positively beautiful.
Our exuberant take on the traditions of A Longwood Christmas can be seen all throughout our Conservatory … in our colorful seasonal plants, intricately crafted living wreaths, radiant floral and living trees, and towering trees laden with decorations from our expansive collection of more than 67,000 ornaments.
As soon as you enter our East Conservatory, you'll find yourself surrounded in a crisp, cool palette of wintery white, cool blue, and silver.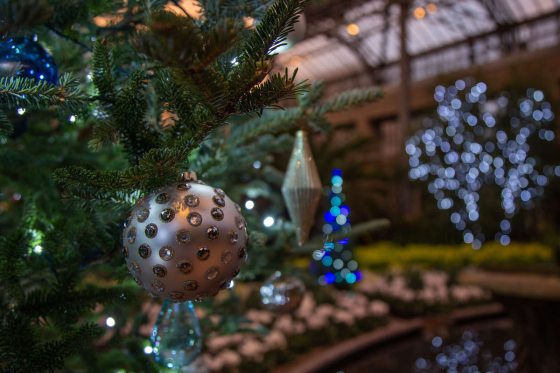 Our towering East Tree, lit with pure white and Caribbean blue lights and surrounded by large presents just waiting to be unwrapped, not only delightfully picks up on the East Conservatory's cool palette, but elevates it along each and every branch of this soaring 24-foot tree.
Just beyond the East Tree is a scene of pure delight. We've draped our Fern Floor in a whimsical display of intertwining poinsettia ribbons interwoven amongst cheerful fountains. It features bold color, yet revels in the iconic form of the classic Christmas poinsettia … with a Longwood twist. Along with its adjacent trees swathed in white, gold, and red and beautiful berry garland, it's also the perfect complement to our exquisitely dressed Music Room.
Decked out to resemble a nostalgic Christmas morning, in our Music Room you'll be treated to overflowing stockings, warm hues, and a fantastically festive 18-foot rotating tree in the center doorway. When you think of a glorious Christmas morning scene, this is it.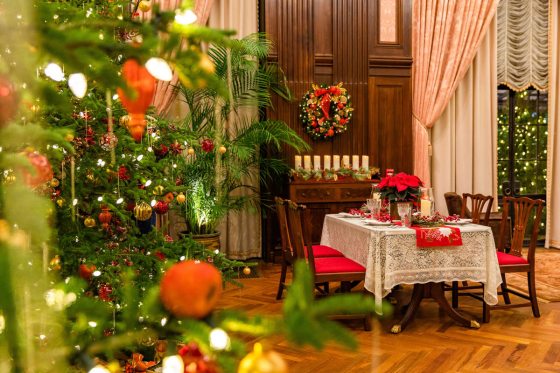 Our Main Conservatory is a vision of poinsettias. Beautiful poinsettias of creamy white to rich red grace our planting beds, swirl around floral trees, and perch atop our expertly crafted standards. Like so many, I love a bold poinsettia at Christmas time, and we've given you just that throughout the Main Conservatory.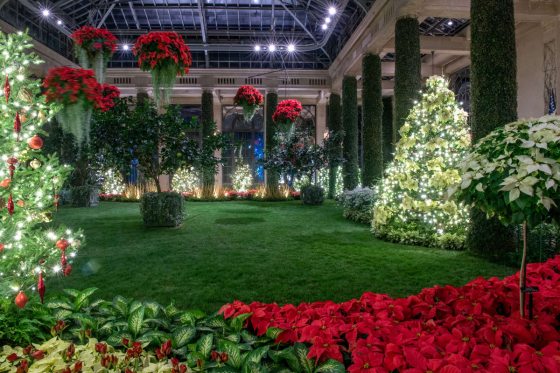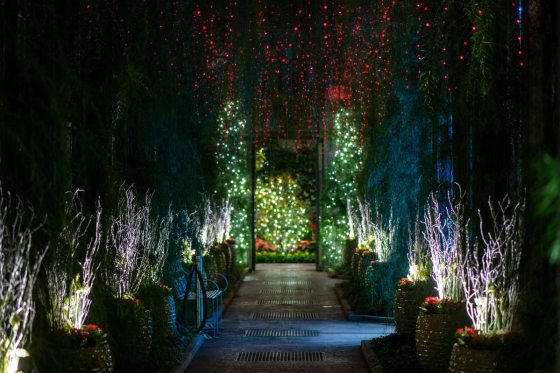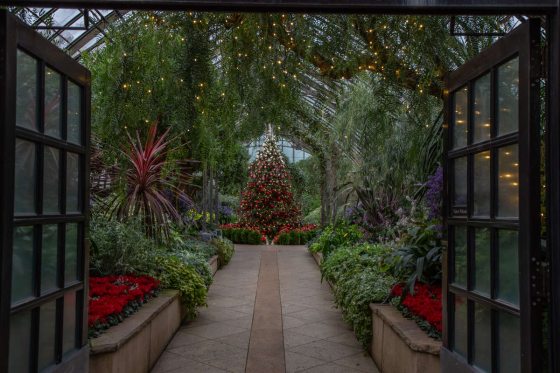 As you walk throughout the display, you'll find a number of living trees, created with vibrant tropical foliage in our Palm House, textural Tillandsia in our Cascade Garden, and bountiful poinsettia and artemisia in our Rose House.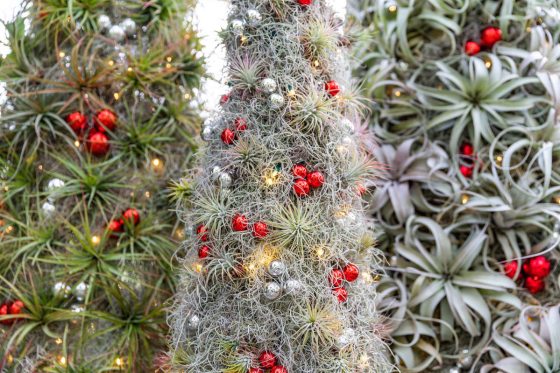 One of our many time-honored A Longwood Christmas traditions is our Children's Tree display, where we adorn cut trees with imaginative ornaments crafted by kids. This year we invited our Members to create ornaments with the children in their lives, and they treated us to creative ornaments inspired by our theme of "how children imagine a Christmas tree." We've proudly displayed these delightful ornaments—crafted with jewels and beads to flowers and ribbon, in subjects ranging from the solar system to a snowman—in our Nectarine House.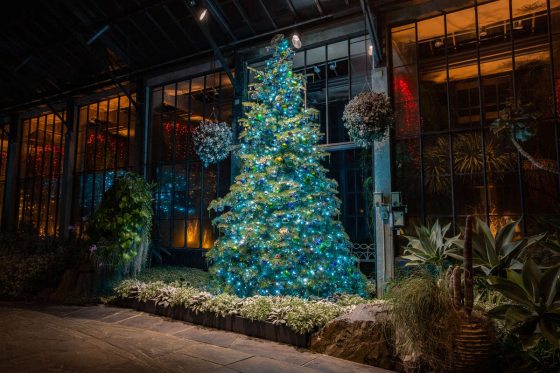 Outside, we continue the tradition of feeding our furry and featured trees with our Wildlife Tree, this year bursting with raisin strands with dried orange slices to grain bundles, to coconut-shell seed cups. Our Gardener's Tree showcases our gardeners' creativity with handmade grapevine garland, ornaments of sugar cones and gourds, and a regal topper made of gold curly willow and Paulownia pods.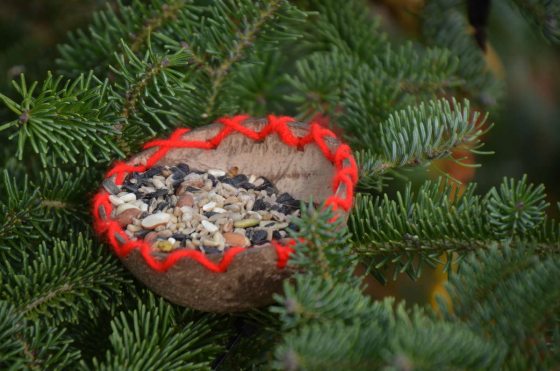 I could go on and on (I haven't even gotten to the Peirce du-Pont House draped in color, the whimsical Garden Railway, or our Large Lake and Main Fountain Garden light displays set to holiday music!) … but perhaps it's best I leave some of the display for you to discover yourself. This year—and every year—we are beyond honored to welcome you to A Longwood Christmas, and we are so proud to be part of your holiday traditions. 
Categorized Under: