Here at Longwood, one of our very favorite annual displays is our Student Exhibition Garden, an imaginative space in our Idea Garden designed, constructed, and maintained by students in our Professional Horticulture Program—Longwood's collegiate level, two-year professional horticulture program. After not being able to have a Student Exhibition Garden in 2020 because of the onset of COVID-19, we are incredibly excited to once again proudly showcase our students' beautiful visions, hard work, and utmost care in the form of the three distinct gardens that reflect this year's Student Exhibition Garden theme—signature and identity. Our nine Professional Horticulture students teamed up into groups of three to create unique gardens that are not only incredibly beautiful, but also resoundingly poignant and personal. 
Professional Horticulture students Hannah Watts, Lauren Meyer, and Mel Ciliberto have together created In Flames, a garden designed with three distinct zones that explore the issues of climate change, land stewardship, and humans' beneficial use of fire to maintain healthy ecosystems. The three zones include a burned forest with recycled trees from our A Longwood Christmas display to transport guests to the scene of a fire; an interior zone of several planting beds with a mix of annuals, perennials, and seeded plants to imitate fire; and a green zone of blueberries at the center, serving as an interpretation of regeneration and as an homage to the New Jersey Pine Barrens, a local fire-dependent ecosystem where the high-bush blueberry serves as a keystone species. Guests will find seating by way of logs crafted from the wood of fallen trees from Longwood property, where they can contemplate the expressive garden and its striking message—that humans can have a positive influence as stewards of the earth.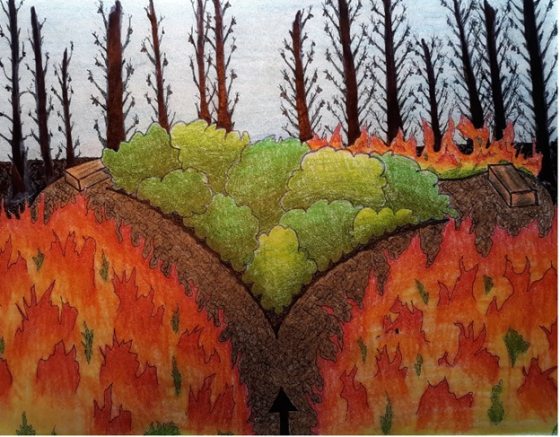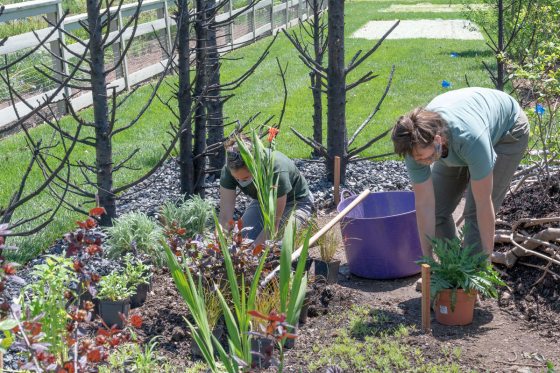 Speaking about her inspiration for In Flames, Watts shares: "After moving to Pennsylvania from western Colorado, I started to notice how much the landscape I grew up in shaped my identity and view of the world. My homesickness for the high desert was punctuated by news stories of wildfire tearing through my home state. Wildfire is a human problem," she continues. "Plants in fire-prone areas have long survived occasional fires. In fact, some species depend on fire to reproduce or rejuvenate … just as fire is not inherently bad for forests, changes are not inherently bad for people. Our signature or impact on the land we love can be one of care, cleansing, and regeneration."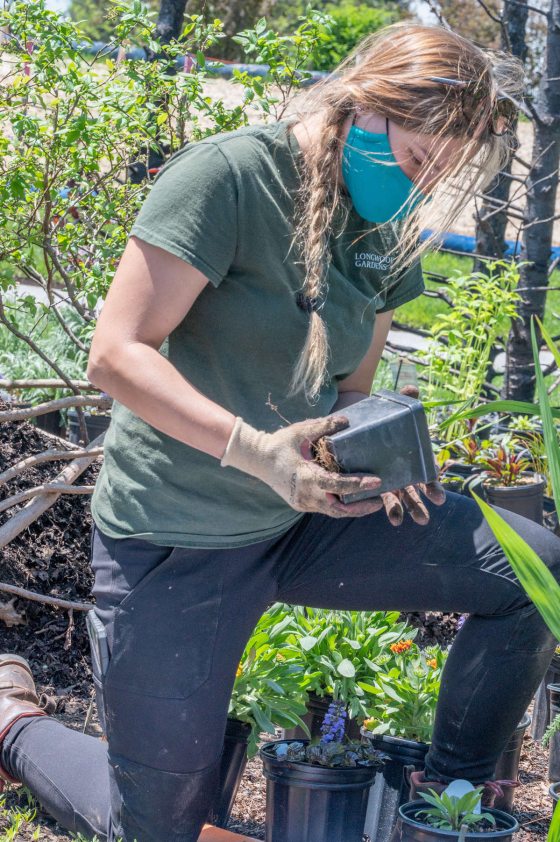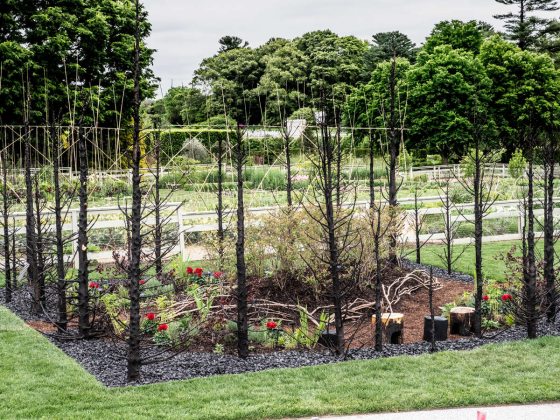 Dubious Questions of the Soul, created by students Billy Russell, Courtney England, and Wyatt Emig, gives guests the opportunity of time to reflect on some of life's seemingly unanswerable questions: "Why me? What went so wrong? Will there ever be an end in sight?" Guests are encouraged to look within and examine where they have been, where they are now, and where they're going… all as they make their way along subdued walkways from the outer plantings of dark purple, to the bright, happy center plantings in hues of pink and silver, and then deeper into the garden. At the center of the garden, guests will happen upon a beautiful reflecting pool outfitted with lotus plants and the touch-sensitive Mimosa pudica, known to curl up when touched, but then open back up after feeling safe once more. Guests will also find seating at either end of the reflecting pool, with each bench lovingly placed amid weeping cherry trees that seemingly hug each bench with an encouraging embrace.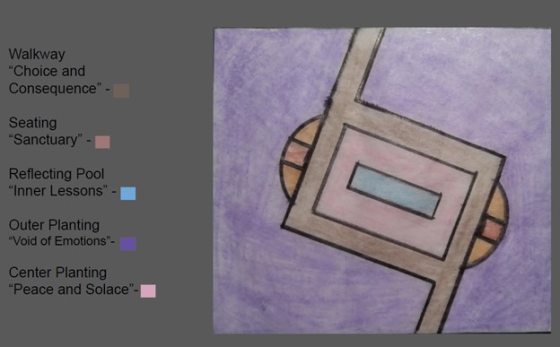 Russell shares the inspiration for the garden: "We all face challenges and sometimes we forget to face ourselves. This garden is meant to represent struggle, trauma, and the feeling of being overwhelmed, until you reach sanctuary at the heart of the garden, where you find the reflecting pool for self-observation and discovery."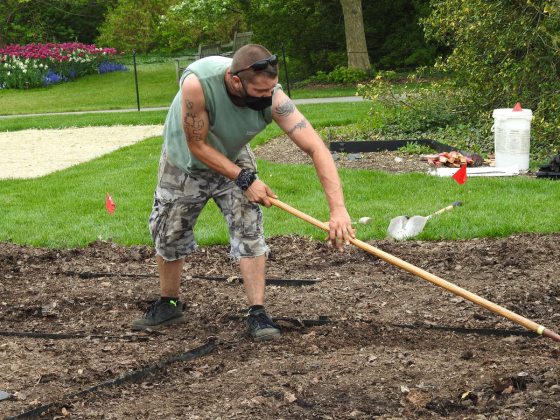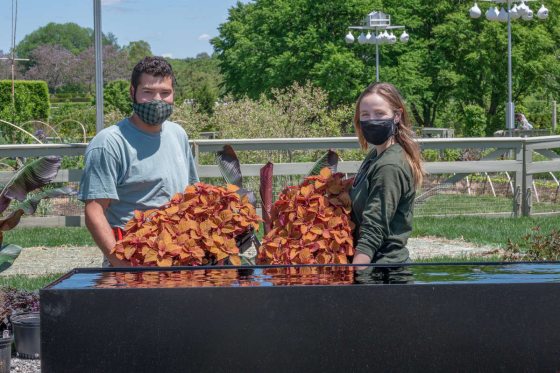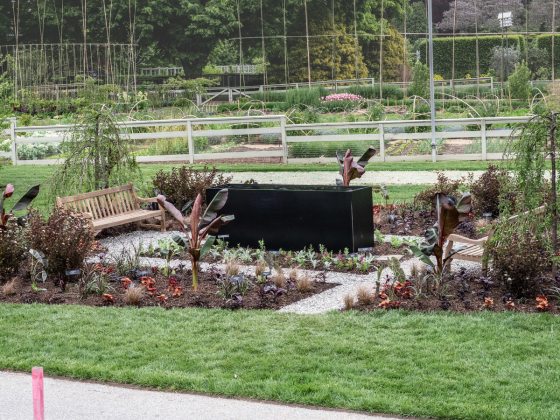 In Two Roads, students Mark Volpe, Kaylene Argot, and Miguel Loredo have transformed the language of Robert Frost's poem "The Road Not Taken" into a sensory garden experience. "Poetry and nature are the foundations of my youth, passions passed onto me from my father," shares Volpe. "And 'The Road Not Taken', one of his favorites, hung near our door inside our home. I read it often in passing as I wandered to the forest that backed our property; a place I went to get lost and to find myself."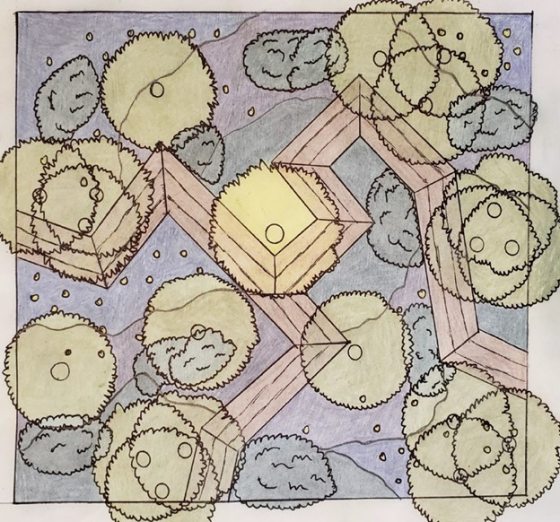 As Frost wrote his poem in iambic pentameter, a rhythm that matches one's natural cadence, the garden is encouraged to be a place to explore, but also a place in which to pause and consider one's path. The garden is punctuated by a boardwalk—or road, if you will—crafted in-house that ambles among a young woodland of multi-layered and multi-seasonal plantings among several river birch (Betula nigra) trees known for their bright yellow fall foliage (and a tree that's mentioned in a few of Frost's poems), as well as one yellowwood (Cladrastis kentukea) placed at the point where the paths divide, serving as a nod to the first line of Frost's poem: "Two roads diverged in a yellow wood."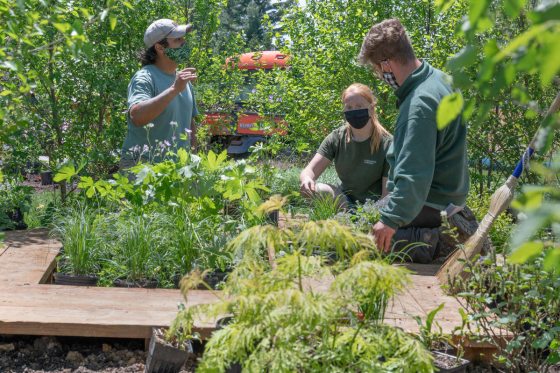 Guests exploring Two Roads are encouraged to stop, pause, and decide the path they'd like to take along the way. As the centrally placed garden in the Student Exhibition Garden space, those who turn left will be taken to In Flames and those who turn right will be taken to Dubious Questions of the Soul. "Our garden brings Frost's poem to life," shares Volpe. "A single path turns to two. Both paths, similar in nature, lead in opposite directions to express how way leads to way, and a single decision may alter who we are forever."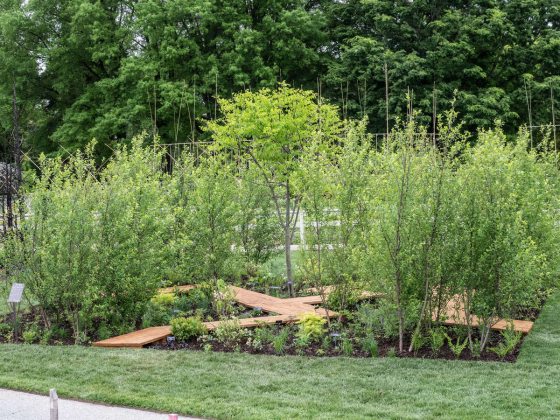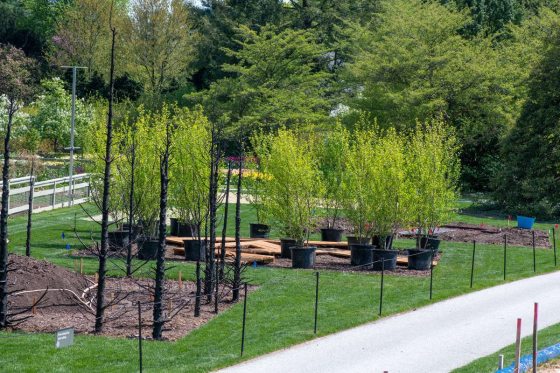 Throughout all three gardens are plenty of moments for both introspection and expression, as well as plenty of opportunity to marvel at the students' remarkable visions that have now come to life. The Student Exhibition Garden will be on display through mid-October and will continue to be a sight to behold along the changing seasons that will bring new colors and textures to each space, but with one constant, steadfast message—the powerful beauty of signature and identity.
Categorized Under: