With the start of our Festival of Fountains season, it's a delicious time of year here in our Gardens … and it's a perfect time of year to prepare refreshing selections that celebrate the bounty of the season, crafted with fresh late spring and early summer herbs, fruits, and more. What makes these recipes even more delicious is the exciting story—and the inspiring rising star—behind two of them.
Restaurant Associates launched a program called APT (Aptitude, Potential, Training) last year and we are thrilled that two associates, Pastry Chef Cecilia Gaudioso and Chef Amanda Clarke, were selected for the very first APT program. Both are now participating in this six-month training program, designed for high-potential women in the culinary field in preparation for management roles, and we couldn't be happier for them. Through a combination of hands-on and online training in leadership development, menu creation, and more, the program aims to provide women frontline associates with culinary knowledge and career advancement, and to serve as a change agent to foster a more gender-inclusive culture.
Amanda said it best herself in her application for the program, when she wrote: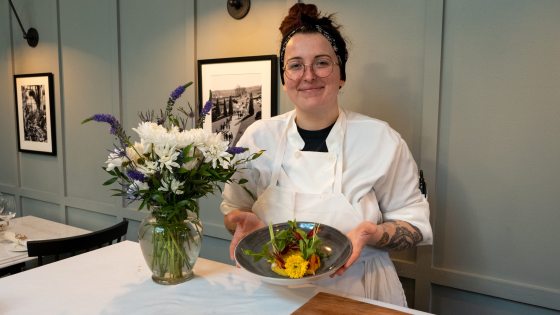 As part of the program, both Cecilia and Amanda recently traveled to the Kennedy Center in Washington DC to prepare a tasting menu for Restaurant Associates senior management. While there, Amanda created and shared a fantastic garlic and herb naan, as well as her exceptional golden goddess hummus, which is now featured on the 1906 menu, and one we wanted to share with the world.
Golden Goddess Hummus
Inspired by renewal, Amanda created this refreshing, herb-forward hummus with good-for-your-body ingredients like turmeric, ginger, and lemon. Paired with fresh-from-the-garden vegetables or her pillowy soft garlic and herb naan (recipe below), it's absolutely divine.
Yield: 2.5 cups
To cook the beans:
1.5 cups dried chickpeas/garbanzo beans
Combine beans and 5 times amount of water in a medium pot and allow to soak overnight. Alternatively, for a quick soak, bring the beans and water to a boil, then boil for 2 minutes. Remove from heat, cover, and let stand 1 hour.
After overnight soak (or quick soak), drain the beans and return to the pot. Add 5 times amount of fresh water and bring to a boil. Reduce the heat, cover partially. and simmer until the beans are tender but still hold their shape, about 1 hour to 2 hours depending on freshness of beans. (Beans that are not presoaked will take longer, about 2 to 3 hours to cook.) Check and add more water if necessary to keep beans completely covered during cooking. Allow the beans to cool in the liquid at room temperature. Drain the beans and keep in the refrigerator until ready to use.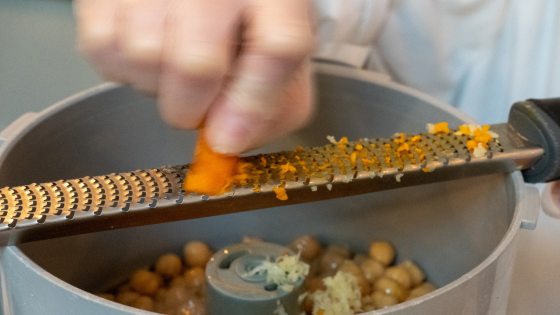 To prepare the hummus after cooked beans are ready:
Cooked garbanzo beans from above step    
6 tablespoons lemon juice          
6 tablespoons tahini      
4 cloves garlic   
1 teaspoon grated ginger            
2 teaspoons grated fresh turmeric          
½ teaspoon ground turmeric     
2 tablespoons cumin     
6 tablespoons extra virgin olive oil          
4 tablespoons water      
Pinch of cayenne pepper            
Kosher salt to taste
Add all ingredients to food processor and blend until it reaches a creamy consistency. If too thick, add some more water if needed to adjust consistency. Taste and season with kosher salt as needed. Allow hummus to chill in refrigerator before serving.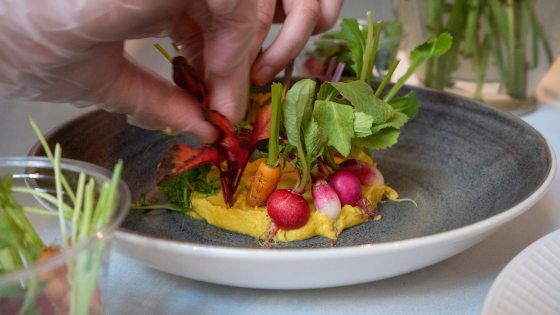 Garlic and Herb Naan
This Indian-style flatbread is soft, pillowy, and oh so flavorful thanks to its savory garlic and herb butter. Delicious on its own or with a dip, it's extremely versatile and always a crowd-pleaser.
¼ cup warm water
1 tablespoon honey
¾ teaspoon active dry yeast       
¾ cup whole milk           
1 cup full fat yogurt       
4 cups all purpose flour
1 ½ teaspoon baking powder     
1 teaspoon baking soda
¼ teaspoon kosher salt 
Yield: 12 pieces of naan
Combine water, honey, and yeast in mixing bowl and let sit 5 to 10 minutes. Add wet ingredients then dry, using dough hook until incorporated; dough should be somewhat sticky. Dust lightly with flour and knead in bowl to form a ball. If the dough is too sticky, sprinkle with additional flour. Cover bowl with plastic wrap and let sit in warm place for at least 1 hour. While your dough is resting, prepare the garlic and herb butter.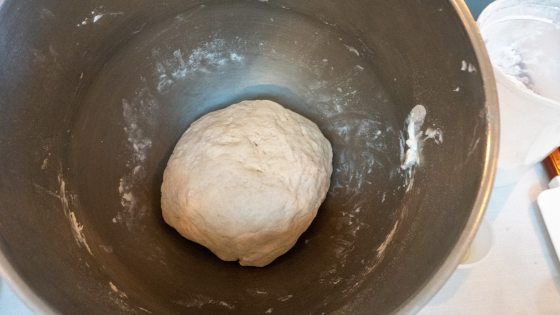 After it rests, divide the dough into 12 equal balls, and roll out with rolling pin to a half-inch thickness.
Garlic and Herb Butter
2 sticks butter  
1 tablespoon minced fresh garlic
1 tablespoon parsley     
1 tablespoon chives       
Melt the butter, add in the rest of the ingredients, and allow to steep until you are ready to cook your naan.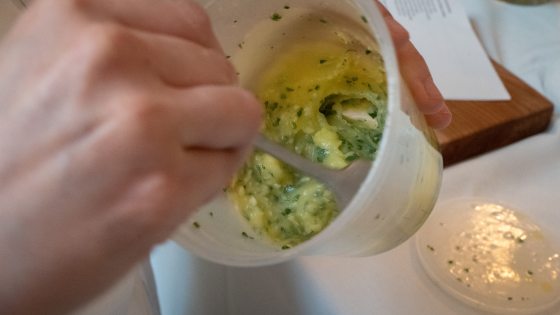 Seasoned Salt
½ teaspoon granulated onion
½ teaspoon granulated garlic
½ teaspoon Kosher salt
½ teaspoon ground black pepper
Mix all ingredients and reserve.
To cook the naan:
After the naan is rolled out, heat cast iron skillet until it is scorching hot. Make sure there is olive oil on pan.
Brush herb butter on pan side of naan and let cook until bubbles start to form.
Brush top side of naan with herb butter and flip over.
Once naan is golden to dark brown on both sides, take off and place on parchment. Sprinkle both sides with the prepared seasoned salt. Brush once more with herb butter. Serve warm.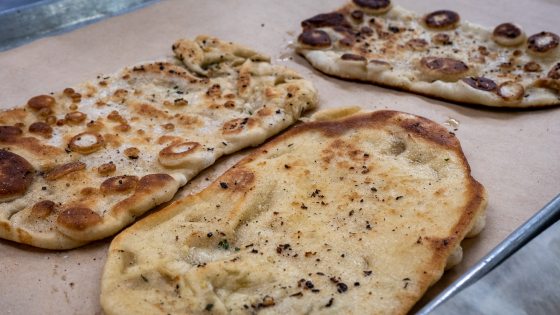 Strawberry Gazoz (Fermented Fruit Soda)
As we head into warmer weather, we love this refreshing and light strawberry sparkling soda. Originating from Israel, this is a perfect selection to beat the heat, and a fantastic way to showcase a number of garnishes, to make the drink look like a little garden in a glass.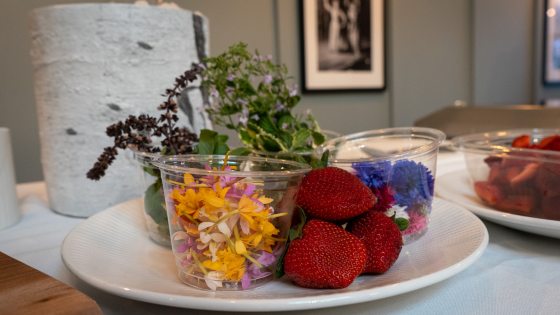 Not into strawberries? No problem! Just substitute other berries, stone fruits, or melon. This is a free-flowing, best-of-what's-growing-now kind of drink. If you'd like to add a splash of the strong stuff, vodka would be a good choice.
Yield: Two drinks
For the macerated fruit:
1 pound strawberries (or other fruit)
2 tablespoons granulated sugar
2 tablespoons lemon juice
Wash and dry fruit. Slice larger fruits into bite-sized pieces. Place the fruit into a large glass or plastic bowl. Sprinkle with the sugar and lemon juice. Mix until fruit is evenly coated and then cover. Let the fruit sit at room temperature for at least 30 minutes, then refrigerate. It's best to leave in the fridge overnight, particularly if using harder-fleshed fruits; softer fruits including berries will be well macerated in about three hours.  
If you would like to ferment fruit longer, leave on the counter (covered), tasting the fruit twice a day until the flavor deepens and becomes more complex. Once you like how your fruit tastes, refrigerate and use within two weeks.
If you'd like to substitute the lemon juice for another maceration liquid, try port wine, balsamic vinegar, and orange juice.
For the simple syrup:
1.5 cups strawberries (or other fruit)
1 cup water
1 cup granulated sugar
If you'd like to spice things up with the simple syrup, feel free to add different herbs and spices. Some suggestions include 1 tablespoon black peppercorns; 2 bay leaves; 4 thyme sprigs, 1 jalapeno; or a lemon rind.
To prepare the simple syrup, wash and dry fruit. Slice larger fruits into bite-sized pieces. Add fruit to a saucepan along with sugar, water, and any herbs/spices. Simmer on low heat for 20 to 30 minutes, until the color and flavor of the fruit has leeched out into the syrup. Strain the fruits from the liquid using a fine mesh strainer and cool liquid in the fridge. Reserve until use.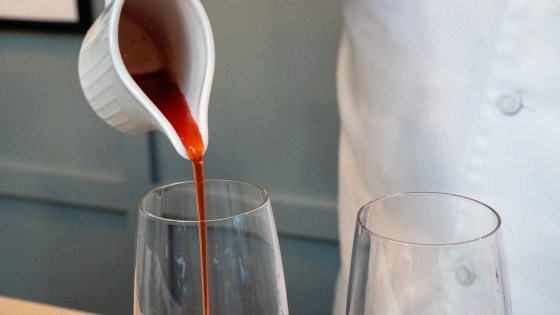 For gazoz assembly:
Place the macerated fruit in the bottom of a tall glass, then top with the fruit simple syrup. Follow that with a layer of ice and garnish (such as fresh herbs, edible flowers, or cucumber slices) as you go. Top any garnish with another layer of ice, then top off the ice with sparkling soda.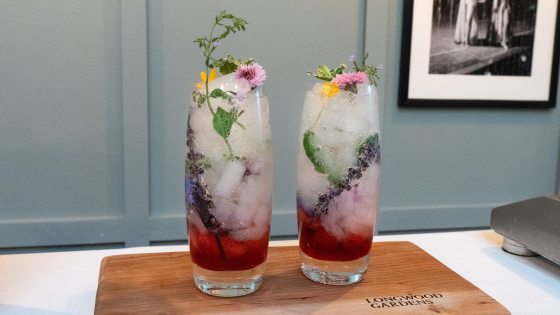 We'll be sure to share more on Cecilia and Amanda's journey—as well as share a selection of Cecilia's recipes— in the coming months. Until then, cheers to warmer weather and a spectacularly delicious season!
Categorized Under: