A Longwood Christmas is a time unlike any other here in our Gardens … and it always inspires me in the kitchen. This year, as we showcase botanical splendor at its finest with our horticulture artists using plants as their palette, I'm inspired to showcase the jewels of the garden with a selection of botanical-forward dishes perfect for any holiday gathering. Follow along as I showcase the earthy flavors of parsnip to licorice root and the brightness of cranberries to apples in these holiday-ready selections. Plus, they're all vegetarian- to vegan-friendly … because, as we proudly demonstrate every day here at Longwood, but especially during this year's A Longwood Christmas, plants can certainly be the star of the show.
Cinnamon Maple Whiskey Sour
The liquor industry has also been jumping in on the botanical trend, infusing a number of libations with botanical ingredients to delicious results. We thought we'd showcase a local botanical selection from Elverson, PA with infusions of sarsaparilla, cherry bark, and licorice root paired with PA maple syrup with this punchy cocktail that warms the soul.
Ingredients
1.5 ounces Resurgent Botanical Whiskey
1 ounce fresh lemon juice
½ ounce PA maple syrup, to taste
Pinch of ground cinnamon
Optional garnish: lemon peel and brandied cherry
Yield: 1 cocktail
Fill a cocktail shaker or mason jar about two-thirds full with ice. Pour in the bourbon, lemon juice, maple syrup, and a pinch of ground cinnamon. Securely fasten the lid and shake well.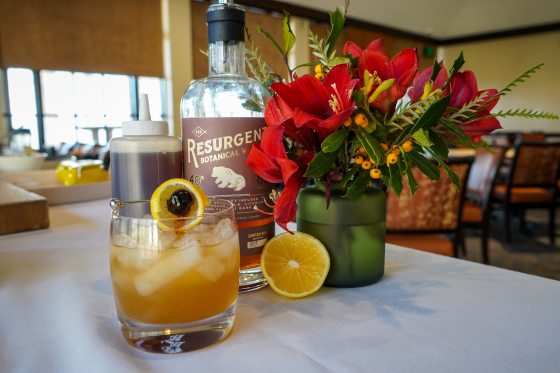 Pour fresh ice into your cocktail glass and strain the cold whiskey sour mixture into the glass. Enjoy!
Parsnip and Apple Bisque with Cranberry Gastrique
Nothing says comfort and warmth like soup … and this earthy bisque is nothing short of that! This soup allows the natural sweetness of the root vegetable parsnip and the crispness and acidity of a granny smith apple to shine, bolstered by the punchiness of shallots and woodsy notes of sage—not to mention the brightness of the cranberry gastrique that serves as the cherry on top. This vegetarian dish can be made vegan depending on which butter you use. A version of this delicious soup will also be featured on our 1906 menu during the Christmas season.
Ingredients
1 tablespoon butter (or vegan butter)
1 tablespoon olive oil
1 cup of shallots, medium diced (can substitute onions, but shallots pack more of a punch)
½ cup celery, rinsed and sliced
2 cups granny smith apples, peeled, cored, and diced
½ tablespoon fresh sage, sliced
4 cups vegetable stock
1.5 cups apple cider
1.5 lbs parsnips, peeled and rough diced
Cranberry gastrique garnish (see recipe below)
Optional garnish: fennel
Yield: 6 servings
Melt butter in a large pot over medium heat. When it foams, add olive oil, shallots, and celery and cook, stirring occasionally, until tender, about 5 minutes. Season well with salt and freshly ground black pepper.
Add apples and sage, season with additional salt and pepper, and cook, stirring rarely, until apples are tender, about 5 minutes.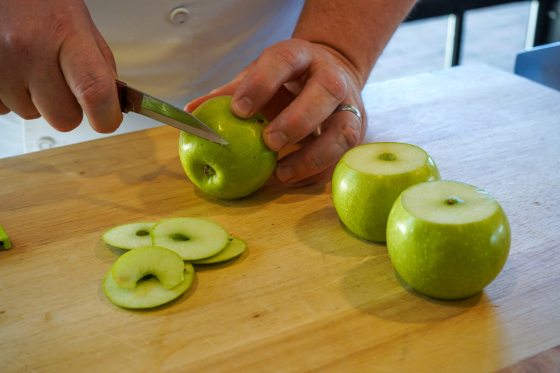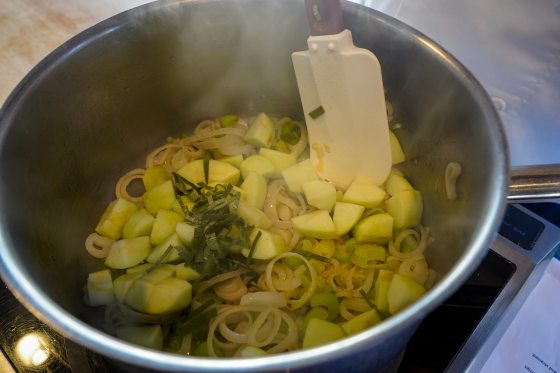 Add parsnips, stock, and apple cider and bring to a boil. Reduce heat and simmer until apples and parsnips are tender, about 20 minutes.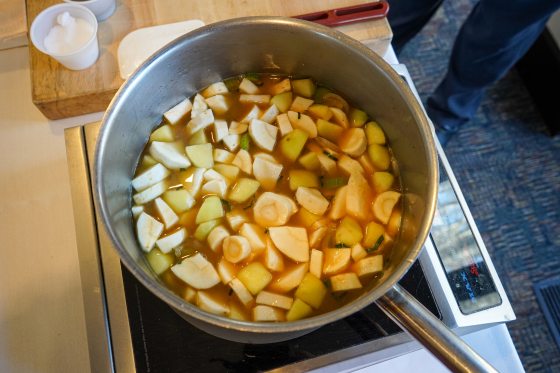 Using a blender, purée soup in batches until smooth. Season with salt and black pepper. Keep hot until ready to serve.
Cranberry Gastrique
This sweet and sour garnish plays perfectly with the earthiness of the parsnip and apple bisque. You can leave it the gastrique more rustic and enjoy it as-is, or strain and puree it so it's smooth. Either way, it will bring a delightful brightness to the bisque.
Ingredients
¼ cup granulated sugar
¼ cup apple cider vinegar
1 cup whole cranberries
1 tsp orange zest
Bring the sugar and vinegar to a boil in a saucepan, stirring until the sugar dissolves. Add the cranberries and the orange zest. Return to a boil, stirring gently.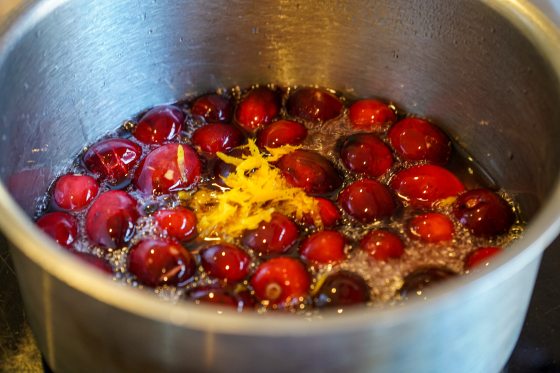 Remove from the heat and add atop the bisque.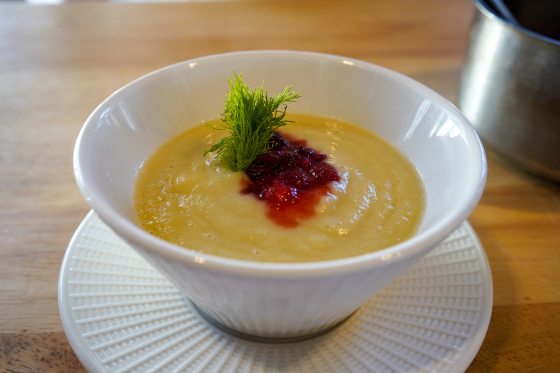 Whole Roasted Cauliflower with Pepperonata and Green Herb Salsa
Proteins are often the star of the holiday table … but why can't vegetables take center stage and still be just as special? This satisfying cauliflower dish is hearty enough to steal the show and its variety of supporting veggies add plenty of dimension to this garden-forward dish. I think of cauliflower as almost a blank palette—you can season it a lot of different ways and it eats well.
There are three different elements to this dish: the cauliflower, pepperonata, and salsa. I'm a fan of efficiency, so I typically make the pepperonata in the pan first, then place the cauliflower on top to bake the whole thing together and let the veggies reduce while they're in the oven. You'll find you're left with a beautifully caramelized cauliflower amid a complex pepper and onion stew, ready to be complemented by a bright, herby salsa to lighten things up.
Cauliflower and Pepperonata
Ingredients:
¼ cup extra virgin olive oil (for pepperonata)
2 sweet onions, julienned
3 cloves garlic, minced
3 each sweet peppers, julienned
1 14 oz can crushed tomatoes
½ tablespoon dried oregano
1 tablespoon balsamic vinegar
1 cauliflower head
3 tablespoons extra virgin olive oil (for cauliflower)
1 teaspoon kosher salt
½ teaspoon black pepper
1 teaspoon garlic powder
1 teaspoon paprika
Yield: 4 servings
Preheat oven to 350 degrees Fahrenheit. Preheat a Dutch oven on medium heat, add 1/4 cup olive oil until shimmering. Add julienned onions and garlic and sweat until translucent, which cooks out some of the rawness, about 5 minutes. Add peppers, stir to combine, and cook for 2 minutes until softened.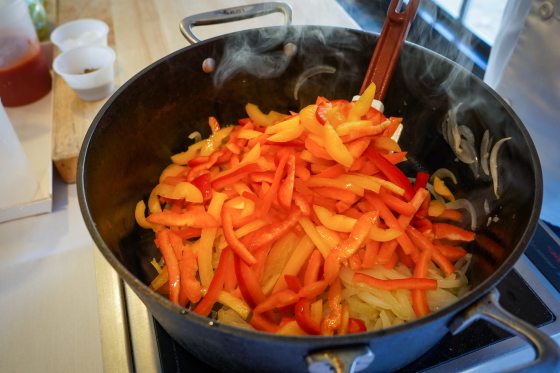 Add tomatoes, oregano, and balsamic vinegar. Season with a pinch of salt and a crack of black pepper. Remove from heat and begin to prepare cauliflower. 
Trim the outer cauliflower leaves and trim the stalk so the cauliflower can sit flat, then cut a cross into the stalk to allow it to cook more easily and evenly.
Place cauliflower into Dutch oven, brush with olive oil, and then sprinkle with a mixture of the salt, pepper, garlic powder, and paprika.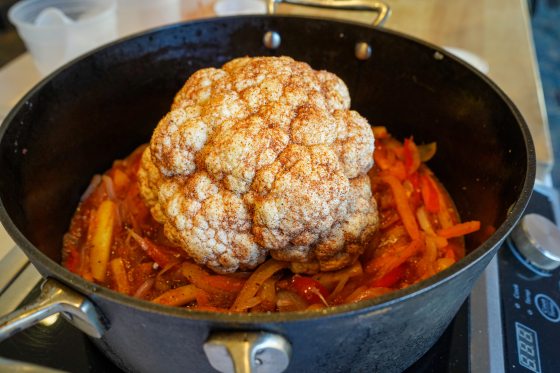 Brush any remaining olive oil into the cauliflower to really push the seasoning down and in. Cover with the lid and cook for 1 hour. Move on to prepare the green herb salsa while cooking.
Green Herb Salsa
This green herb salsa is a bright spin on chimichurri with some Italian flavors thanks to the basil and capers. This same sauce would be delicious on grilled chicken, steak, or shrimp. If you prefer the salsa chunkier, use a food processor. If you'd like it to be completely smooth, opt for a blender. 
Ingredients:
1 cup extra virgin olive oil (½ cup and ½ cup)
½ cup Spanish onion, small diced
1 tablespoon garlic, chopped
2 tablespoons red wine vinegar
2 cups packed parsley leaves
2 tablespoons basil, leaves only
2 tablespoons capers, rinsed
1 teaspoon granulated sugar
½ lemon, juice only
Kosher salt and black pepper to taste
In a medium sauté pan, heat ½ cup olive oil and sweat out onion and garlic until tender, no color. Add red wine vinegar and parsley and warm through until parsley has begun to soften.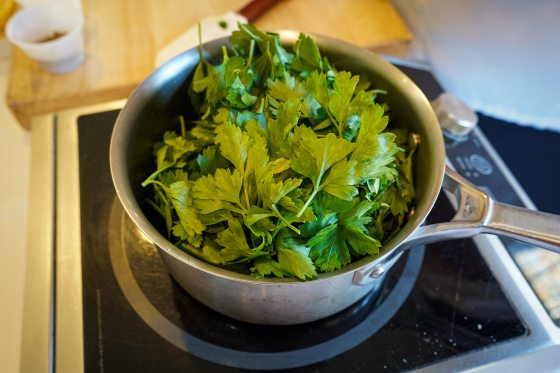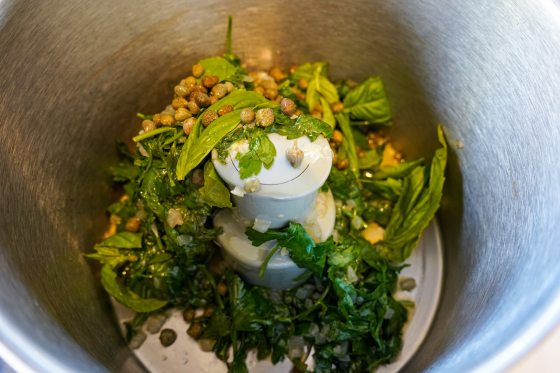 Remove from heat and transfer to a high-speed blender or food processor. Add the cooked parsley and onions, basil leaves, capers, and sugar and process until coarsely chopped. Add the rest of the oil and lemon juice and process a few more seconds until combined. Season with salt and pepper to taste. Transfer to a bowl and reserve.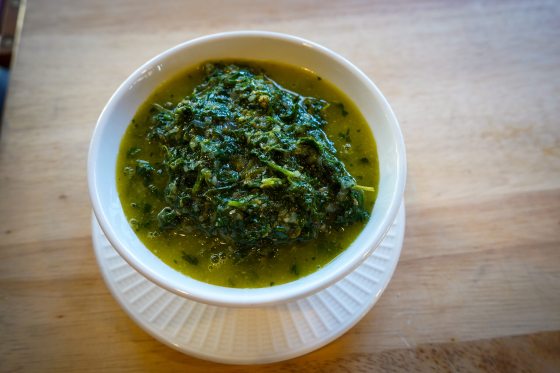 Once cauliflower has cooked for 1 hour, remove lid and cook for 20 minutes more or until cauliflower is nice and golden. Carve cauliflower into quarters and serve with pepperonata and green herb salsa.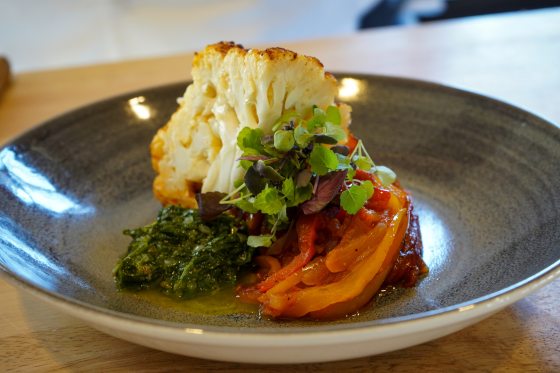 Happy holidays to you and yours!
Categorized Under: