A Longwood Christmas is a holiday experience in which some of the most extraordinary displays of floral designs, decorated trees, and holiday botanical splendor is displayed at Longwood—and as part of Drexel's Antoinette Westphal College of Media Arts & Design, I am proud to be part of a group of interdisciplinary students and faculty offered a once-in-a-lifetime opportunity to be part of making that display. In the summer of 2022, Longwood proposed that Westphal design students create two couture gown-like sculptures that would be completely designed and constructed out of botanicals, and displayed in the Music Room during this year's A Longwood Christmas. Both handcrafted pieces, and their accessories, are entirely created out of holiday-inspired preserved, dried, and faux floral materials … and we are delighted to share with you the process and meaning behind these spectacular works of art.
This project was led by Associate Professor and Department Head of Art & Art History, Sarah Steinwachs, who, along with seven other faculty members, chose 13 students from four design disciplines (Design & Merchandising, Fashion Design, Graphic Design, and Product Design) to collaborate and create the floral garments to be displayed at Longwood. Over the course of the last couple months, students have worked tirelessly to create two different couture sculptures and their accessories. With students coming from a wide range of backgrounds, we created pieces that displayed the creativity that is cultivated and expressed throughout each design major at Drexel's Antoinette Westphal College of Media Arts & Design.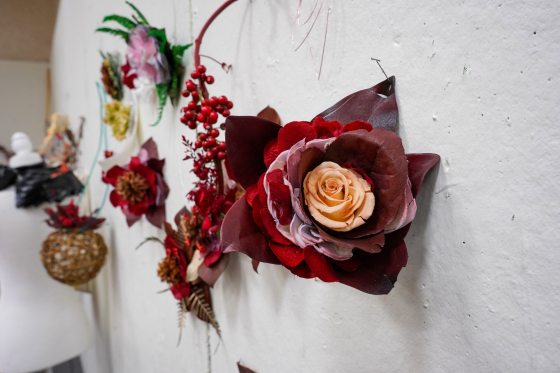 Throughout the project, our group of undergraduate and graduate students gained firsthand experience designing for a real-world cultural institution on a highly visible project. Through the process of concept to the finished works, we discovered what it was like to be creative within the parameters of a client's vision. For one of the sculptures, known by students and faculty as the "Red Dress," our team took inspiration from Egyptian glass ornaments, hoping to capture movement, delicacy, and luxury. We developed a complex layering process on the surface, made from preserved flowers and decorative leaves. This dress was led by Paige Mueller, a Fashion Design major, and Aviva Gordon, a Graphic Design major. This dress is meant to be a showstopper and extravagant in its nature. It holds on to the tradition and sentiment that the winter holidays bring to so many people during this time of year. This dress specifically incorporated more than 200 preserved roses and 300 hydrangea bunches, along with salal leaves and ferns to fill out its voluminous bodice and skirt, while hydrangeas and kiwi vine grace the headpiece.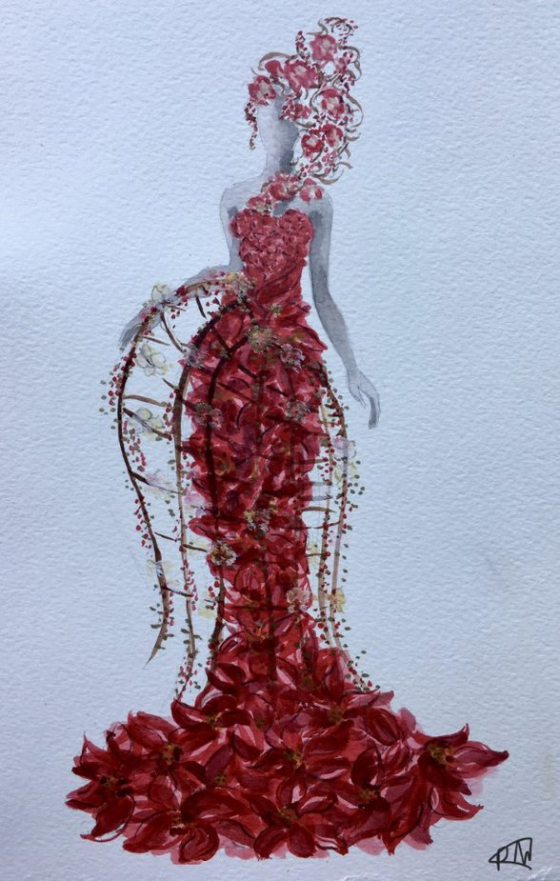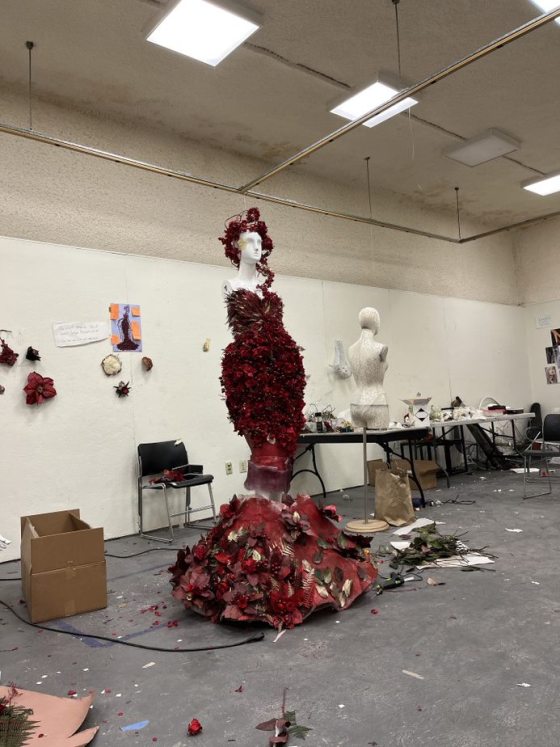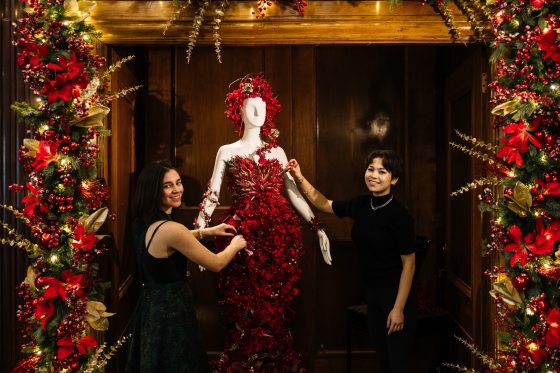 The second sculpture, known as the "Green Dress" took on a much different aesthetic. It evolved from an intuitive exercise of sculpting, inspired by the wonderful world of woodland botanicals. From this process emerged elegant motifs that depict movement and the spirit of nature. This dress was led by Ahna Romanski, a Fashion Design major and Sam Martel, a Product Design major. In contrast to the creation of the red dress, which had a linear creative path, this dress organically developed, and evolved from its original sketch. Rather than using florals to create the surface, the designers of this dress chose to sculpt a likeness to woodland botanicals such as shelf mushrooms, moss, and roots. It took on more natural qualities that are present within the holiday season, and it is grounded in the idea of growth, conceptually and visually. The only floral material on this garment are white preserved hydrangeas, palms, and some red and yellow caspia for the shoes and headpiece; the rest of it is made from papier-mâché and wire.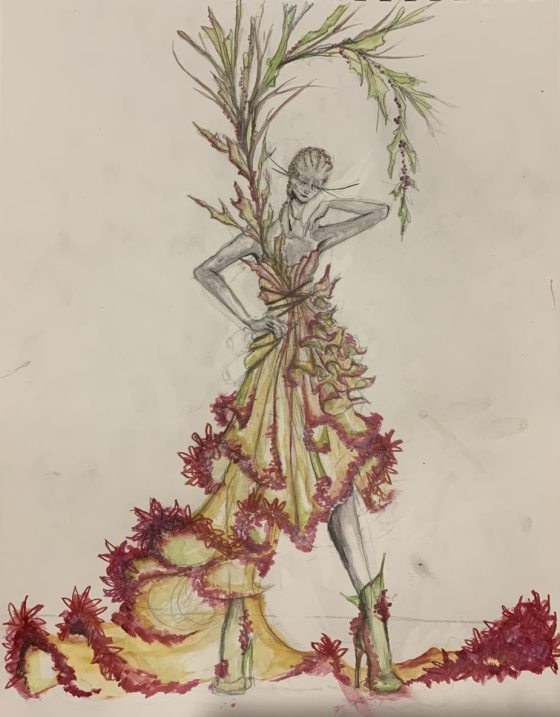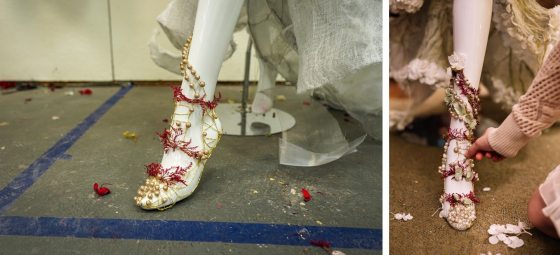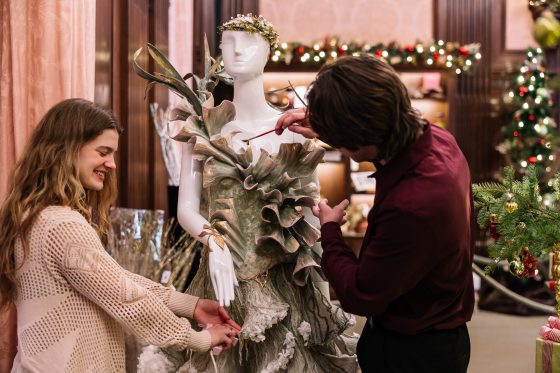 I am a senior Graphic Design student here at Drexel Westphal, and this was unlike any experience I have received throughout my education thus far. Drexel has given me so many opportunities, both internal and external to the school itself. My role on this project was to create accessories in collaboration with the other designers to elevate the sculptures created. Headpieces, shoes, handbags, and jewelry were all created to support the beautiful pieces that were constructed. While we all had a hand in the making of both dresses, it was inspiring to create pieces on our own. I was responsible for creating a headpiece for the green dress. Like any other design project, iterations were essential and helped to mesh the design of the dress to the rest of the sculpture.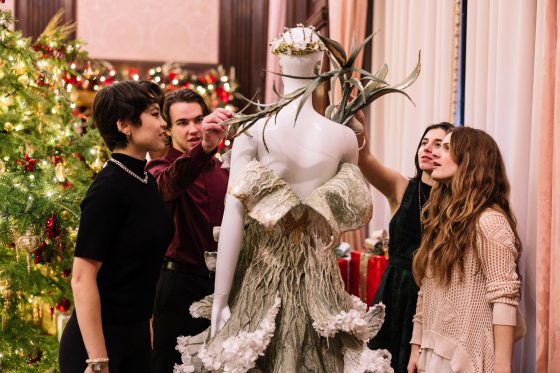 Each iteration influenced another direction, and as time went on, elevated pieces were created and crafted. While this project has aspects of graphic design, many of the techniques that were used by all designers were skills learned in freshman design foundation classes. These are universal classes that all Westphal students take. At this point in my undergraduate degree, it is rare that I get the opportunity to design and physically make an object catered toward a fashion-forward audience. I was able to combine my love for product and graphic design to create pieces such as the headpiece and the handbag that are displayed among the other holiday décor at Longwood.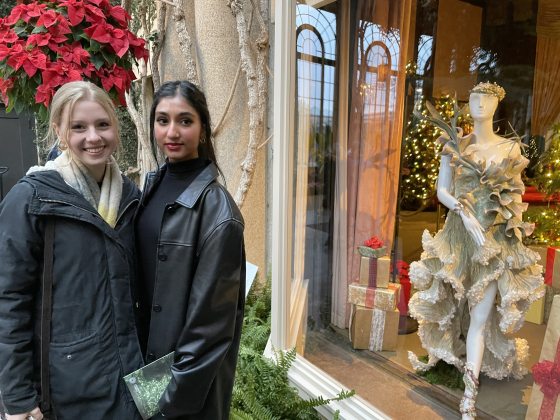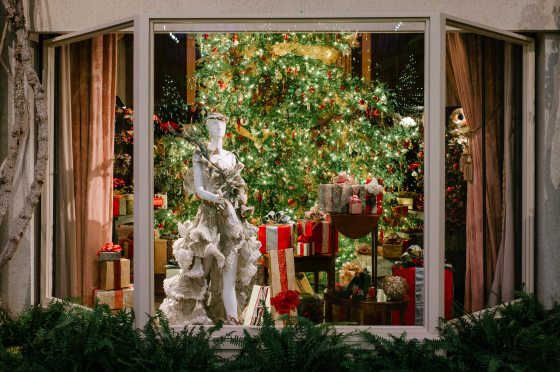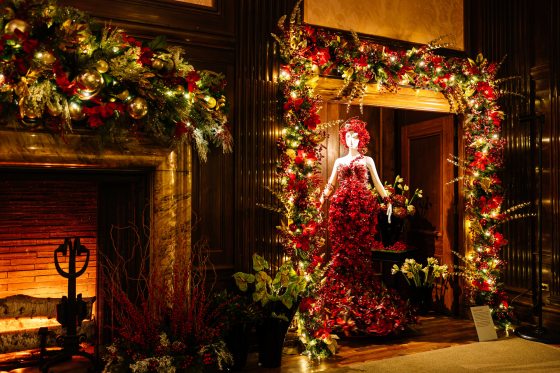 Drexel is well-known for its cooperative education program, or co-op, which gives students at least six months of full-time work experience before graduation. The skills I gained on co-op helped me navigate the collaborative environment of this project with Longwood. In any design field, collaboration is the key to moving forward and the key to success. As students, we developed great insight into what design careers truly look like during this Longwood project. It was a hands-on experience that showed how interdisciplinary students at Westphal really are and just how important professional opportunities like this one are to the start of all our careers. This was a wonderful experience for all of us, and we are truly inspired by all the faculty that assisted us in making this project happen. We hope that both pieces move, and fascinate, all who look at them this season at Longwood.
Categorized Under: