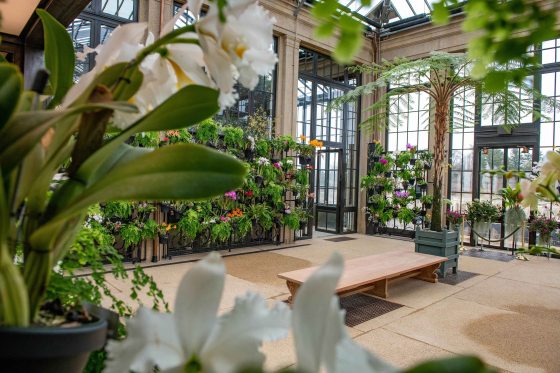 Kennett Square, PA (February 25, 2022) — Longwood Gardens will reopen its beloved, historic Orchid House on February 26, revealing stunning new floral displays within a hundred-year-old structure that has been thoroughly restored and revitalized. The completion of the Orchid House restoration marks the first milestone achieved in Longwood Reimagined, a sweeping yet deeply sensitive transformation of 17 acres of the Gardens' central visitor area.
Now returned to its original configuration, but with a gracious new vestibule seamlessly integrated into the building to welcome visitors and keep temperatures steady, the Orchid House will now be able to exhibit up to 50 percent more orchids throughout the year from Longwood's collection, recognized as one of the most important in the world.
Paul Redman, Director and CEO of Longwood Gardens, said: "Ever since our founder Pierre S. du Pont and his wife Alice began collecting orchids in 1923, these magnificent plants have been a significant part of our mission of horticultural education and research. With the completion of the stately, thoughtfully reimagined Orchid House, we are demonstrating our commitment as stewards of this collection and these gardens. As we preserve and enhance this treasured space, we have created an even better experience to enjoy our renowned orchid collection, so that we can continue to share the diversity, beauty, and importance of our orchids with our guests long into the future."
Working with John Milner Architects, experts in historical preservation and design, Longwood Gardens has lovingly restored the vintage mosaic concrete of the Orchid house and installed a new glass roof, glass walls, lighting, custom frame trellises designed by Longwood's inhouse design team, and display components. The Orchid House's antique bronze display cases have been conserved, with their elegant ornamental metalwork made to gleam anew, and moved to a new location within the interior to serve as if they were storefront windows ringing an open, gallery-like space. Each day, 250 to 300 blooming orchids will adorn custom-made trellises that allow the blossoms to be displayed in varying depths, heights and arrangements on an ever-changing basis. The Orchid House is curated by Greg Griffis, Senior Horticulturist and orchid expert at Longwood Gardens.
In addition to displaying the beauty of the plants, the Orchid House serves to educate the public about Orchidaceae and the importance of biodiversity, while highlighting the work of Longwood Gardens as a leader in conservation and propagation of terrestrial orchids from North America and the world.
Opening weekend activities for the Orchid House will include opportunities to meet curator Greg Griffis and to hear from the design team behind the renovation and the research team responsible for the orchid conservation program.
The Longwood Gardens Orchid Collection
Orchids have a long, prominent history at Longwood Gardens, starting a century ago when founder Pierre S. du Pont and his wife Alice began the orchid collection with plants purchased from American growers and imported from India, Thailand and the Caribbean to England, France and Belgium. The du Ponts' passion for orchids fueled the collection's fast growth and helped build its reputation as one of the world's finest.
The orchid collection today comprises 5,000 plants of diverse origin, size and color, representing 2,000 different taxa, making it one of the largest and most extensive collections of plants at Longwood. Major components of the collection include Cattleya orchids, a favorite of Alice B. du Pont, among them antique hybrid and cultivar selections that are no longer available commercially, and that in some cases are more than a century old; Paphiopedilum or lady's slipper orchids native to tropical Asia; Oncidium native to Central and South America and the Caribbean, with their masses of small to medium-size flowers on a branched stem; Disa, a genus of orchid native to South Africa that is bred and displayed in very few public gardens around the world; and Phalaenopsis or moth orchids, which are now bred in an endless array of forms and colors through new hybridization techniques.
"We have been building and caring for our collection since the 1920s," explains Senior Horticulturist and Orchid Collection Curator Greg Griffis. "Our restored Orchid House will enable us to better showcase the beauty and diversity of our notable collection, as well as continue to expand the collection and share these extraordinary plants with our guests for years to come."
Orchid Conservation at Longwood Gardens
A leader in the advancement, practice, and understanding of orchid seed germination and propagation, Longwood Gardens initiated a native orchid conservation program in 2015 that will continue to thrive with the revitalized Orchid House. By working to determine propagation protocols and conservation best practices for Pennsylvania native orchids, Longwood Gardens has developed scientific expertise that is applicable to orchid conservation on a global scale. Longwood has partnered with organizations across the globe, most recently in Vietnam, to assess population viability of some of their rarest orchids, sharing knowledge and conducting research to help develop conservation plans and reduce poaching of plants in the wild.
"Orchids make up 8–10% of the total diversity of all plants and all orchids are considered to be endangered, " explains Peter Zale, Ph.D., Associate Director of Conservation, Breeding, and Collections. "We like to think of orchids as the 'canary in the coal mine'. They are critically important in determining the overall health of our ecosystem, generally rare and declining in the wild, and seldom found in plant collections. We started locally and developed expertise with native orchids, yet our impact will have a ripple effect globally."
Preserving and Renewing the Orchid House
The project of restoring the Orchid House has involved extensive study of the existing structure and original architectural drawings, in order to preserve the features that define the character of this historic building, renew its critical infrastructure and provide a stunning space where visitors may appreciate the magnificence of the orchids.
To ensure the structural integrity of the hundred-year-old building and manage its transition to a grander display, Longwood Gardens, John Milner Architects and Bancroft Construction Company reconfigured the mechanical, electrical and heating systems; added new lighting; poured a new concrete floor; repaired concrete and steel structure; restored the bronze windows and replaced the glass; and installed a new glass roof using the existing steel frame. Work also included the installation of new perimeter heat systems, a snow melt system, and new floor drains, as well as the construction of an interior curtain wall to moderate temperature between circulation and display spaces.
The 1929 orchid case was relocated from the center of the building to its original location at the north end of the space, creating a north vestibule for an expanded orchid display area to the south. The orchid case was fully restored with the installation of new doors, restored display grates and glazed wall panels. A new perimeter display system was designed and installed in the south portion of the building.
Christopher Miller, Principal, John Millner Architects, said: "The original conservatories at Longwood Gardens are a unique grouping of structures representing a significant period in the garden's history. The goal of the project was to restore the Orchid House in a manner consistent with Pierre S. du Pont's original vision and to integrate repairs and new work seamlessly into the existing glasshouse. The project included incorporating new programmatic requirements while maintaining the quality of materials and craftsmanship that have existed at Longwood for over a century. It was a privilege to join Longwood's team to see the Orchid House restored and re-imagined for future generations."A special effort went into the restoration of the building's historically and aesthetically significant concrete, originally installed as one of the first major projects of the John J. Earley studio in Washington DC. A pioneer in the field of decorative, exposed-aggregate concrete, Earley used carefully selected, graded and blended aggregates to achieve the densely textured surface and subtle gradations in color that he called mosaic concrete. The Longwood Gardens team worked with concrete expert Robert Armbruster to ensure that the restored concrete of the Orchid House was faithful in composition and appearance to the original concrete and matched the existing concrete and stucco of the adjacent the Main Conservatory and Camilla House.
Longwood Reimagined: A New Garden Experience
The opening of the new, expanded display for Longwood Gardens' expansive orchid collection represents a key milestone in Longwood Reimagined: A New Garden Experience, a project that will expand the public spaces of the renowned central grounds and connect them from east to west, offering a newly unified but continually varied journey from lush formal gardens to views over the open meadows of Pennsylvania's Brandywine Valley. The project originates from a master plan developed in 2010 by West 8 Urban Design & Landscape Architecture with WEISS/MANFREDI Architecture/Landscape/Urbanism. Longwood has continued working with WEISS/MANFREDI as lead designer, in collaboration with Reed Hilderbrand, on Longwood Reimagined, which continues the institution's distinguished history of commissioning and collecting outstanding garden designs and glass houses. The project is managed by Bancroft Construction Company, based in Wilmington, Delaware.
In keeping with Longwood's tradition of blending fountain gardens and horticultural display, the centerpiece and largest single element of Longwood Reimagined is the creation of a new 32,000-square-foot glass house, designed by WEISS/MANFREDI, with gardens and pools designed by Reed Hilderbrand. Longwood's Cascade Garden, the only design in North America by the great Brazilian landscape architect Roberto Burle Marx, is being relocated in its totality to an all-new, 3,800-square-foot glass house of its own, a jewel box where the tropical plantings will be preserved and can thrive at the heart of the conservatory ensemble. A new outdoor Bonsai Courtyard, built alongside the West Conservatory, will exhibit one of the most outstanding collections of bonsai in the country. Other elements of the Longwood Reimagined project include construction of a new education and administration building with a state-of-the-art library and classrooms; renewal of the beloved Waterlily Court designed by Sir Peter Shepheard (1913-2002); and preservation of six historic Lord & Burnham glass houses from the early 20th century, to be relocated at a later date and used for year-round garden displays.
 
About Longwood Gardens
In 1906, industrialist Pierre S. du Pont (1870-1954) purchased a small farm near Kennett Square, PA, to save a collection of historic trees from being sold for lumber. Today, Longwood Gardens is one of the world's great horticultural displays, encompassing 1,100 acres of dazzling gardens, woodlands, meadows, fountains, 10,010-pipe Aeolian organ and grand conservatory. Longwood continues the mission set forth by Mr. du Pont to inspire people through excellence in garden design, horticulture, education and the performing arts, through programming that includes exhibitions, musical performances by leading artists, renowned horticulture education programs, horticulture research, environmental stewardship and community engagement. Longwood is one of more than 30 gardens in the Philadelphia region known as America's Garden Capital. For more information, visit longwoodgardens.org.
About Bancroft Construction
Bancroft Construction is an award-winning, Mid-Atlantic construction management firm servicing clients throughout Delaware, Pennsylvania, New Jersey, and Maryland. For more than 45 years, Bancroft has taken great pride in not only building physical structures, but also long-standing relationships. Bancroft commits to a partnership approach for all projects that it manages – from major developments to revitalizing world-renowned cultural landmarks. Recently, Bancroft proudly managed the multiple award-winning revitalization of Longwood Gardens' Main Fountain Garden. Centered around the idea of bettering our community, Bancroft assists our clients with their projects from concept to completion and offers construction-based solutions in regard to program management, estimating services, construction management, owner's representation, virtual design & construction, as well as sustainability methods & materials.
About John Milner Architects
John Milner Architects is a collaborative team of design professionals that specializes in the restoration and adaptation of historic buildings and the design of new buildings which reflect the rich cultural and architectural traditions of the past. The firm's first-hand experience with the history and construction technology of three centuries of American architecture informs its approach to both historic preservation and design. Based in Chadds Ford, Pennsylvania, John Milner Architects enjoys successful and long-standing professional relationships with clients in the private, institutional, ecclesiastical and governmental sectors. The firm has been responsible for directing and implementing numerous new design and preservation projects which have been widely published and recognized for their excellence on local and national levels.