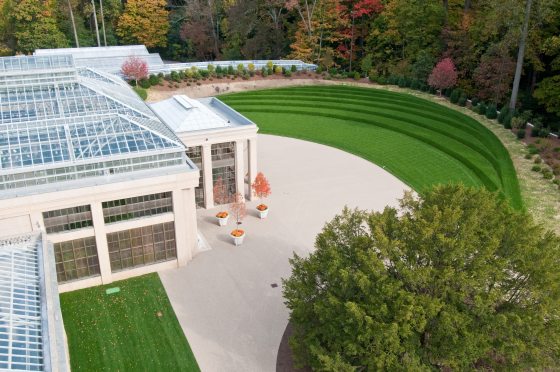 Longwood Gardens' new East Conservatory Plaza, featuring the first terraced lawn in the United States designed by landscape architect Kim Wilkie and the largest indoor green wall in North America, will open to the public on October 9, 2010.
Kennett Square, PA- Longwood Gardens' new East Conservatory Plaza, featuring the first terraced lawn in the United States designed by landscape architect Kim Wilkie and the largest indoor green wall in North America, will open to the public on October 9, 2010.  The dynamic new gathering space and venue for educational talks, horticultural demonstrations and special events continues Longwood founder Pierre S. du Pont's legacy of creating unique spaces that integrate into the natural landscape.
The East Conservatory Plaza is composed of five tiers of sweeping grass-covered terraces that emerge like steps from the landform. The Plaza is surrounded by woodland plantings, including a more than 200-year-old English Yew.  The innovative design of the terraced lawn creates a sculptural clearing, allowing for dramatic views of the Topiary and other gardens to the south, as well as of the East Conservatory façade.
"Kim Wilkie's unprecedented design for the East Conservatory Plaza is deeply rooted in tradition, while also embracing innovative landscape design, which captures the very essence of Longwood Gardens," said Director Paul Redman.  "The plaza – both as a place of quiet contemplation and a site for creative programming – will engage our guests in new and exciting ways, advancing our mission to expand upon what a public garden is and what it offers to the public." said Redman.
To mark the opening, the East Conservatory Plaza will feature special events and tours highlighting the environmental aspects of the project from 11 am to 4 pm on Saturday, October 9.
The East Conservatory Plaza has been integrated into the landscape by the careful placement of red maple, sweet-gum, bald-cypress, eastern red-cedar, tulip-tree, as well as southern bush-honeysuckle, Japanese holly, Virginia sweetspire and other shrubs, all of which are intended to enhance and extend the plantings of the surrounding landscape.
The composition of the sod in the Plaza is a special formulation created by Longwood Gardens. It includes a mix of two varieties of Kentucky bluegrass and three varieties of Tall fescue. The blend was selected for its early green color and resistance to disease. Currently, 65,000 square feet of sod is being grown for Longwood at Tuckahoe Turf Farm in NJ.
Due to the slope of the terraced landform, Longwood is using a novel and innovative combination of overhead and subsurface irrigation systems to provide adequate and efficient hydration. An overhead system alone would not suffice because of the potential for water to run off the slope; the subsurface irrigation system, which lies just below the surface, combats the runoff and supplements irrigation.
A unique feature of the Plaza is an unprecedented new concept of domed, naturally lit lavatory cabinets hidden within the landform. While examples of top-lit domes exist, particularly in Islamic architecture, underground domed cabinets such as these have never before been used for contemporary lavatories.  The innovative design of the underground restrooms will take advantage of earth insulation, an age-old concept that is highly energy efficient and joins other existing environmental practices at Longwood. A curving glass-roofed corridor spine running between the two rows of lavatory domes is surrounded by a massive "living" or green wall, which will be the largest indoor living wall of its kind in North America.
Longwood's new vertical garden features a panel wall system to support more than 47,000 plants and encompasses a surface area of 3,590 square feet — making it more than 50% larger than the current largest indoor green wall in North America at PNC Bank in Pittsburgh. The majority of the 25 species of plants featured in Longwood's living wall are fern varieties including the evergreen Holly Fern, the versatile and showy Rabbit's Foot Fern, the Button Fern, the Asparagus Fern with its feathery arching stems, and the delicate and lacy Maidenhair Fern, among others.
"The history of Longwood Gardens, from Pierre du Pont's founding vision to the Garden's commitment to environmental stewardship, education and the arts, very much informed and inspired the design for the East Conservatory Plaza," said Kim Wilkie.  "I wanted to create a gentle environment of light and shade that would be transformed by the changing hours of the day, a place where people could relax in the morning sunshine, enjoy views out onto the rest of the Gardens, take in a special event, or perhaps even attend a sparkling party at night."
The East Conservatory Plaza is designed by Kim Wilkie, in collaboration with building architects Michaelis Boyd and local project landscape architects Wells Appel.
About Kim Wilkie
U.K.-based landscape architect Kim Wilkie established Kim Wilkie Associates in 1989, building a reputation for bold new designs in complex settings.  The firm recently completed the Orpheus landform (an inverted grass pyramid) at Boughton, one of England's great formal landscapes.  Other U.K. projects include the Chelsea Barracks redevelopment, the Thames Landscape Strategy, the V&A Museum Garden, Hyde Park Corner, Imperial College and a terraced lawn design for Heveningham Hall.  Wilkie also has worked on projects in the U.S., Europe and South America, including a restoration and management plan for New York University at Villa La Pietra in Florence, Italy and World Heritage Site plans for projects in Transylvania and the Russian Arctic Circle.
Wilkie was awarded an Honorary Fellowship of the Royal Institute of British Architects in 2002.   A typical Scottish colonial child, he grew up in the Malaysian jungle and Iraqi desert before attending school in southern England, studying history at Oxford and environmental design at the University of California, Berkeley.
About Longwood Gardens
In 1906, industrialist Pierre S. du Pont (1870-1954) purchased a small farm near Kennett Square, PA, to save a collection of historic trees from being sold for lumber. Throughout his life, Mr. du Pont indulged his passion for gardening, turning his farm into a magnificent horticultural showplace.  Today, Longwood Gardens is one of the world's great horticultural displays, encompassing 1,077 acres of gardens, woodlands, meadows, fountains, a 10,010-pipe Aeolian organ and conservatory.
From its origins, environmental stewardship has been a priority of Longwood. Every plant used in the seasonal displays is composted in Longwood's robust composting program, producing soil for future plantings. The Gardens limit the use of pesticides through a leading Integrated Pest Management Program that uses natural means whenever possible. To conserve energy, Longwood's innovative root-zone heating system in the conservatory planting beds enables heat to be concentrated on the roots of the plants without having to heat the ambient air.
For more than half a century, Longwood Gardens has been educating tomorrow's horticulture leaders. From curriculum-based programs for ages K-12, to high-school and college internships, to a Master of Science Degree program, Longwood's educational programming is internationally recognized for its academic breadth, depth and experiential learning. Graduates from these programs go on to assume leadership positions at public and private gardens around the world.
The garden settings of Longwood have long-served as the backdrop for showcasing top performing artists. Since Pierre du Pont first welcomed his good friend John Philip Sousa to the Open Air Theatre stage in 1922, Longwood has hosted some of the finest artists from various performing genres, including Martha Graham, Ruth St. Denis and Ted Shawn, as well as Van Cliburn Medalists, Symphony Orchestras, Grammy-winners and more.