This time of year everyone is talking about the stunning chrysanthemums in the Conservatory--but I would like to point out the beauty of a different, incredible, autumn-blooming plant! The genus Salvia represents the largest group of plants in the Lamiaceae family. There are more than 900 known species of Salvia occurring in temperate and sub-tropical climates around the world. Gardeners in California and the warm southeast are already aware of the importance of these plants in the landscape. The plants are characterized by having square stems, a colorful corolla with two lips of unequal length, and a two-lipped calyx. Most gardeners will know them because they are generally drought tolerant and they come in the most lovely shades of true blue and red! I'd like to introduce you to seven of my favorite Salvia which are in bloom nowin the Conservatory complex.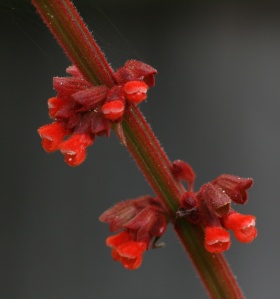 Salvia confertiflora.
Salvia confertiflora is a native of Brazil where it reaches heights of six to eight feet. We manipulate the growth of these plants to ensure their height is proportionate to the Conservatory. With careful planting schedules and pinching, we have plants that mature close to four feet. This is a relatively new plant to the United States--having just arrived in the 1960s, and availability only increased in the 1980s. Who can resist a 24" long brick-red inflorescence? In areas of the Southeastern United States this plant prefers some shade, and is remarkably cold tolerant, having re-sprouted after brief periods as low as 10 degrees Fahrenheit!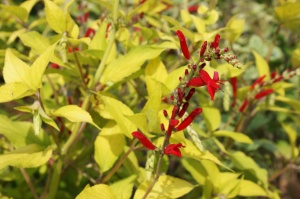 Golden delicious.
Salvia elegans is a native of central Mexico. It was known as S. rutilansas early as 1873, but more recent selections of a larger flowered clone have rendered the early name virtually unknown. This plant is very late flowering and can reach heights of four to five feet. In the garden it spreads by underground runners and can eventually form a small clump. If you look closely at the individual red flowers, you can see the pistil is split and is often described as being "feathery." A new cultivar was released in 2002 called 'Golden Delicious', which is recognized by its bright golden leaves with the fragrance of pineapple when rubbed!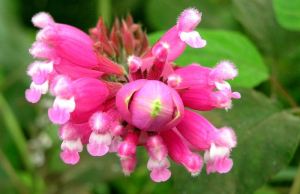 Salvia involucrata.
Salvia involucrata has bright pink flowers and is native of Mexico. Glorious double bracts open to reveal true flowers underneath. Attaining heights of almost five feet, this late flowering beauty was found growing on the edges of the forest in its homeland. This lightly shaded area of nativity offers the plant an increased opportunity for excelling in partly shaded areas of the Conservatory. Salvia leucantha --If you've ever been to Longwood this time of year then you've likely seen a purple cloud that has filled entire areas of the Conservatory. The most floriferous Salvia we display is hands-down the Mexican bush sage. The specific epithet, leucantha, means white. So where is the white on this plant? It's actually the flower that is white and the calyx that is purple. Some newer selections like Salvia leucantha'Midnight' have purple flowers as well (just to confuse everyone). Expect this silvery leafed sage to reach heights of almost four feet, but remember that gentle pinches throughout the season will keep it at a more manageable height.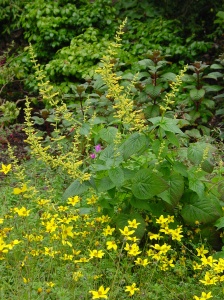 Salvia madrensis.
Salvia madrensis is a towering plant (almost 7' tall some years) which hails from the Sierra Madre in Mexico. It comes from high elevations of 4,000-5,000' and has large leaves almost two inches across. The inflorescence can reach 12" long and each flower is coupled by a sticky, but aromatic gland. A new selection available from Plant Delights Nursery in North Carolina is called 'Redneck Girl' and is characterized by distinctive red stems!
Salvia mexicana might be my second favorite salvia in flower this time of year. The cool chartreuse calyx is accented with soft blue flowers produced in profusion. This is an extremely variable species from central Mexico occurring at altitudes of 2,600-8,500'. It naturally grows under high tree canopies and is a favorite nectar source for popular pollinators such as hummingbirds, insects and butterflies.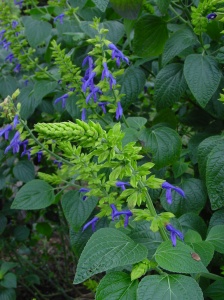 Salvia mexicana.
Salvia repens is our botanical wonder from eastern South Africa. It grows in open shrubby areas of sparse vegetation. The specific epithet refers to the creeping rootstock that can be used as an erosion control plant in warmer areas of the United States. This is one of our earlier flowering species of autumn salvia, coming into full bloom in September. The true blue flowers will persist well into October, which makes it extremely valuable in the garden. In it's native habitat the indigenous people will use extracts for healing, bug repellants and cures for gastric illness. This helps explain where the word salve comes from... as its meaning is "to heal." Join us at Longwood Gardens for Autumn's Colors which is in full bloom through November 22. Not only will you enjoy these seven stunning Salvia, but thousands of chrysanthemums including our largest thousand bloom-style mum, which boasts more than 700 individual flowers on one plant!
Categorized Under: