This article first appeared in issue 289 of Longwood Chimes, from Summer 2014.
One of the most charming garden entertainment venues to be found anywhere celebrated a major birthday in 2014. Longwood's Open Air Theatre turned 100 on June 24, 2014. Over the past century, thousands of performers have gratified hundreds of thousands of audience-goers. Music, drama, and dance—plus a great deal more—have been enjoyed outdoors under the sun and under the stars. The totals are impressive: about 1,500 performances in 100 years, much more than founder Pierre du Pont would ever have imagined.
Mr. du Pont delighted in the performing arts. He played with a toy theatre as a child (designed by boyhood chum Maxfield Parrish, who grew up to become the celebrated painter) and in college attended performances whenever possible. In 1913 he helped establish the professional DuPont Theatre, still thriving today in the Hotel du Pont in Wilmington.
Pierre du Pont bought Longwood in 1906 to save its historic trees, but he also wanted to make it a place where he could entertain his friends. This he did with an annual Garden Party, which he hosted along with Mrs. du Pont. Outdoor garden theatres were popular in Europe in the 17th and 18th centuries. The du Ponts visited one at the Villa Gori near Siena, Italy, in 1913 and decided to build a larger version at Longwood after tearing down an old barn on the site.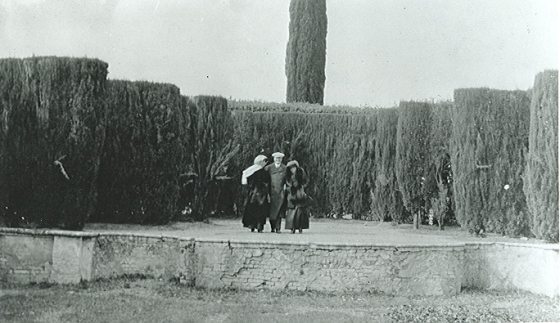 The Open Air Theatre's debut with a dance spectacular at the 1914 Garden Party was a resounding success. Three hundred guests dined around small tables on the then-flat auditorium lawn, following which the newspaper noted: "Just after dark electric lights were turned on, simultaneously illuminating the stage in front and sides, and a spot light discovered four couples descending from the terrace above the stage to the classic strains of Beethoven's music. The dance was performed on the stage and its gorgeous costuming and finely executed, dignified figures elicited hearty applause." After half a dozen quaint numbers came the climax: "The finale was a frolic by the harlequins, who, much to the surprise of the guests, danced among them, throwing confetti and garden roses, then winding their way out in a path of light, finally disappearing amid the trees. The audience might easily have imagined itself transported to the day of Marie Antoinette and the scene Versailles, with the wonderful setting of theatre, lights, dancers and nature."
Two weeks later, Mr. du Pont began installing simple fountains into the stage. He was inspired by the secret joke fountains in Italian gardens, the giochi d'acqua, which were hidden in the pavement and would spring to life unexpectedly to douse unsuspecting visitors at the owner's pleasure. Longwood's jets were controlled by foot pedals in front of the stage. On hot afternoons, Mr. du Pont's older nephews would jump on these valves while the younger cousins would dart around to get soaked by the fountains. The jets were first incorporated into a Garden Party performance in 1915 danced by the Florence Noyes School of Rhythmic Expression, aesthetic dancers jokingly termed "anesthetic dancers" by Mr. du Pont.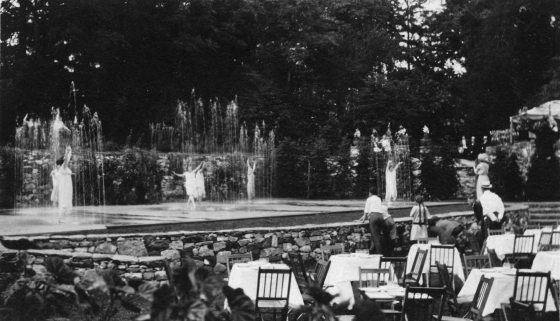 In 1926 to 1927 underground dressing rooms were built, the seating area was sloped, and the fountains were greatly expanded to 750 jets recirculating 2,000 gallons a minute and colorized with 600 lights. A water curtain was added to completely hide the performers from the audience. The reimagined Open Air Theatre was now one of the most unique theatre/fountain gardens in the world, as novel as anything to be found at Versailles. Several hundred performances took place under Pierre du Pont's sponsorship until 1954, usually to raise funds for charity.
Longwood's Theatre is larger than it looks, originally seating 2,100 and now more comfortably accommodating 1,500 by re-spacing the chairs, but sound amplification was minimal during the earliest years. In 1930 Mr. du Pont noted that "our theatre is not good for speaking; in fact, the spectacular is about all we can produce successfully." Most performances during his lifetime were just that—dance, musical theatre, and concerts. Eventually plays were presented. Today, modern amplification and lighting permit almost any type of production.
Dance figured prominently during the Teens and Twenties with such iconic performers as Ruth St. Denis, Ted Shawn, Doris Humphrey, and Martha Graham, assisted by numerous ensemble dancers. One of the Denishawn dancers was Jane Sherman, who wrote in her autobiography Soaring (1976), "There was tremendous excitement in class one summer [1925] when some of us were asked to augment the regular company for a special performance at one of the du Pont estates. We went to Wilmington by train, where we were met by cars and driven to the most magnificent open-air theatre one could imagine. Set on a lawn of jade velvet, with conifers and yews forming backdrop and wings, it was completely equipped with lights, a sunken orchestra pit, and rows of chairs for the invited audience. ... there were hundreds of guests. While they gathered for cocktails under the setting sun, Miss Ruth, Mr. Shawn, Doris, Charles [Weidman] and the rest of us were led to our table in the greenhouse for an early dinner. At least two stories high, banked with bright, fragrant, exotic trees and hanging plants, the enormous space was filled with long tables covered with centerpieces of flowers and decked with crystal and silver. I well remember that Miss Ruth and Ted did not find it at all amusing to be placed at a plain table next to the swinging doors of the kitchen. Our hired presence was carefully screened from the sensitive eyes of the guests when they entered to take their seats."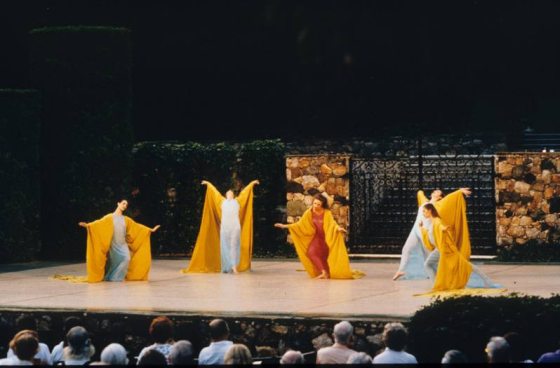 New York impresario John Murray Anderson performed in 1916 and later produced four dance spectaculars (1926, 1927, twice in 1928) at Longwood. He wrote in his 1954 memoir Out Without My Rubbers, "Mr. Pierre S. du Pont was one of the most charming and unaffected men I ever met. ... There were no private parties quite so wonderful as Mr. du Pont's. He engaged a large company of players, and usually an orchestra of almost symphonic size and quality. Everyone, from the stars to the electricians, was Mr. du Pont's guest at the hotel in Wilmington. ... The 'party' would usually be for perhaps eight hundred guests, and before the entertainment they would all be served dinner in the huge Conservatory, which seemed almost to equal the Crystal Palace in size. The entertainments themselves were of the more serious or classical kind. Martha Graham was one of his favorite performers and my 'Nightingale and the Rose' appealed to him very much, done as it was to perfection in the open on a starlit summer night."
In 1938 the Mary Binney Montgomery Ballet staged an entertainment in the presence of the Queen of Sweden and her son Prince Bertil, in honor of the 3ooth anniversary of the Swedish landing in Wilmington. It rained that night so very few guests ventured over from the Conservatory to join the royal party seated in the rear tower, but the evening ended with a water ballet with dancers silhouetted against the lit fountains.
In the 1960s, American Ballet Theatre and the Pennsylvania Ballet had their turns at starry-roofed performances. In more recent times, the Voloshky Ukrainian Dance Ensemble, Paul Taylor 2, the Brandywine Ballet, the Arthur Hall Afro-American Dance Ensemble, and numerous ethnic dance and acrobatic groups have enlivened the stage with both grace and daredevil excitement. The stage was tiled for many years, a slippery, challenging surface for any dancer. For the past several decades a special dance floor has improved traction. Still, dancing among shrubbery has its hazards: some years ago a danseur noble carrying the prima ballerina missed the exit and rammed her into the arborvitae wings. He had to step back to pull her out, then re-aim a few feet to one side, all while her legs were flailing. Fortunately the wings were not holly!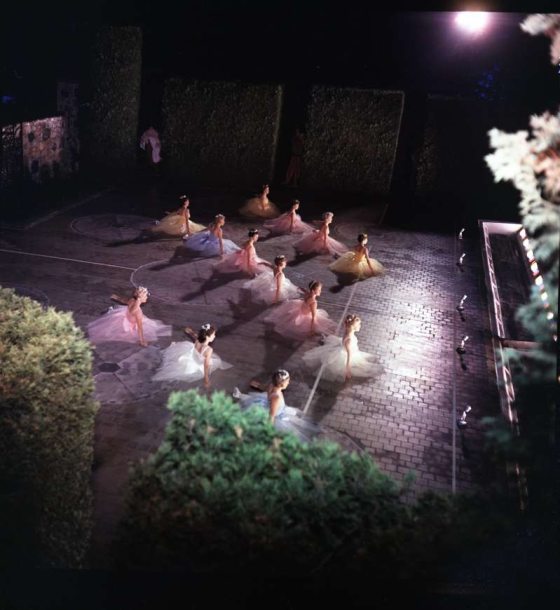 Musical theatre has been a mainstay in this venue. The Savoy Company from Philadelphia was the first theatrical company to perform here in June 1916 with the Gilbert & Sullivan operetta, Patience. They returned in 1923 with The Pirates of Penzance and have since mounted 88 G&S productions, except in 1927 and during World War II. Mr. du Pont would always provide a Longwood supper for the cast as well as sandwiches on the train back to Philadelphia. In total, Savoy has given nearly 150 performances in the Gardens.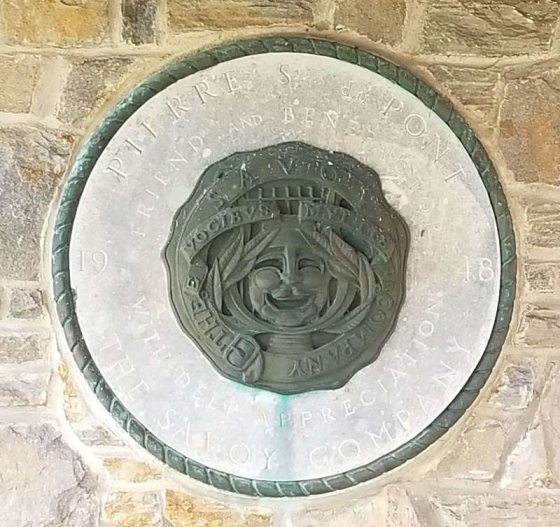 Another annual tradition began in 1932 when, after returning from an operetta, Frances Tatnall boasted that she and some of her friends could produce a better show than the one they had just seen. She enlisted the help of William Winder (Chick) Laird, Mr. du Pont's nephew, as stage director, and Frederick W. Wyatt, a prominent local conductor and vocal teacher, to direct a hastily assembled cast in The Pirates of Penzance. It was performed at Longwood, and the group known as The Brandywiners was invited back every year, except during the war.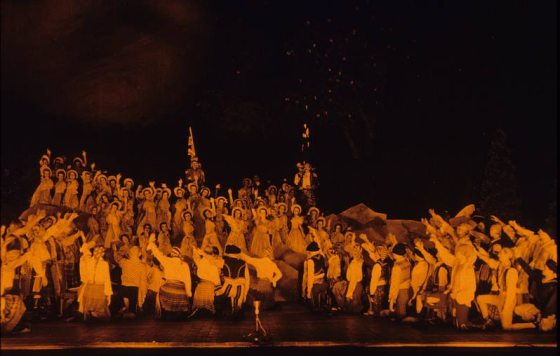 Older members recall the warm enthusiasm of Pierre du Pont, who on at least one occasion helped build scenery. Chick Laird recalled his uncle's unforgettable, dry humor: "At rehearsals he would frequently come to the theatre and have large baskets of fresh peaches brought for the actors to enjoy. Once, he called the group together to ask that they not throw the pits from the peaches into the shrubbery. He had a passionate dislike for littering. That same night, one of the performers dropped the peach pit onto the stones at the entry to one of the wings. When this lad reached home that night, he found the peach pit in his jacket pocket neatly wrapped in a linen handkerchief monogrammed PS du P. No one ever found out what sleight of hand was used to get that pit into that handkerchief and into that pocket. Needless to say, the handkerchief was carefully laundered by the offender's mother and returned to its owner with profuse apologies."
The Brandywiners' 2014 production of Annie was their 8oth at Longwood, most of which have been well-known Broadway shows. Since 1932 they have performed about 500 times here (including previews).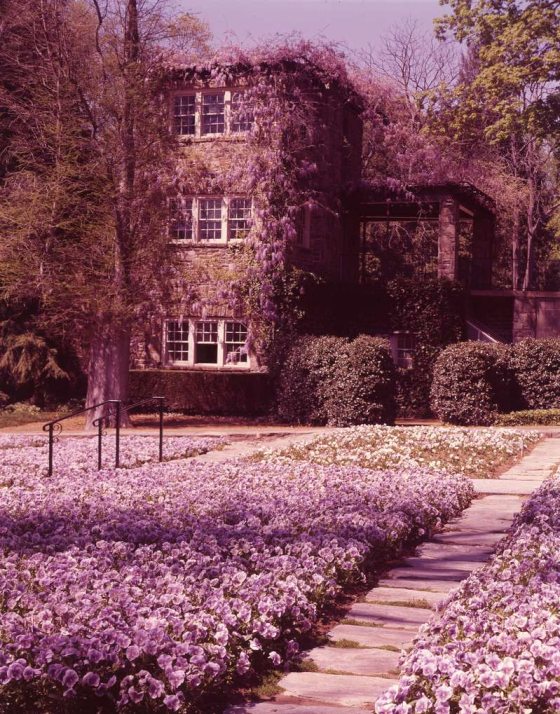 From 1930 to 1959 (except 1942–1945, 1957) the local William W. Fahey Post of the American Legion performed 25 grand historical pageants and musicals on the outdoor stage totaling about 90 performances. The tradition was revived in 1976 with a Kennett Merchants Association repeat production of Bayard Taylor's The Story of Kennett.
Grand opera has occasionally upstaged operetta. Carmen was presented in 1949, Aida in 1950, Madame Butterfly in 1951, and The Barber of Seville in 1957. The Opera Company of Philadelphia arrived in 1979 with The Marriage of Figaro and performed The Barber of Seville in 1980.
Shakespeare was first presented in 1933 with two performances of The Taming of the Shrew by the Wihnington Players. Seventeen productions and 37 performances of his plays were performed annually from 1960 through 1976 by The Lyceum Players, a Wilmington-based theatre group.
Among the most unusual events on the stage were the Miss Pennsylvania Pageants for two nights each in 1956 and 1957. Also in 1956 the local Kennett High School used the Theatre for its graduation ceremonies after a fire damaged the school auditorium.
But concerts have been the main offerings over the years, especially in recent decades. Mr. du Pont liked military bands, but in the early years the most important concerts were held in the Conservatory for fear of rain. John Philip Sousa and his Band were a favorite and gave 14 performances over seven years, but all were indoors except for an evening concert in 1928 held in the Theatre. The United States Marine Band first performed indoors in 1922, and outdoors occasionally starting in 1928. In 1951, two Theatre concerts a year by the Marines became the norm and continued through 1986 (excluding 1975). An extraordinary classical highlight was a stage performance by The Philadelphia Orchestra conducted by Eugene Ormandy in 1941.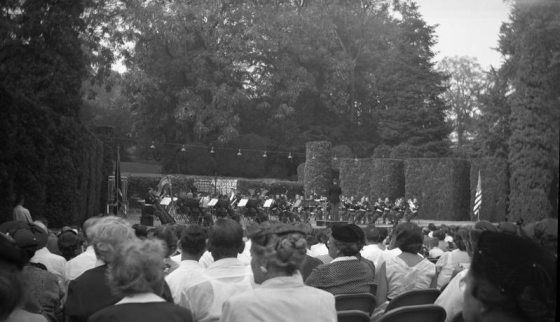 Mr. du Pont repeatedly hosted outdoor concerts by the DuPont Chorus, DuPont Band, and the Orpheus Club. These continued after his death in 1954, to which were added many performances by the Coatesville Choraliers, but it was not until 1981 that the performance scope greatly expanded with concerts before each Main Fountain display several nights a week. Every imaginable type of performance has been scheduled, from classical to pop, folk to world, jazz to rock. The Kennett Symphony of Chester County has been a regular since 1986, with up to three performances a summer. In 2000, the Kiev Symphony Orchestra and Chorus appeared, and in 2012 the Baltimore Symphony concertized.
Mr. and Mrs. du Pont adored their many nieces and nephews, but entertainment for children was limited to the annual indoor Christmas parties for employee families. No doubt the Theatre's military bands and some American Legion pageants excited younger audience members, but only beginning in 1984 were performances targeted especially to kids and families with artists such as Kevin Rodi, the Chinese Golden Dragon Acrobats, Trout Fishing in America, and, especially, the Missoula Children's Theatre with week-long training for young actors who then performed on the stage before enthusiastic audiences.
In 2008, the overall emphasis shifted to more big-name musical acts, beginning with Derek Trucks and Susan Tedeschi. Since then Amy Grant, The Bacon Brothers, BB King, The Beach Boys, Boz Scaggs, Bruce Hornsby, Buddy Guy, Chris Isaak, Eileen Ivers, Gipsy Kings, Indigo Girls, Joan Armatrading, Keb' Mo', Lyle Lovett, Manhattan Transfer, Michael McDonald, Pat Benatar, Pat Metheny Unity Band, Peter Yarrow & Noel Paul Stookey, Pink Martini, Rufus Wainwright, Shemekia Copeland, Straight No Chaser, Tony Bennett, and Vince Gill have brought their world-class talent to the Longwood stage. 2014 welcomed Patti LuPone, Roseanne Cash, and Wynton Marsalis, among others.
How many guests have enjoyed some type of entertainment in this unique garden theatre? Attendance statistics are incomplete, but it is within reason to suggest a seated audience of between one to two million. Many millions more have seen the Theatre fountains during the day and, especially, after dark at Christmas. Certainly Pierre du Pont would be delighted that his lifelong interest in "the garden as theatre" has given so much pleasure to so many people.