With its passageways and winding paths, fun statues to discover, and lots of splash-ready water features, our Indoor Children's Garden completely captures the fun and imagination of being a child. Our kid-sized passageways and features, however, can lead to pretty tight growing spaces, so every few years it's time to refresh this garden's plants and rein in the jungle … to allow the children, and all the guests who frequent the garden, plenty of space to fully enjoy it. For the last two weeks, we have been working to replace both the soil and the plants in the garden to give it a beautiful refresh … a process that requires many hands, many departments, and a whole lot of imagination. 
The process of replanting, replacing the soil, and refreshing the Indoor Children's Garden involves many staff from our Horticulture and Facilities departments. Our plumbers, electricians, masons, carpenters, and painters work tirelessly to make sure all is in perfect, and beautiful, working order. During this refresh, our Facilities staff—among many other items—cleared and modified the drains throughout the garden in order to optimize draining in the garden and maintain access to the drains even with the new plants in place.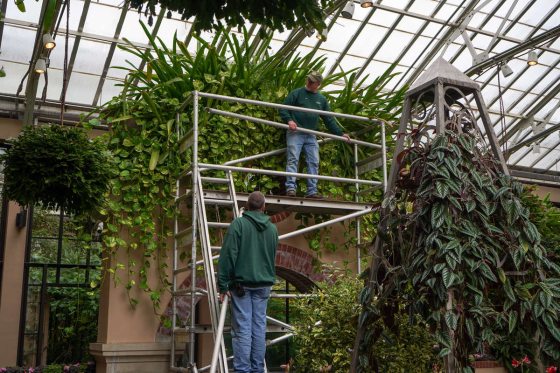 As far as horticulture goes, we have been busy replacing the majority of the garden's soil and plants. The plants we're removing from the garden will be composted to become new soil and fulfill other needs throughout the Gardens. Prior to the refresh, the plants in this garden, including Philodendron, Epipremnum, and Aechmea, had been living in small containers for several years and it was time to start fresh.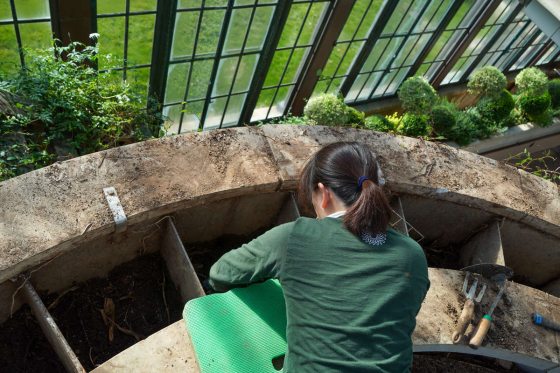 We're fortunate here at Longwood to have the ability to have our own soil "mixes" created for our specific needs. For this refresh we used a light, fluffy potting mix similar to what you would want in potted plants on your deck or in your home. A light mix helps keep good drainage for the plants; a heavier soil mix would hold onto water for too long, which could cause standing water and lead to disease issues.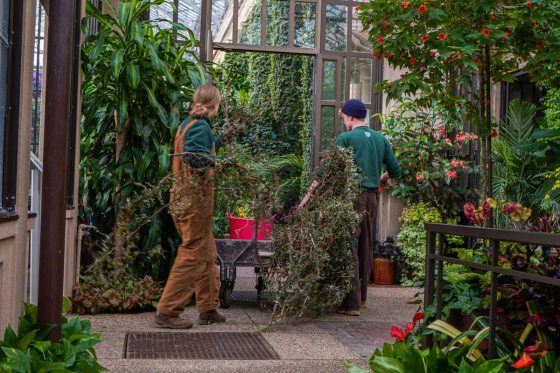 Once we replaced all of the soil, it was time to bring in the plants! We chose plants that have historically done very well in this space, appreciate an evenly moist soil, thrive in bright light, and tolerate "pot bound" roots. One such plant is Philodendron 'Rojo Congo', a self-heading philodendron with lovely dark green leaves, a reddish underside, and red stems. Instead of growing long and vining, this cultivar tends to grow upright ... an ideal trait for the Children's Garden space. Another plant we're incorporating is Philodendron 'Hope', a more compact cultivar of Philodendron bipinnatifidum that gives us all the glossy, beautiful green foliage in a more manageable size. We chose different colored foliage and a variety of leaf shapes to provide plenty of visual interest throughout the garden … in fact, there are about 50 different genera in the Indoor Children's Garden!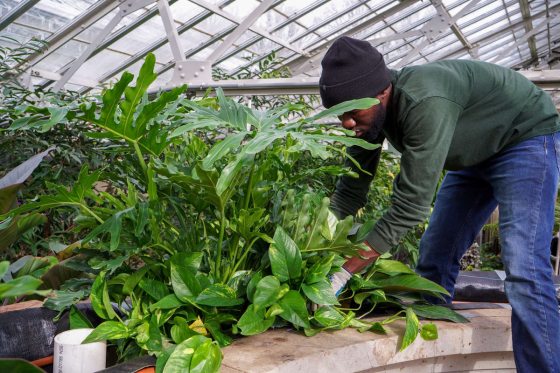 We try to soften most of the garden's architectural features with plant material, particularly large walls of brick and stucco. As one example, to soften the walls and allow for a cascading look we used Epipremnum aureum. Both Philodendron and Epipremnum are members of the Araceae family and appreciate the same general growing conditions. It won't take long before these plants will be putting on new growth and filling out in their new home.   
Come experience the newly refreshed Indoor Children's Garden for yourself!
Categorized Under: