By nature, most plants experience dormancy, or, by definition, a period in which they stop growing in order to conserve energy until better environmental conditions present themselves. Plant dormancy is a restorative moment.  As seasons turn and weather changes, dormancy ultimately lends to the health and beauty of that plant once it has emerged from this crucial period of rest. We can draw an interesting parallel between the dormancy of a plant and the temporary closure Longwood Gardens is experiencing right now … as well as the necessary pause our region, our nation, and the entire world is now taking. Throughout this global crisis, Longwood has had to find new ways to conserve resources, while keeping our staff safe, our legacy intact, and our plant collections alive during this challenging time. Powered by our love of the Gardens and our passion for all Longwood is, I'm amazed at watching us rise to the occasion. As Longwood President and CEO Paul B. Redman says, "the soul of Longwood has never been more evident" during this uncertain time. 
Our dedicated, passionate Horticulture team is one of the many Longwood departments that has had to make radical adjustments during this crisis. I will highlight many of the other teams who are keeping our Gardens going in future blog posts as there's so much to say about what I'm witnessing. For today, our appreciation is focused on the nimbleness of our Horticulture team, and in how they—with a much smaller staff now working onsite—have approached day-to-day care of our living collections in response to the ever-changing conditions brought on by the evolving COVID-19 pandemic. The team had to take a step back and collectively tackle what plants needed the most care; how we would be able to work given state and CDC mandates and protocols; and when and where that work could safely take place. But, given our love for Longwood, there was never a question of why we would continue to care for our Gardens.  It was a must-do, a call to arms.
Aside from our people (our staff, volunteers, Members, guests, and community), our plants and core collections rise to the top as a priority. This place, these plants, and our many gardens were the shared vision of Pierre S. and Alice du Pont, and the plants and trees are central to why we exist. Plants need care to survive. They need to be watered, pruned, and monitored to prevent disease, and given our current conditions, must be cared for while employing staff safety measures unlike anything we've ever seen.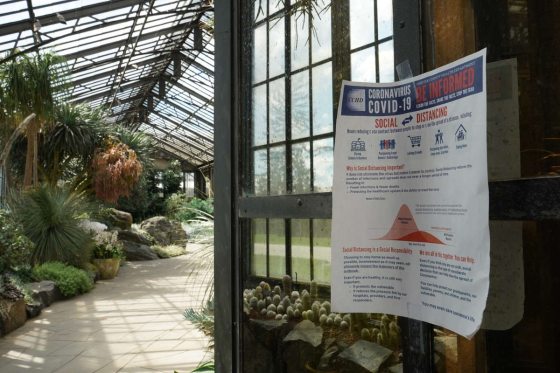 Many might not realize that on an average day, we would have approximately 400 pairs of hands working on our plants onsite in the Gardens, including Horticulture staff, volunteers, and students. Once we closed our Gardens to the public on the evening of March 13, we suspended our volunteer and student programs soon thereafter for their safety and well-being. Once we were given clearance to continue caring for Longwood with essential staff, we developed a plan to have only 55 of the 82 full-time Horticulture staff onsite at any given time, rotating through indoor and outdoor areas, which includes 100,000 square feet of research and greenhouse production, 350 acres of formal outdoor gardens, 40 acres of nursery production, 800 acres of natural lands, and 180 acres of turf, as well as 3 acres of gardens under glass that include permanent and seasonal plantings. Horticulture's Research and Conservation team continues on with critical research projects as well.
No matter the hour, day, or season during a typical year—and even before anyone had ever heard the term Coronavirus or COVID-19—our Horticulture team always operates on a detailed schedule that informs their day-to-day operations and the planning of future displays. We plan our crop production for seasonal displays years in advance, working backward to the time when those crops will be proudly put on display for our guests. Given the way in which they must operate on such a detailed schedule, our Horticulture team is comprised of those who both work in the present, and work towards the future, to make sure plants bloom at times in which our guests expect to see them bloom … while working with living, breathing things that can sometimes have an agenda all their own.
"We subscribe to a culture of planning," shares Vice President of Horticulture Sharon Loving, who has been part of the Longwood team for nearly 40 years. "The level of thoughtfulness, the resilience, and collaboration during this time is unlike anything I've ever seen at Longwood; it's unprecedented. We have always been led by long-range thinking, however, our necessary shift to successful crisis management and our rapid strategic editing of normal operations has been an astonishing thing to witness."
When it comes to tackling what plants require the most care and how to make that care most efficient and safe, the Horticulture team had to shift their way of thought. The first priority was care of our team; the second was the care of the overall living landscape itself. Rather than focusing on normal seasonal display priorities, the team had to take a triage-based approach, deciding which plants and collections would have the most potential to deteriorate quickly without proper care, and then assign an optimal, and realistic, level of care for those deemed at the top of the priority list. Overall, the team has had to focus on minimizing disease and pest impact for our plants while putting on pause the typical level of grooming we give our plants.
We are farmers. Everything that we do is based on our seasons and the crops we plant for each season. Each season has a lead time that can range from as short as three months to as long as 18 months of required production, depending on the crop. Crop decisions that we make today have long-reaching impact for eventual display. The team has prioritized projects based on vital plant care of our core collections and which display crops we should commit to growing in our production greenhouses … while contending with the fact we're missing about 350 pairs of expert Horticulture hands available for such care. The team also had to maintain integrated pest management practices, as well as our soil and composting operations … without which plant care and longevity would prove impossible. Our reality is real—we could lose everything if care of the very thing that defines Longwood lapses.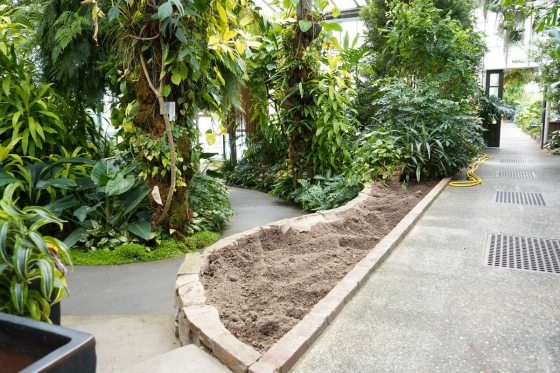 We also had to change how we work. To follow state and CDC mandates, and to ensure the health and well-being of our limited team of onsite Horticulture staff, those able and willing to be onsite have maintained strict safety protocols, including staggered work schedules; staying a minimum of six feet apart (or further) from one another to ensure social distancing; wearing appropriate personal protective equipment; and cleaning and disinfecting frequently touched surfaces and tools every time we use them. We've drawn lines at our potting benches to help staff remain at least six feet apart at all times akin to what you're seeing in grocery stores; we've posted capacities in all working spaces from greenhouses to lunchrooms; and we've coordinated with our Guest Services and Operations team to make sure we're working only in spaces in which staff has the capacity to deep-clean on a daily basis.  Staff are not allowed to share vehicles and they must be thoroughly sanitized after use. One thing to note, we've offered free healthy lunches and grocery offerings to all staff working onsite to help ease anxiety and minimize the amount of outside public contact.
Our Horticulture team is focusing efforts on caring for the plants that will be enjoyed by guests once we reopen our garden gates, all the while anticipating the look and feel of seasonal displays well into 2021.
We also moved some plants from their typical display areas, such as the orchids typically rotated in and out of our Orchid House, to production areas in which they could be more efficiently cared for.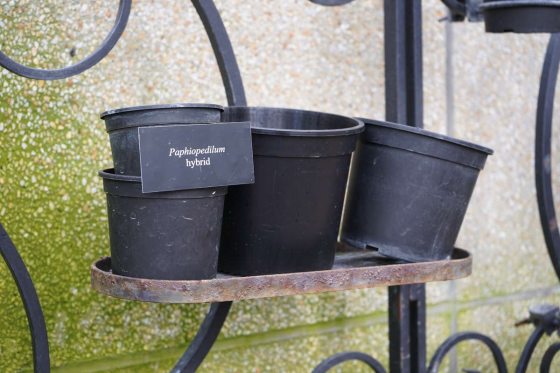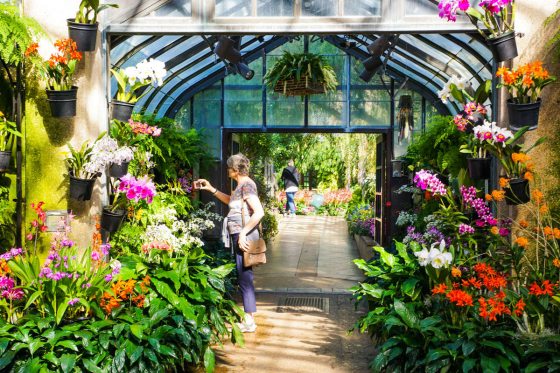 One such measure we took to reduce labor during this temporary closure was to empty the Conservatory's seasonal beds of all plants that would have been on view during the time we have been closed. The seasonal plants we had to remove required daily care and watering we simply were not able to employ while keeping our staff safe and while following regulations.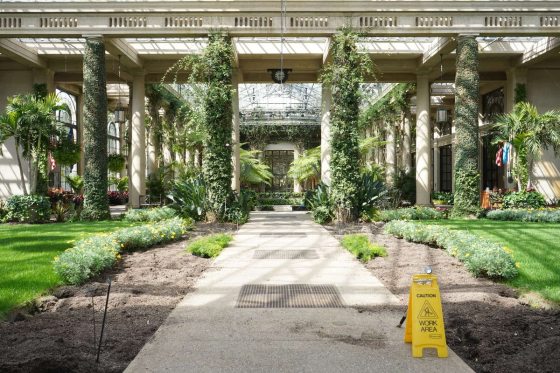 We also made the difficult decision to remove the tulip bulbs along Flower Garden Walk. This way, our team could shift their efforts to other gardens and displays planned to be on view after we reopen, such as the plants intended for our iconic Waterlily Display.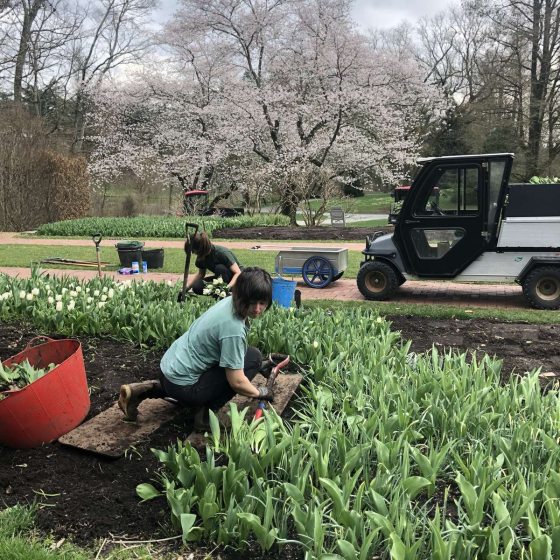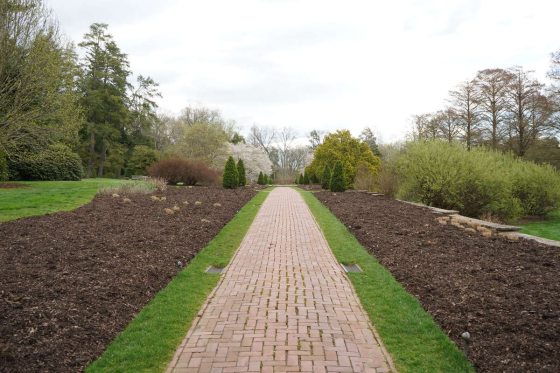 Since not all of our Horticulture team members can work onsite during this time, team members brought home any tasks that could be worked on from home, including Christmas lights to sort and test; test tubes to wash and label; future seasonal garden designs to plan; and crop production schedules to manage, relying on those hands working onsite in the Gardens to propagate, repot, fertilize, water, and so forth.
To say this shift in approach has been challenging is an understatement. Our Horticulture team lives and breathes by the beauty they cultivate … and by the enjoyment of that beauty by our beloved Members and guests. Being our Horticulture team, they have decided to focus on the silver lining, or the beauty, of the challenges our current situation presents. That mindset, in and of itself, is a thing of beauty.
Over the past few weeks, the collective spirit of the Horticulture team has been renewed as staff have been (as they're always willing and ready to do) leaning on each other in many ways. Staff have been lending a hand in areas in which they typically don't work, such as arborists pitching in with floriculture. Friendships are being strengthened. More skills are being learned. A deeper camaraderie is being cultivated. Collaboration is flourishing. As our Director of Floriculture Jim Harbage puts it, "seeing how passionate the Horticulture staff is to keep our Gardens going is beyond rewarding."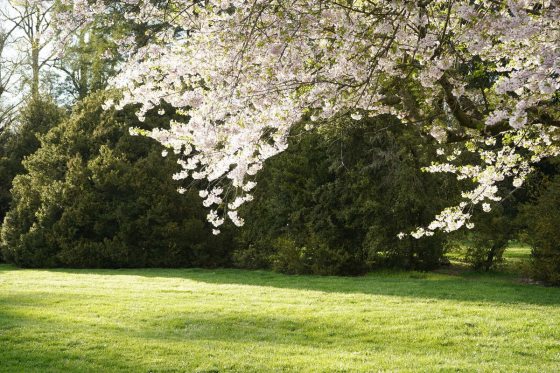 As we work together towards our reopening, we look to you—our Members, our guests, our fans—for your support, your flexibility, and your understanding. No matter where we are, we are all in this together. And we will be together in the beauty of our Gardens as soon as we are able. Until then, our Gardens are alive and we are directing our energy to where we all aspire to be as soon as possible … sharing our beautiful Gardens with you and being together.
Until then, we will continue to give you a behind-the-scenes look at the Gardens as we manage the closure, including how different Longwood teams have had to adapt and shift their way of work.
Categorized Under: