As Longwood's Director of Outdoor Landscapes, I am very fortunate that my office opens up to a little patio known as the Studio Garden. This 35-foot by 35-foot space, designed by former Longwood staffer Tres Fromme in 2000 and constructed by Longwood's Facilities team in 2001, serves as an extension of the design studio outside the lower level of the Horticulture Building, outside of public view. It centers around a large elliptical concrete pad, surrounded by low stone walls to sit for lunch or lean one's bicycle against before or after it gets you around the gardens in the morning. This beautiful little space serves as a constant reminder that the physical action of gardening is good for us … not just for our bodies, but also for our mental well-being, as it gives our minds a respite. The same holds true for my tending of this small, yet mighty, Studio Garden … and all it provides for me.
This morning, while tending a Pelargonium in the Studio Garden and looking around the entire space, I was reminded of the basic human need for nurturing something like plants … and the simple pleasure that comes with it. The Studio Garden is enclosed by mature white crape myrtle (Lagerstroemia 'Natchez') and Hydrangea paniculata 'Unique' that my predecessors planted. I am grateful that they chose the cultivar 'Unique', as it is one of my favorites and most cold-hardiest of the panicle hydrangeas. It has bold and pure white flowers measuring up to 12 to 14 inches long that start to bloom at the end of native oakleaf hydrangea flowering season in the middle of July. The conical flower spikes fade to light pink as they age and are very attractive right into the early winter, providing seasonal interest to the outdoor space.
In early June, once all the seasonal change-outs from spring to summer have taken place on the Flower Garden Walk and in the Idea Garden, you will find me squirrelling around, collecting left-over plants to switch out the Studio Garden's seasonal containers from spring bulbs to summer annuals. This year's bounty sparked the idea of creating a calm, but still very intricate and interesting space to rest my eyes on when looking out from my desk and a place to meet colleagues for a social-distancing lunch.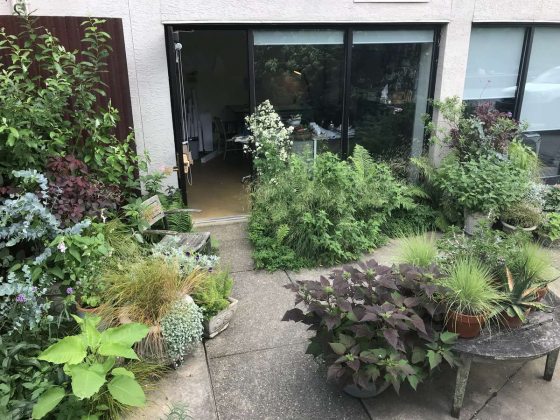 I pulled back from intense flower colors and focused on the textures, structures, and foliage of plants by combining those based on harmony and contrast. I looked at the plants' character and habit, beyond their flower color, when assembling them in pots. I should mention that I tend to mass containers and pots together of same neutral material and similar style but vary their sizes and shapes. For example, I utilize mass groupings of aged concrete containers and groupings of smaller terracotta pots to build my pot compositions in the Studio Garden.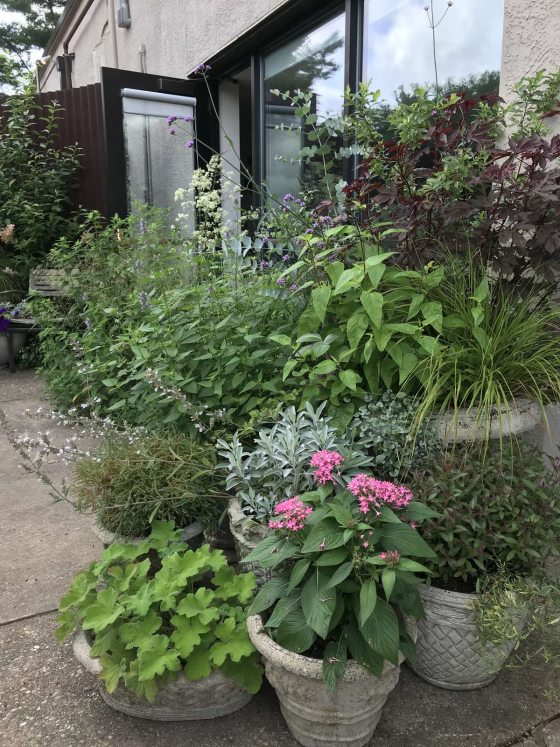 I also tend to only have mixed plantings in large and more substantial containers, homing in on just one choice of plant in smaller containers. I find combining different plants together in a small container can easily turn out too busy and may lead to losing the visual impact of the individual plant.
In my larger container in the Studio Garden, I have the beloved silver dollar gum (Eucalyptus cinereal) with a purple-leaved shrubby spurge, Caribbean copper-plant (Euphorbia cotinifolia), a plant combination that you can find on the Flower Garden Walk, designed by very talented Senior Horticulturist April Bevans. April also inspired me to combine it with a grass. I chose the fine textured pheasant tail grass (Anemanthele lessoniana) that I also used for the first time in the Idea Garden containers. It's a grass that I miss so much from my gardening days in London, where of course it is hardy; here in Pennsylvania, in Zone 6b, we just must enjoy it during the warmer months before the extreme winter colds take it.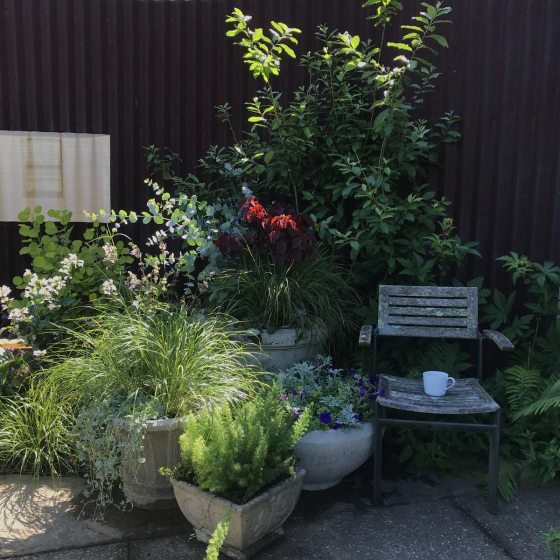 I also added bold silver foliage with Plectranthus argentatus 'Silver Shield' that balances out the lofty silver dollar gum. It will eventually trail over the rim of the container and be a good contrast to the finer textures. For floral interest, and in hopes of attracting butterflies and the occasional hummingbird, I included Salvia guaranitica 'BBSAL01301' Rockin'® Blue Suede Shoes, which has light blue flowers and black calyxes, the whorls that enclose a flower. We use many of these black-calyxes salvia cultivars in our summer displays, including along our Main Gate and in the Idea Garden, where we have selected Salvia guaranitica 'Black and Blue'.
For additional blooms, I added an under-used purple bell-vine (Rhodochiton atrosanguineus) native to Mexico that currently is climbing up a Madagascar palm (Pachypodium lamerei) in the Idea Garden's Container Garden. However, I have also simpler combinations in my larger bowl-like containers that I very much enjoy, such as the unfussy Petunia × hybrida 'Kakegawa S28' Supertunia® Royal Velvet that does not require any dead-heading with silvery-white scalloped leaves and Artemisia stelleriana 'Silver Brocade'. This beach wormwood is an ingredient in many of our seasonal containers throughout the Gardens, and a perennial hardy from Zones 3 to 9.
The gathering of leftover plants for my smaller containers that only display one type of plant lead to groupings of giant hyssop—better known as Agastache 'Black Adder'—which feature vivid blue flowers that attract bees, butterflies, and hummingbirds. I love to watch them when gazing out of window and taking a break from the computer screen. We also had spare plants of two not-so-commonly-seen geraniums that deserve mentioning and that you can also find displayed in terracotta pots in the Idea Garden. One is the peppermint-scented Pelargonium tomentosum, a low sprawling native to the southern cape of South Africa. I have grown this plant for many years, not just for its bright green, hairy and scented leaves and white flower sprays, but also because it reminds me of my internship with South Africa's Botanical Institute, particularly my placement with Kirstenbosch Botanic Garden … where I also heard about Longwood Gardens and its displays for the first time.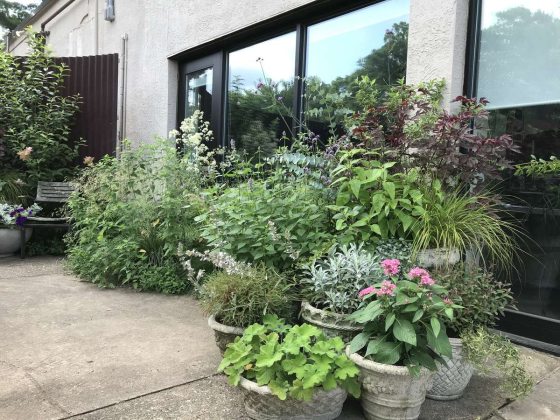 The other geranium is Pelargonium sidoides, also known as Kalwerbossie' in its native eastern cape of South Africa. I also was fortunate to see this in its natural habitat and marvel at its small clusters of burgundy flowers that are held high above silver-gray leaf rosettes. Today, I enjoy growing at least 15 plants of it all together in a large bowl.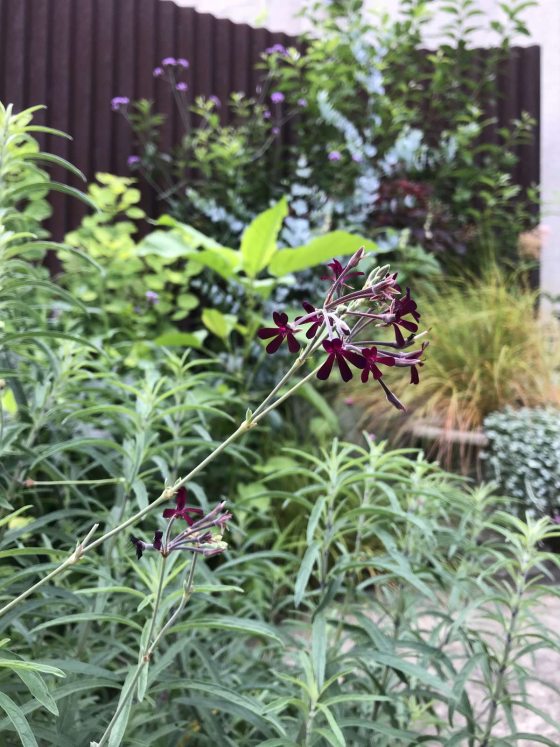 Honestly, I am not sure how this dainty geranium or the pheasant tail grass from New Zealand are going to weather the high humidity combined with summer's heat on my patio, but as gardeners we should not be afraid to experiment. Trialing new plants, growing them in different conditions, or creating 'unusual' compositions are all worthy ventures. Sometimes a plant fails and doesn't thrive, or the impact of the intended design is not what we hoped for, but in the end we have learned something, we have grown from that experience, and we have become more knowledgeable and skilled in our art and craft of gardening … all while enjoying that simple human pleasure of caring for plants.
Categorized Under: