This growing season, Longwood joined the Pennsylvania Horticultural Society (PHS) in their new program, Harvest 2020. This important initiative was designed to help address the 11 percent of households in the Greater Philadelphia region that are food insecure and unable to access healthy, fresh food on a daily basis. During this pandemic, that demand has only increased. The goal of Harvest 2020 was to engage gardeners in the region to grow crops to share with their communities … and here at Longwood, using our infrastructure and our gardens, we were more than happy to help alleviate some of this need.
The recently redesigned Ornamental Kitchen Garden (formerly called the Vegetable Garden) is an area in our Idea Garden that has been dedicated to growing vegetables since the late 1920s. It features arches and trellises designed and handcrafted by our team of horticulturists with the intention of inspiring home gardeners and providing a range of techniques for growing a wide variety of crops. Using the Ornamental Kitchen Garden, Horticulturist Alex Correia and her team of students and volunteers eagerly got to work, inspired by the task at hand.
Our Ornamental Kitchen Garden in August 2020. Photo by Candie Ward.
Once we had our team in place, we had to find an organization to whom we could provide our produce … and this year, the crops were abundant. Longwood partnered with Kennett Area Community Service (KACS) in Kennett Square, PA. KACS is a nonprofit focusing on food, housing, and crisis services in Southern Chester County in dire need of donations; that need continues today. Since March 2020 through late October 2020 and during the pandemic, there have been more than 10,000 visits to KACS for food assistance … marking a significant increase to the 550 families KACS typically serves.
The need for emergency assistance is also on the rise, as KACS has provided more than $500,000 in funds for those facing such crises as housing insecurity … a stark contrast to a typical provision around $90,000. Reflecting on the word "harvest" in terms of not only the gathering of crops but of our community coming together, it made sense for Longwood to work closely with KACS and provide some assistance in our own backyard.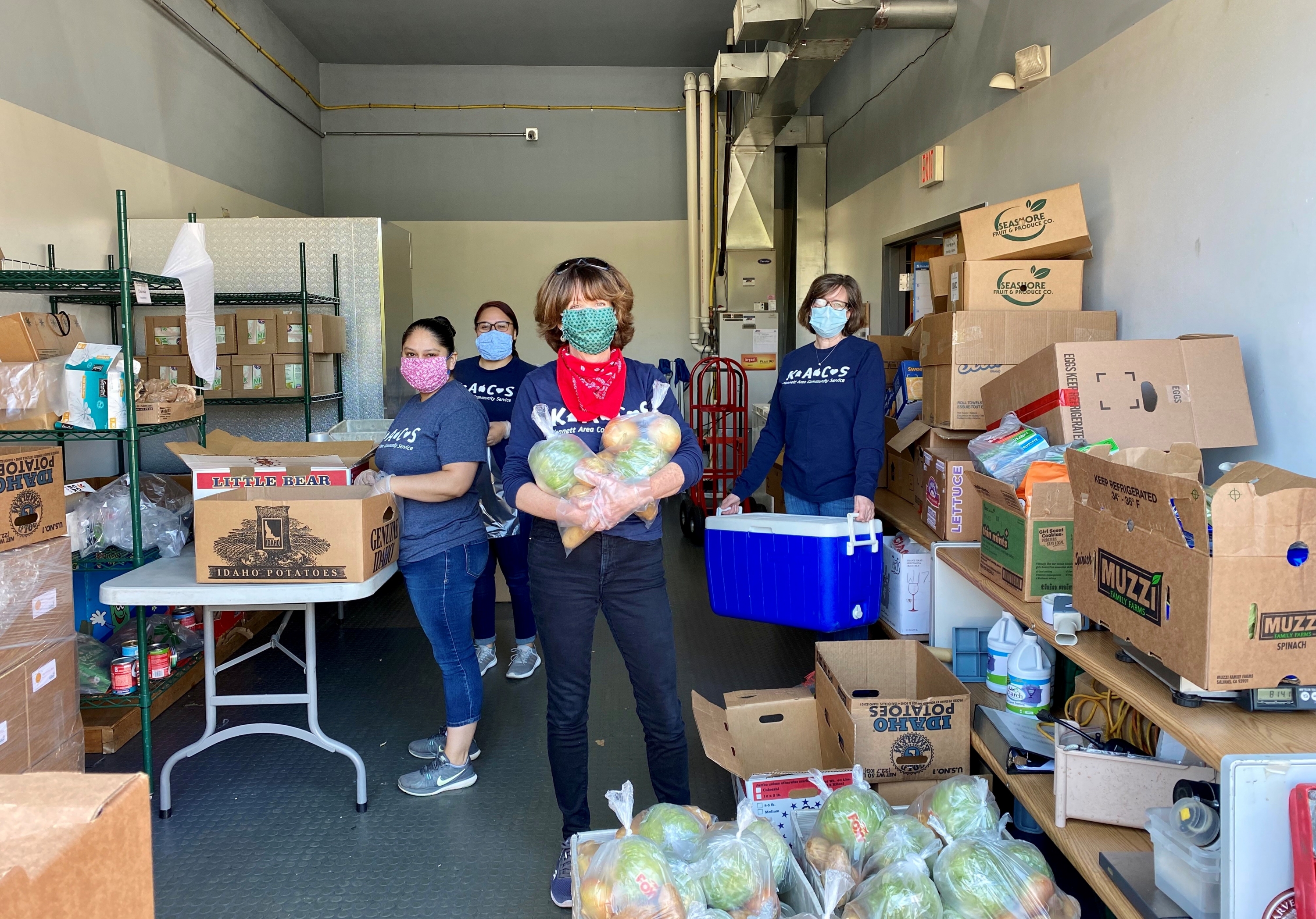 KACS volunteers prepping pre-packed boxes. Each box supplies about two weeks of food to those in need. Photo provided by Kennett Area Community Service.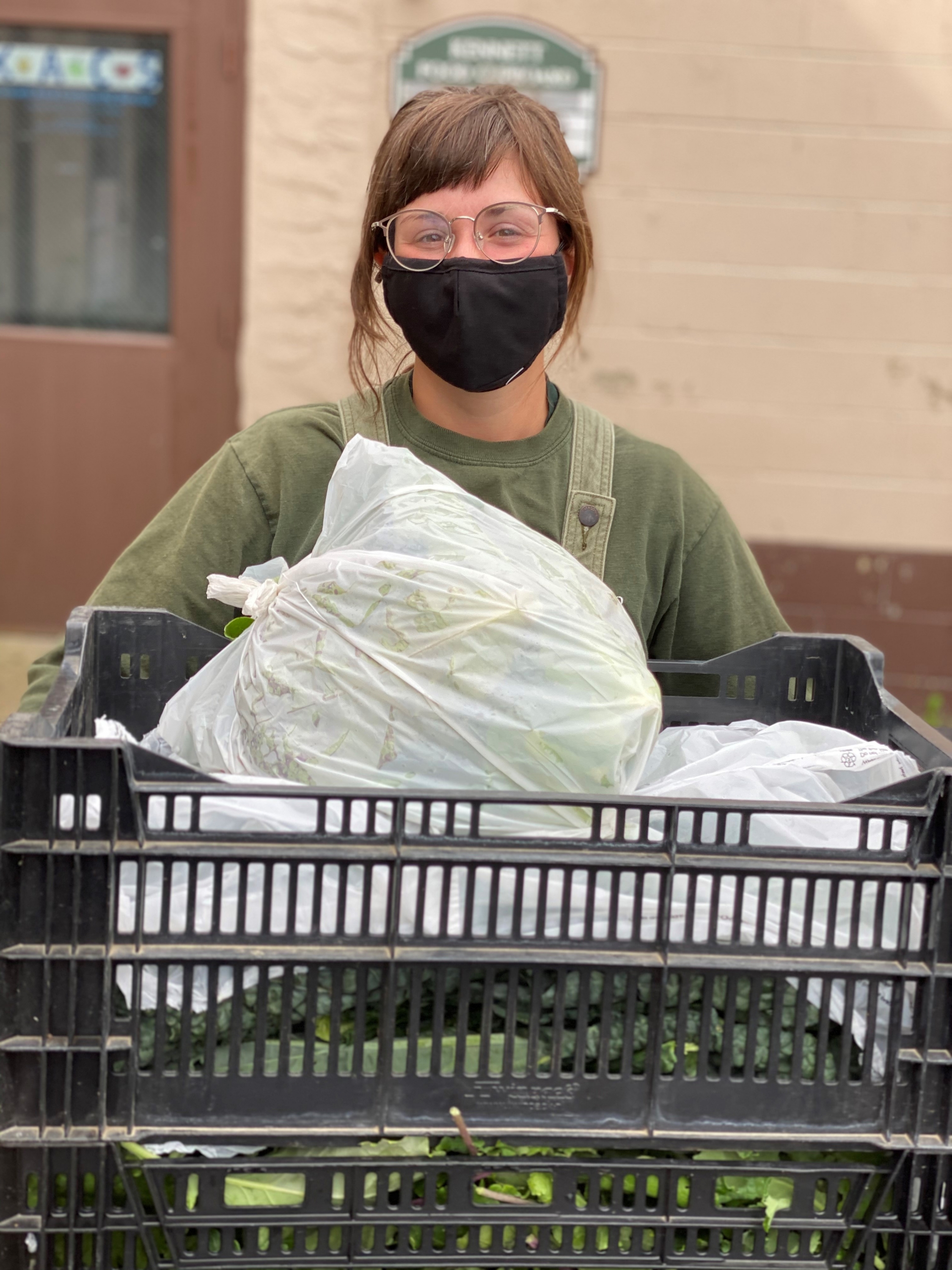 Our Harvest 2020 lead Alex Correia dropping off produce to KACS. Photo provided by Kennett Area Community Service.
Beginning June 10 and lasting weekly through October, the Longwood team would harvest the produce, wash it, and pack it for delivery, with our night gardener staff transporting the produce to KACS. Since that first delivery in June, we delivered 20 additional deliveries, one per week.
Alex Correia and her team prep produce for delivery. Photo by Carol Gross.
The range of produce grown was vast. We consistently provided crops of tomatoes, summer squashes, peaches, peas, cucumbers, kale, and beans. Additional crops provided included fennel, okra, tomatillos, peppers, scallions, cabbage, potatoes, and much more.
A harvest from early July showing green cabbage, kale, and more, awaiting washing and packing. Photo by Carol Gross.
To date, more than 10,400 gardeners have joined the Harvest 2020 initiative and more than 31,000 pounds of produce has been grown and provided to area individuals or organizations in the Greater Philadelphia region. We are thrilled to have provided a total of 4,200 of those pounds of fruits, vegetables, and herbs, while supporting KACS and our community. It was an effort of love, of hope, of togetherness for each person who had a hand in the initiative ... and we are so proud to be part of our community.
To learn more about KACS and how to get involved, visit the KACS website. To learn more about the PHS Harvest Initiative, visit the PHS website.