The holidays are a fantastic time to try a new recipe, particularly one that is festive, fun to make, and delicious! As the executive chef here at Longwood, I thought it would be a great time to share not one, but two, desserts that are sure to make the holiday season even sweeter ... and with A Longwood Christmas opening this week, that season is already upon us! Follow along as Pastry Chef Vanessa Casper and I share recipes, along with helpful tips and tricks, so you can create your own delicious white chocolate peppermint mousse and savory gingerbread roulade with mascarpone cream cheese icing at home.
White Chocolate Peppermint Mousse
This recipe is equal parts whimsy and tradition, thanks to its refreshing peppermint flavor that's so evocative of the holiday season, along with its colorful candy cane garnish. It's also a dessert that you can dress up in beautiful individual glasses or bowls for a personalized touch … and one you can make ahead of time and chill overnight!
Ingredients
1 pound white chocolate
2 ¼ cups heavy cream
1 ¼ tsp peppermint extract
5 egg yolks
½ cup granulated sugar
Crushed candy canes for garnish
Chocolate pearls for garnish (or create chocolate curls by using some chocolate and a cheese grater or zester)
Yield: 8 to 10 portions
Equipment
Two medium size bowls and one large bowl
Liquid measure
Teaspoon measure
½ cup dry measure
Rubber spatula
Whisk
Sauce pot for double boiler setup
Large spoon or scooper for portioning
8-10 small bowls, dessert cups, rocks glasses or parfait glasses for serving
Optional: Hand mixer or stand mixer
First, melt white chocolate in a bowl over a simmering double boiler setup.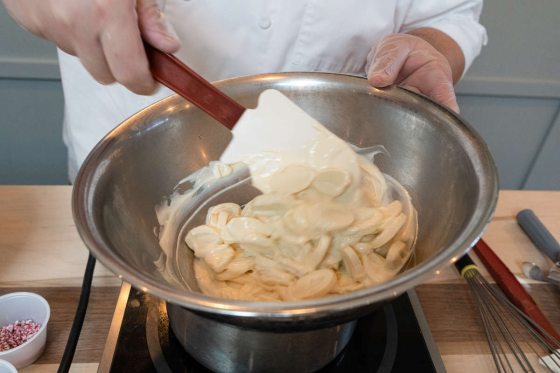 Stir with a rubber spatula to make sure it melts evenly. Set white chocolate aside once melted and smooth. Keep your double boiler setup on the stove.
Measure out heavy cream into a large bowl and whisk until soft peaks form. You may use a stand mixer if you like, but you might as well burn some calories before you eat your chocolate mousse!
Instead of whisking in a circular motion try a figure-eight motion from one side of the bowl to the other side, as it seems to incorporate the air quicker. Your whipped cream should be light and you should be able to easily make soft ribbons that sit on top of one another. Set the bowl of whipped cream aside and move onto the next step.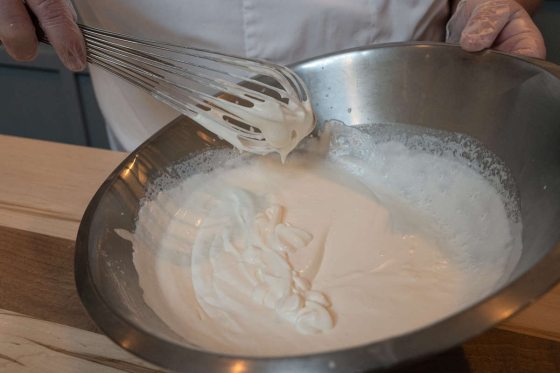 Add egg yolks and sugar to a bowl and place over double boiler. Stir in peppermint extract with a whisk.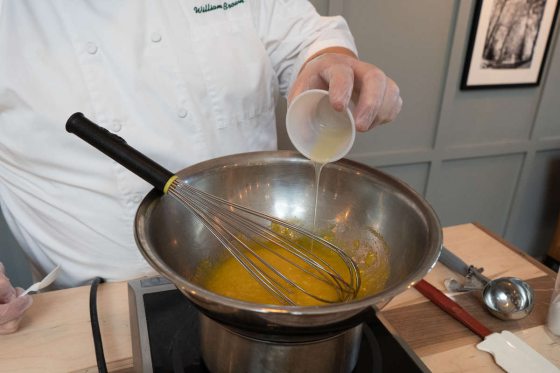 Whisk until light and fluffy, about 3 to 5 minutes. You should also be able to see ribbons in your yolk sugar mixture when it is light and cooked through. Fold the yolk mixture into the whipped cream, mixing thoroughly. Quickly and vigorously fold the white chocolate into the whipped cream and yolk mixture. 
Select your serving vessel of choice and then scoop mousse into the vessel.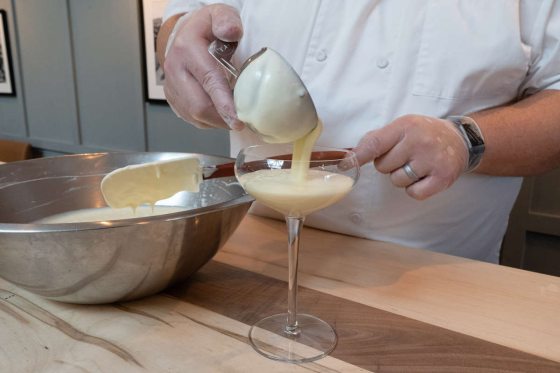 Give a few taps on the work surface to settle out any air bubbles. Chill in the refrigerator for 4 hours or overnight until mousse has set.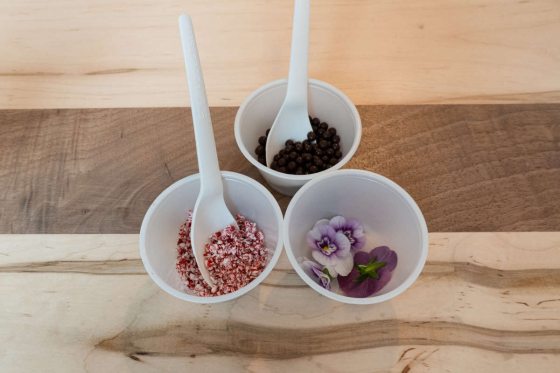 Garnish with crushed candy canes and serve immediately.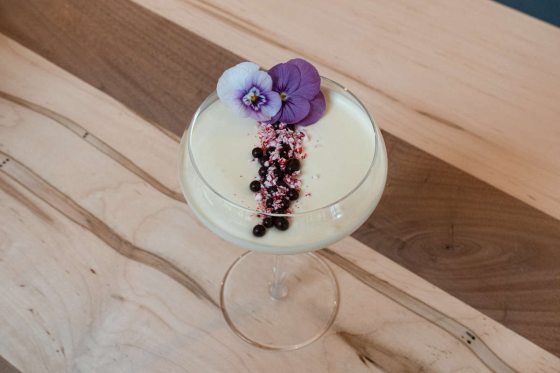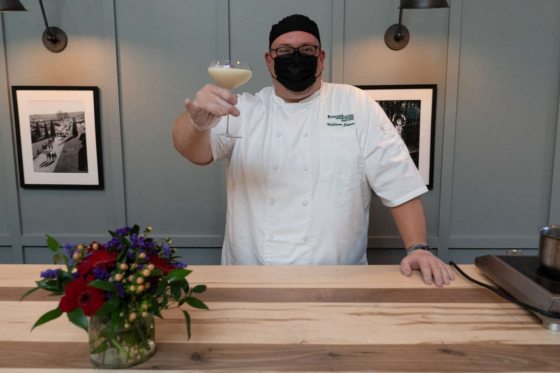 Gingerbread Roulade with Mascarpone Cream Cheese Icing
What's prettier than a lovingly made roulade? Not much! This fun recipe yields a beautifully pinwheeled creation. It's a great recipe to try with kids, as little hands love rolling the cake to make its beautiful swirl. And if you're feeling extra fancy, a garnish of pomegranate seeds and sugared cranberries add a vibrant and zesty touch.
First, the gingerbread roulade:
Ingredients
4 eggs
¾ cup all-purpose flour
1 ½ tsp ginger
1 ½ tsp cinnamon
½ tsp baking powder
½ tsp allspice
¼ tsp salt
½ cup brown sugar
2 tbsp butter (melted)
2 tbsp molasses
Pomegranate seeds for garnish
Sugared cranberries for garnish: fresh cranberries, corn syrup, and granulated sugar
Yield: 8 to 10 portions
Equipment
Rubber spatula
Stand mixer, bowl, and whisk attachment
Mixing bowl
Sifter
Offset spatula
Baking sheet
Parchment paper
Gloves for sugared cranberries
First, separate the eggs. In a stand mixer, whip the yolks and brown sugar until they have tripled in volume. Fold in melted butter and molasses with a rubber spatula.
In a separate bowl, mix flour, ginger, cinnamon, baking powder, allspice, and salt. Sift dry ingredients. 
Fold the whipped yolk mixture into flour mixture, combining well. Rinse mixer bowl and whisk attachment, and then whip your egg whites to medium peak. Fold into batter, combining gently.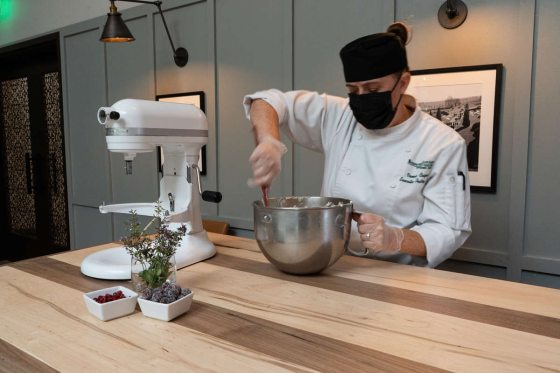 Spread cake batter evenly onto a parchment-lined sheet tray with an offset spatula. Bake at 300˚ for 7 to 10 minutes until the cake is not sticky to the touch.
While the cake is still warm, flip it out of the pan onto a new sheet of parchment. Remove the parchment that it was baked on. At this point, you will roll it up with the parchment so that it holds the shape when you fill the roulade.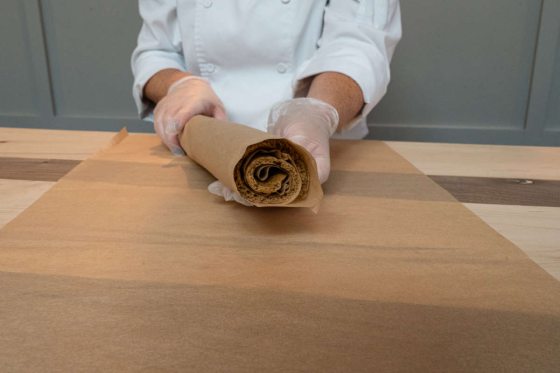 Allow to cool to room temperature, about 45 minutes.
While your cake is cooling, make your mascarpone cream cheese icing:
Ingredients
 
8 oz cream cheese
5 tbsp butter (softened)
½ tsp vanilla extract
1 tsp lemon juice
1 ½ cups powdered sugar
½ cup mascarpone
Equipment
Stand mixer, bowl, and paddle attachment
Rubber spatula
Piping bag with star tip
Place the cream cheese in your mixer with paddle attachment and mix for about 1 minute. Add the softened butter; be sure the butter is softer than the cream cheese. Mix until incorporated and there are no remaining lumps, scraping often. If there are lumps, they will not come out after this stage, so be sure to get them all out now.
Add all powdered sugar at one time. Mix and continue to scrape until there are no lumps. Add in the vanilla extract and lemon juice. Gently mix in mascarpone until just combined, finishing by hand with rubber spatula. Be sure not to overmix.
After the gingerbread cake is cool, unroll the cake and spread 3/4 of mascarpone cream cheese icing onto the roulade with an offset spatula. Make sure to spread an even coat. Roll the cake up, starting at one end and moving to the other, then all the way down.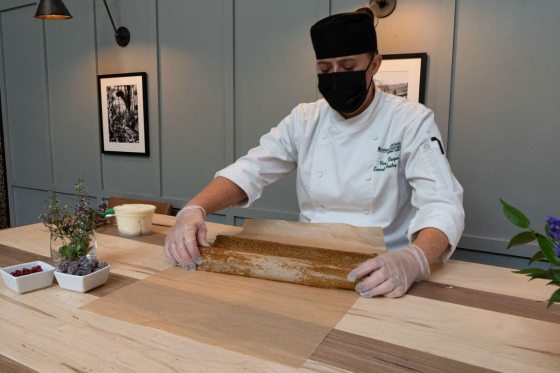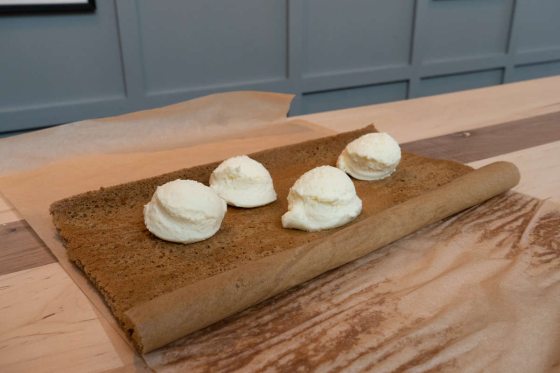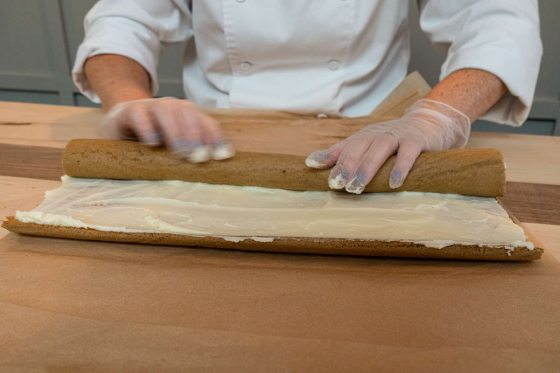 Place the remaining mascarpone cream cheese icing into a piping bag with a star tip. Pipe a star pattern across the top.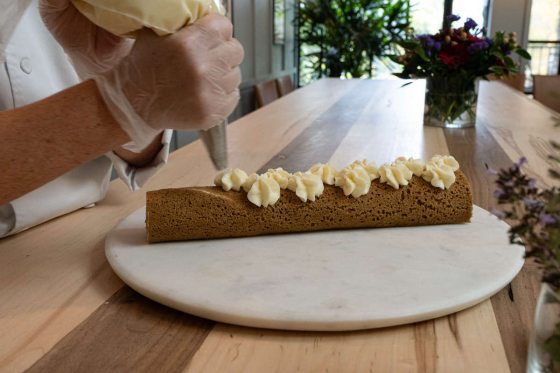 For an extra festive flair, sprinkle pomegranate seeds and sugared cranberries on top of the mascarpone cream cheese icing. For sugared cranberries, while wearing gloves, roll a small amount of corn syrup on the outside of fresh cranberries. Toss cranberries into sugar to coat. Let cranberries sit at room temperature for at least an hour to dry.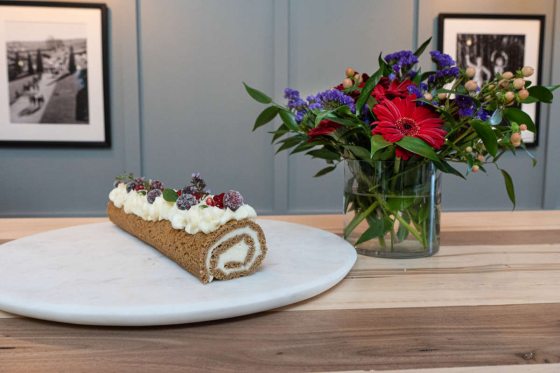 Happy baking and the merriest of holidays to you and yours.
Categorized Under: