From our imaginative specialty chrysanthemum forms to our tiny bonsai, we put a whole lot of time and dedication into our annual Chrysanthemum Festival—after all, this imaginative display serves as the largest and oldest of its kind in North America, and it's a spectacular time of year in which we stretch our horticultural limits to put on a colorful show for our guests. This year, we're so excited to share with you two new specialty chrysanthemum forms among our many other forms, as well as proudly continue the display in the Peirce-du Pont House Conservatory, where—for the first time—dozens of small-yet-mighty bonsai chrysanthemum add a beautiful, sculptural element to this historic space.
This year, our Conservatory is positively bursting with vibrant specialty chrysanthemums, nurtured and trained into fantastic forms. In our East Conservatory, you'll find intricate pagodas of Chrysanthemum × morifolium 'Seiko'. For our pagodas, we use a Chinese technique to graft chrysanthemum shoots onto the central stem of Artemisia annua, which were started from seed the previous October. As the Artemisia plant grows taller, we graft the chrysanthemum shoots to create the horizontal roof lines of the tiered towers seen in traditional Asian architecture.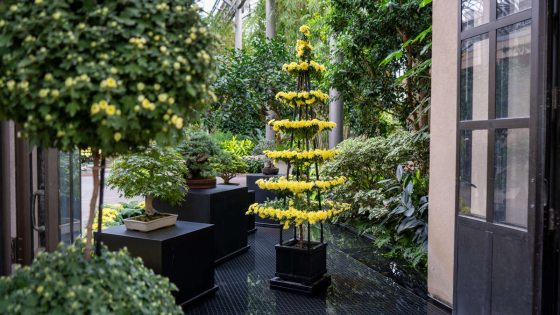 In our Exhibition Hall, you'll find a trained curtain form of Chrysanthemum × morifolium 'Heyward Horry' complemented by Guzmania 'Passion', selected for its vibrant, cherry-colored flower spike that contrasts greatly with the cool green foliage of the chrysanthemum; Calathea roseopicta 'Medallion' and its bold leaf texture; and Tradescantia zebrina as the frill or fringe that typically borders ornate curtains … together achieving our vision to create a large living vertical tapestry. Additional chrysanthemum forms in our East Conservatory include our traditional seven-foot-wide Japanese fan of densely blooming Chrysanthemum × morifolium 'Megumi' and 'Gum Drop' and our whimsical double ball and single ball standards.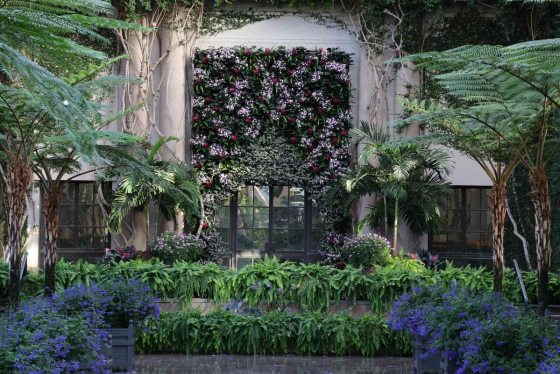 Our Fern Floor proudly showcases one of this year's new forms—teardrops crafted of yellow Chrysanthemum × morifolium 'Megumi'. To create these inverted teardrops, in February we planted 4-inch pots of chrysanthemums into 18-inch hanging basket frames (18 plants per container), in which they grew up along bamboo stakes until the last week of April. At that point, we hung each basket on a metal support system and added a teardrop-shaped form. Once the frame was in place, we wilted the plants down for flexibility, bent them downward, the tied them to the frame. For the rest of the summer, we followed the same pinching and shearing schedule as our other forms. And today, they're ready for your enjoyment.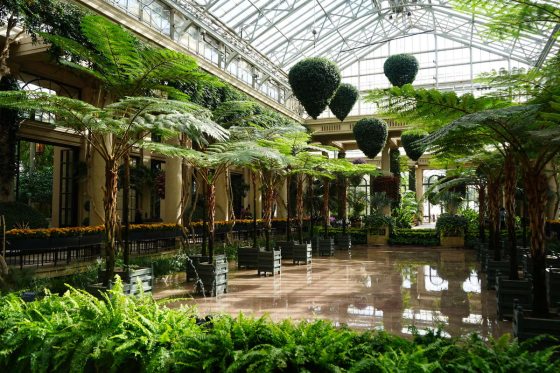 In our Orangery, you'll find an amazing array of chrysanthemum forms, including columns (totaling nearly 10,000 flowers!), baskets (each weighing 150 pounds!), spirals, obelisks (each featuring 1,000 individual plants!), shields, and both large and small clouds, all in hues of red to light pink, deep orange to purple, and more. You'll also find our new umbrella form of yellow Chrysanthemum × morifolium 'Megumi' that we are affectionally calling "mumbrellas." These sunny forms consist of 18-inch hanging basket frames that we attached to new umbrella shapes that our metal shop constructed for us. We grew the plants in 4-inch pots until May, and then transplanted them into the umbrella frames by laying the root-ball sideways and tying the main stem downwards. Each umbrella features 18 plants that had their side shoots tied down flat every two weeks until mid-July, and were then sheared to shape every other week until the first week of September.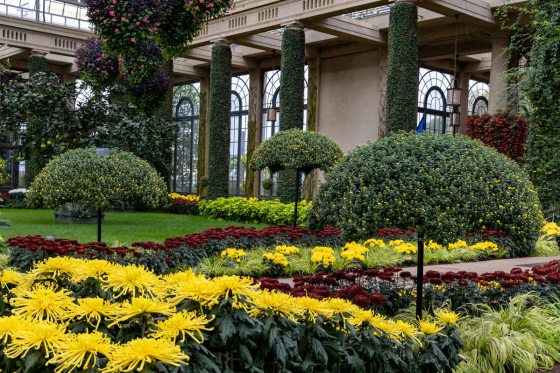 Another exciting aspect of this year's Chrysanthemum Festival is our bonsai chrysanthemum display, which for the first time is in our Peirce-du Pont House Conservatory. Displayed on freestanding, multi-height pedestals—many with compositions of three to four bonsai and accent plants—the dozens of bonsai chrysanthemum on rotating display at any given time add a colorful, tiered dimension to this soaring space. And, as the bonsai are placed in the middle of the conservatory, guests are able to walk around them and see each bonsai from many different angles … which serves as a rare opportunity, as bonsai are usually displayed so only the intended front of the tree is visible.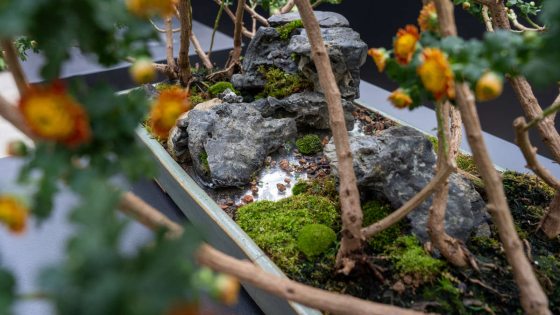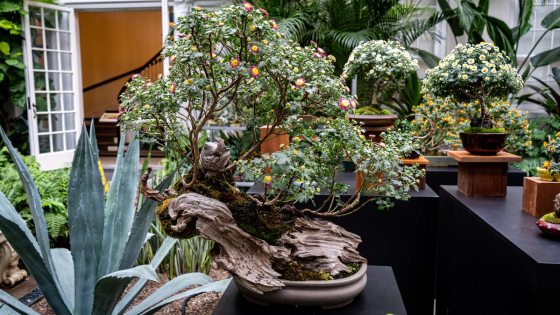 The bonsai in this year's rotating display range in age from 1 to 3 years old; more than 20 of the bonsai as cuttings this past year and the actual training began in the beginning of May. Utilizing the natural shape of the tree, we direct them into traditional bonsai forms and to evoke the sense of a larger tree in the landscape. From this point on, we pruned and wired the bonsai every one to two weeks, removing old wire and larger leaves, and pinching growth tips.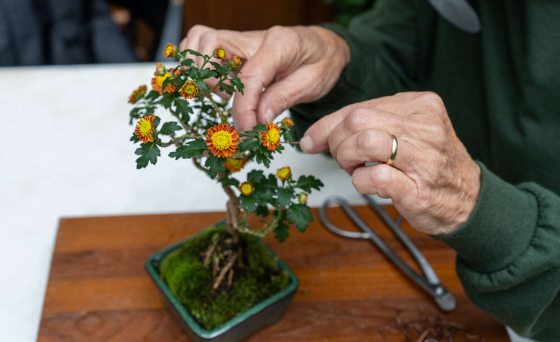 In August, we completed final pinching and in October we began the flower bud selection process, during which we selected evenly placed buds of similar size. From there, we potted the selections into display containers that complement the design of the tree before they made their Chrysanthemum Festival debut.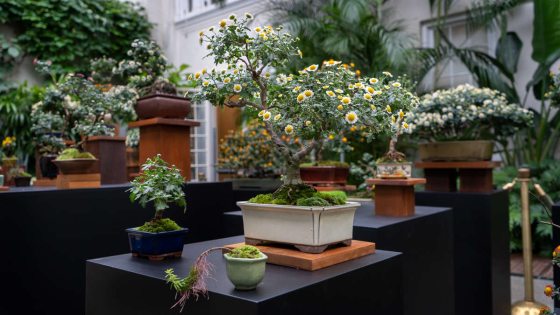 You may have noticed that we did not mention our Thousand Blooms Chrysanthemum. Unfortunately, we ran into some challenges this year with our Thousand Bloom. In preparation for each Chrysanthemum Festival, our expert horticulturists grow and nurture our Thousand Bloom following an intense technique that spans 18 months of meticulous watering, pinching, and tying of the chrysanthemum to its customized frame. After a wilting period to allow the stems to become more flexible, we arrange the blooms in a dome shape, with the goal of achieving as many uniform blooms as possible.
As you can imagine, growing the Thousand Bloom is a difficult and precarious process. Plants are living things and despite Longwood practicing the Thousand Bloom growing technique since 1995, there are no guarantees it will grow as we expect. This year, in mid-October, the plant showed signs of stress and decline after it was wilted in order to position the stems into the final dome shape. Even after normal watering and fertilization resumed, the foliage wilted and the blooms did not open as expected. While preparing it for final display, we determined that its appearance did not meet our standards to go on display. Our expert horticulturists and research team are working to determine the cause (or causes) of its condition … and, happily, we have already begun growing our Thousand Bloom for next year, which will be on display as long as Mother Nature cooperates.
In addition to our spectacular specialty forms and bonsai chrysanthemums, Chrysanthemum Festival also features exhibition mums throughout our Conservatory growing beds that not only showcase the qualities of each cultivar, but beautifully demonstrate just how varied and spectacular this iconic fall bloom really is. Come see it all for yourself as Chrysanthemum Festival continues through November 14.
Categorized Under: