Many Spanish-speaking countries including Mexico, and those in Central America, South America, and the Caribbean have cultures and traditions that are recognizable to the world. Whether it is art, food, music, clothing, or even plants, these emblems have a special meaning to the Hispanic population. When it comes to plants, and specifically with such orchid diversity in the Americas, it is no wonder that several Central and South American countries take pride in their native orchids and adopt orchids as floral emblems and symbols of national pride. In celebration of National Hispanic Heritage Month (September 15 through October 15), which pays tribute to the generations of Hispanic Americans who have positively influenced and enriched our nation and society, we share the stories of some of the orchids that serve as floral emblems in Hispanic countries, and the importance of those orchids as part of our collection and display here at Longwood.
At Longwood Gardens, our largest collection of plants is the Conservatory orchid collection, which totals approximately 5,000 individual plants. This collection is comprised of many different types of orchids that are native to subtropical and tropical regions from around the world … and our Orchid House allows us to display the beautiful diversity of the Orchidaceae or orchid family in all its sizes, flower shapes, and colors to our guests year-round. Much of our orchid collection consists of orchid species and hybrids of these species that are native to the countries of Central and South America. These include species and hybrids within the Cattleya Alliance, as well as hybrids and species within the genera Oncidium, Brassia, Phragmipedium, Miltoniopsis, Masdevallia, Dracula, Restrepia, Stanhopea, and many others. In fact, 34 percent of our overall collection is comprised of orchids of the Cattleya Alliance alone!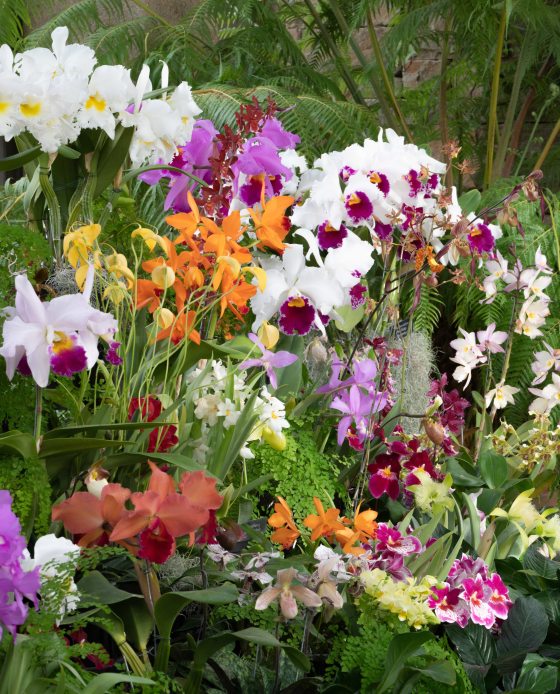 La flor del Espiritu Santo, or Holy Ghost orchid, Peristeria elata, the national flower of Panama, can be seen on Panamanian postage stamps and coins, and is celebrated in the central province of Herrara at the Holy Ghost orchid fair, which promotes the appreciation and conservation of this rare beauty. Native to Costa Rica through Panama to northern South America, it grows at the edges of tropical mountain woodlands. The flowering spike can grow to 4.5 feet tall carrying multiple small, waxy, fragrant flowers. The genus Peristeria is from the Greek peristera meaning dove. This unique orchid, sometimes referred to as the dove orchid, appears to have a white dove sitting within the flower with outstretched wings. It is an endangered species due to over-collection in the wild and is classified in the CITES (Convention on International Trade in Endangered Species of Wild Fauna and Flora) Appendix I, meaning that it is threatened with extinction and international trade is nearly prohibited. At Longwood, our Peristeria elata blooms in June.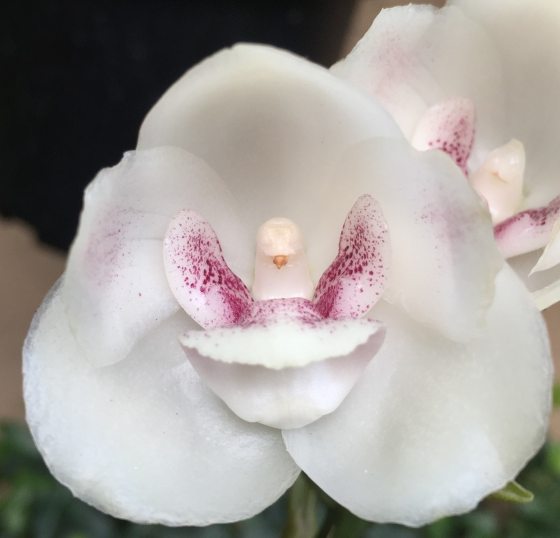 The rose is the national flower of at least eight countries including the United States. In 1969, the Honduran Ministry of Education suggested that the native orchid Rhyncholaelia digbyana replace the rose as the national flower of Honduras. Although lovely, the rose is not native to Honduras, while Rhyncholaelia digbyana is distributed throughout the Yucatan Peninsula in Mexico, through Guatemala, to Belize and Honduras. It is a fragrant epiphyte that grows in humid, lowland forests. Through becoming the national flower, not only did Rhyncholaelia digbyana become a sacred symbol of Honduras, but a national decree was put in place for the protection and conservation of this representation of national pride. In our collection Rhyncholaelia digbyana blooms in June and July.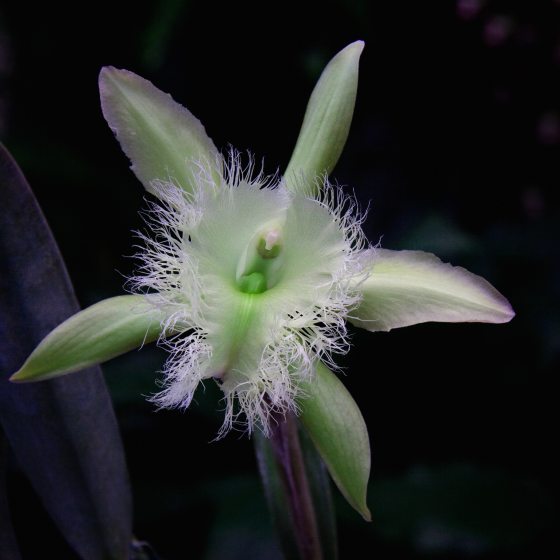 Orchid species and hybrids of the genus Cattleya are arguably the most recognizable orchids in the world. Of the more than 700 orchid genera in the Orchidaceae, Cattleya is the most iconic. The genus Cattleya was named by John Lindley, an English botanist, for William Cattley, an English horticultural patron, when Lindley described the Brazilian Cattleya labiata in 1821. Throughout colonial history many plants of Central and South American origins have been "discovered" and named by Europeans, although they have been known by the peoples of these regions well before the Europeans came to the Americas. Learning this history is the first step in recognizing that the indigenous people of the Americas have known about the land and its biodiversity well prior to European colonialization.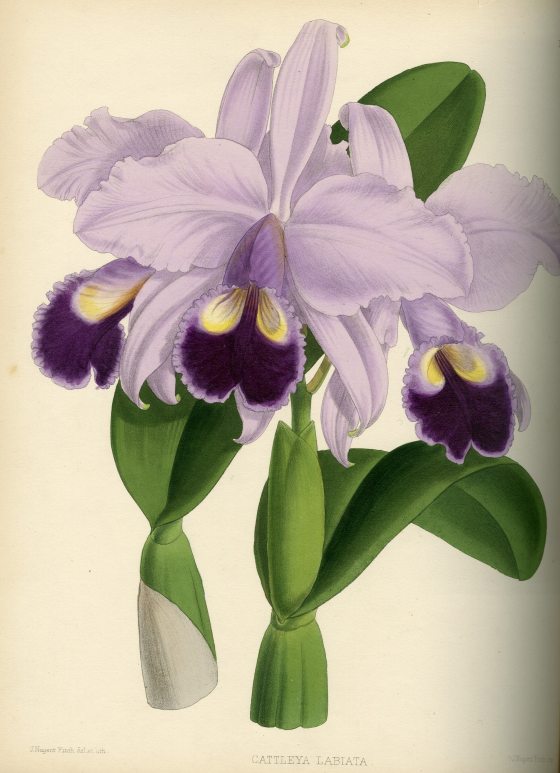 But not all orchids of Central and South America were named for Europeans. Cattleya trianae became the national flower of Colombia in 1936 and was named after 19th century Colombian botanist José Jerónimo Triana in 1860. Triana joined the Colombian Chorographic Commission, serving as the head of botany, in 1851. He is the author of the most important botanical collection made in Colombia, which was delivered to the Colombian government and serves as an invaluable historical record of the flora of the country. Native to Colombia, Cattleya trianae, known as la flor de Mayo, has colors that resemble the Colombian flag (yellow, blue, and red) in its lip. This species was so popular in the orchid hybridizing of the mid-century that it is in the parentage of more than 27,000 Cattleya hybrids. Cattleya Veriflora is a primary hybrid (Cattleya trianae is a direct parent) in Longwood's collection, which blooms typically in November and December.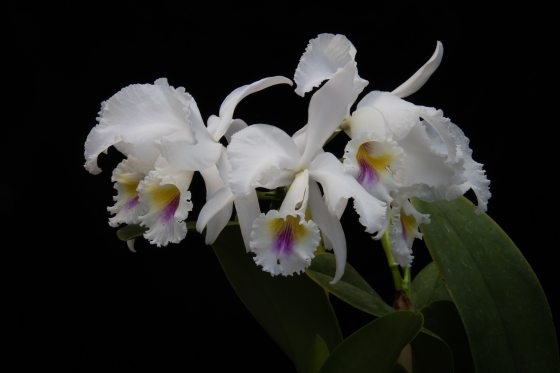 Peristeria elata, Rhyncholaelia digbyana, and Cattleya trianae are important orchid species that serve as floral emblems in several Hispanic countries. These species are also important in Longwood's orchid collection throughout its history. All three of these species have been a part of the collection since the time of Alice and Pierre du Pont. Throughout the decades, guests have come to see these and thousands of other orchids and plants throughout our Gardens that have special meaning in their lives, and we are beyond proud to share their beauty and their significance.
Categorized Under: