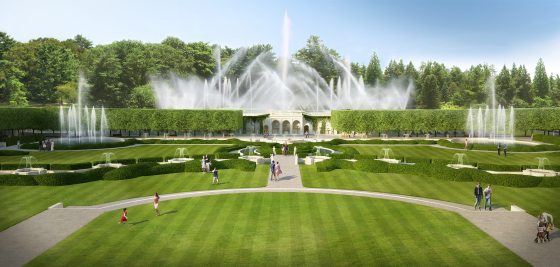 Nation's most important historic fountain garden will be updated with 21st-century technology while maintaining Old-World charm Longwood Gardens will remain open throughout the restoration
Kennett Square, PA – Longwood Gardens, the steward of one of the world's great fountain collections, announced today that it will embark on a series of major improvements to its renowned Main Fountain Garden. The $90-million investment, titled "New Heights: The Fountain Revitalization Project," will replace the 83-year-old fountains' infrastructure with the latest technology, improve guest access to the Garden, and add innovative new elements that honor the visionary original design by Longwood Gardens founder Pierre S. du Pont. Groundbreaking will begin in mid-October of this year and the Main Fountain Garden will reopen in spring 2017.
"Our founder Pierre S. du Pont created the Main Fountain Garden for the enjoyment and delight of his guests at Longwood. Over the past eight decades, they have become a beloved part of our grounds," said Longwood Gardens' Executive Director Paul B. Redman. "The Gardens and its Board of Trustees have been planning for the revitalization of these iconic fountains for many years now. We are preserving Mr. du Pont's legacy and adding to it through beautiful new plantings, the creation of new spaces in which to relax and reflect, and improved accessibility so guests can walk freely among the fountains. To help us realize this fully-funded project—the largest in our history—we have assembled an outstanding team of experts who share an appreciation for the Garden's history. Together, we will ensure the Main Fountain Garden's continued enjoyment for many generations to come."
The revitalization will include:
the complete restoration by specialists of the original limestone reliefs and fountains throughout the five-acre Garden;
the total replacement of the fountains' electric and plumbing infrastructure with 21st-century systems, allowing the fountains to run more efficiently and for a significantly longer period of time during the year;
new water choreography, which will include jets that project water 175 feet in the air—45 feet higher than the current capabilities; the jets will also allow for more precise control of the water movement to create unique undulating, flexing, and spinning effects;
replacement of the fountain lighting system with energy-efficient LED lights, which will also allow the water choreography to take on a new range of colors;
new areas for guests to explore, honoring the spirit of the original design, including:
the re-opening of the elegant south wall, which has been closed to the public for the last 20 years, containing 20 wall-mounted fountains;
the Grotto, entered from passageways on either side of the loggia, which lead to a vaulted central hall; at the center will be a circular water curtain wall and oculus that allows natural light to enter the space;
a trellis bridge connecting to the Fountain Terrace allowing guests to look out over the surrounding gardens;
new seating areas, including a seat wall along the fountains as well as tables and chairs behind the trellis bridge;
a renovated Pump House lobby, which will showcase the original pumps that powered the Main Fountain Garden from 1931 to 2014;
an enhanced landscape that includes increased planting, enhanced horticultural displays, and expanded, fully accessible walking areas.
Longwood is working collaboratively with the nation's leading firms dedicated to historic preservation, landscape architecture, and water feature design for the restoration and renovation of the iconic Main Fountain Garden, creating a new model for how interdisciplinary projects such as these unfold:
Beyer Blinder Belle, the premier architectural firm specializing in historic preservation, will lead the renovation project and a team of local, national, and international designers. BBB will also take the lead on reimagining the existing architecture to accommodate a greater range of visitors and to improve visitor flow and access to different areas of the Garden.
West 8, a world renowned landscape architecture firm, will design the garden's public spaces to harmonize with the original design and enhance the Main Fountain Garden's horticultural elements, as well as creating new gardens that will be new amenities for Longwood's guests.
Fluidity Design Consultants, a Los Angeles-based water feature design and engineering firm, will oversee the incorporation of state-of-the-art infrastructure to the fountains. They will also add exciting new capabilities to control the water's movement that will enhance Longwood's renowned Illuminated Fountain Shows set to music.
Once completed, the Main Fountain Garden will be at the cutting edge of both design and engineering, just as it was when Pierre S. du Pont unveiled the Main Fountain Garden on the grounds of what was then his personal estate in 1931. Du Pont himself designed the five-acre Fountain Garden, incorporating both French and Italian elements. The goal was to rival the fountains he had seen in Europe and at the 1893 World Columbian Exposition in Chicago.
Executive Director Paul B. Redman continued, "New Heights is a part of our long-term commitment to delivering a world-class experience for all our guests. The project will ensure that our guests enjoy this iconic fountain collection for decades to come. Longwood will remain open throughout the Fountain Revitalization Project, with special one-time, summer programming and events to provide our audiences with exciting new cultural and horticultural experiences. We look forward to announcing these special events and programs in the months to come."
About Longwood Gardens
In 1906, industrialist Pierre S. du Pont (1870-1954) purchased a small farm near Kennett Square, PA, to save a collection of historic trees from being sold for lumber. Throughout his life, Mr. du Pont indulged his passion for gardening, turning his farm into a magnificent horticultural showplace. Today, Longwood Gardens is one of the world's great horticultural displays, encompassing 1,077 acres of gardens, woodlands, meadows, fountains, and a four-and-a-half-acre conservatory. Longwood welcomes more than one million guests each year to experience its large-scale, ever-changing displays. It is also home to an impressive array of horticulture education programs for all ages and levels of interest.
About Beyer Blinder Belle Architects & Planners
Founded in 1968, Beyer Blinder Belle Architects & Planners is an award-winning architecture, planning, and interiors practice of 165 professionals in New York City and Washington, D.C., with a longstanding commitment to design excellence, social integrity, and sustainable practices. The firm's multi-faceted portfolio encompasses preservation, urban design, and new construction projects that span a wide spectrum of building typologies and sectors, including cultural, civic, educational, residential, and commercial. For more than four decades, the firm's work has focused on the design and revitalization of nationally celebrated buildings and sites—including Grand Central Terminal, Ellis Island Museum of Immigration, the U.S. Capitol, The Morgan Library & Museum, Lincoln Center Promenade and Fountain, and the Cooper Hewitt, Smithsonian Design Museum—as well as such international sites of cultural significance as the Shanghai Cultural Plaza in China and the Red Star Line Museum in Antwerp, Belgium
About West 8
West 8 is an award-winning international office for urban design and landscape architecture founded in 1987. Over the last 25 years West 8 has established itself as a leading practice with an international team of 70 architects, urban designers, landscape architects, and industrial engineers. West 8 offices are in Rotterdam, the Netherlands and in New York.. With a multi-disciplinary approach to complex design issues, West 8 has extensive experience in large-scale urban master planning and design, landscape interventions, waterfront projects, parks, squares, and gardens. West 8 also develops concepts and visions for large-scale planning issues that address global warming, urbanization, and infrastructure.
About Fluidity Design Consultants
Founded in 2002, Fluidity Design Consultants is a leading-edge, Los Angeles-based water feature design and engineering firm with an international practice. Fluidity's work has been recognized for its creativity and design excellence with numerous awards, competition successes, publications, and speaking engagements. The firm collaborates with many of the world's most respected architects, landscape architects, planners, institutions, and developers in the realization of socially significant and exciting environments for many kinds of projects. The company is staffed by a balanced team of architects, designers and engineers, led by founding Principal James A. Garland, AIA, who participates in the development of all Fluidity's projects.