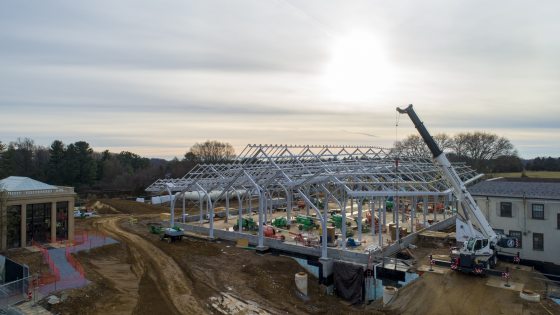 Steel Frame of WEISS/MANFREDI-Designed New West Conservatory Complete, and Glass Installation Begins
Reed Hilderbrand Prepares for Planting of Islands and Finalizes Details of Pool and Fountains for the Atmospheric Mediterranean Garden

Site Design for Entire Longwood Reimagined Takes Shape
Longwood Gardens today announced a major milestone in the 17-acre transformation of its core area of conservatory gardens. The centerpiece and largest single element of Longwood Reimagined—a 32,000-square-foot glasshouse designed by WEISS/MANFREDI, with gardens, pools, and fountains designed by Reed Hilderbrand—now has a fully constructed steel frame and is in the process of having nearly 2,000 glass panels installed. This brings the sweeping, deeply sensitive transformation of Longwood's conservatory gardens nearer completion, as the most ambitious revitalization in a century of America's greatest center for horticultural display takes shape.
"The West Conservatory and the new Mediterranean Garden are capstones of 100 years of innovation in greenhouse and garden design at Longwood," said Paul B. Redman, President and CEO of Longwood Gardens. "In 1921, Longwood founder Pierre S. du Pont opened one of the world's great greenhouse structures, designed by J. Walter Cope. Since then, the conservatory complex has continued to grow and evolve with each generation adding state-of-the-art structures that incorporate new, innovative horticultural displays within. WEISS/MANFREDI has designed a building that not only is at the forefront of glass architecture, but leads the way in sustainability. The Mediterranean Garden designed by Reed Hilderbrand is adaptable to climate variations, and is especially noteworthy for its optimization of water usage in the oases of fountains, pools and plantings, that are being created."
"The new conservatory is the centerpiece of a cinematic sequence of open and enclosed gardens that together shape the landscape," said principal architects Marion Weiss and Michael Manfredi. "The relaxed geometries of the pleated conservatory roof and wandering lines of steel columns create tapered perspectives of the gardens inside and link the informal geometries of an adjacent meadow with Longwood's historic conservatories. Inspired by Pierre du Pont's spirit of innovation, we have designed a living and breathing glass house, with walls and roofs that open and close in response to the weather, earth tubes that draw temperate air inside, and roof valleys that collect water, creating a sustainable destination we hope will become an enduring source of wonder and inspiration."

Sustainable Design Elements
The West Conservatory employs a unique combination of passive and tempering strategies. Ten earth ducts—three feet in diameter, 250 feet long, and buried outside the conservatory—provide year-round passive tempering of fresh air in the conservatory. The tempered air is introduced to the space at the pedestrian pathway to provide passive thermal comfort for occupants and visitors. This innovative design means that the building solely uses natural ventilation rather than relying on mechanical cooling during warm months. Based on historic precedent and refined via advanced thermal conditioning modeling, the West Conservatory incorporates 10-foot-tall operable vertical façade openings along the building's entire perimeter. Outside air entering through these vertical openings flushes out heat buildup, with hotter air rising and escaping through the roof openings, which comprise 15-20% of the overhead surface area. Additionally, an automated shading system is deployed to reduce solar heat gain during the hottest days of the summer. During cold months, the shading system also acts as a thermal blanket, operating during evening hours to trap heat inside and reduce radiative heat loss. 
Water Conservation and Critical Plant Selections
Longwood Gardens, renowned for its extraordinary fountains, extends and reinterprets that tradition as part of Longwood Reimagined. Set on an immense plane of water, the West Conservatory designed by WEISS/MANFREDI welcomes guests into a floating garden of planted islands, canals, and low fountains designed by Reed Hilderbrand. Underpinning this experience of water is a sophisticated water conservation system that collects stormwater from the roofs of the West Conservatory and education and administration building and captures the overflow from the Gardens' exterior water features. Water collected from these systems will be stored in large underground tanks and later recirculated through the water features and portions of the restrooms.
The garden is inspired by Mediterranean-climate ecosystems, which are known for hot, dry summers and cool, wet winters, and the regions' historic traditions of designing thoughtful, expressive water-wise gardens. The extensive plant palette will consist of iconic plants from six representative geographic areas including the Mediterranean Basin, the Cape Region of South Africa, coastal California, Central Chile, Southwestern Australia, and South Australia. Agaves, (Agave 'Reginae x ovatifolia'), Aloes (Aloe 'Johnson's Hybrid'), Blueblossom (Ceanothus thyrsiflorus), and Breath of Heaven (Coleonema pulchellum) will hug the ground of the West Conservatory. Taller plants like Cypress (Cupressus sempervirens), Laurus (Laurus nobilis), Acacia (Acacia salicina), and 100-year-old olive trees will rise dramatically in the soaring space. Over the past year, Reed Hilderbrand and Longwood Gardens have traveled across the United States to scout and tag plants at the nation's leading nurseries. The mature olive trees, which will be transplanted into the garden, have been sourced from groves in California. 

"As construction of Longwood Reimagined's 17 acres of transformative gardens and meadows moves forward, we are especially excited to see the West Conservatory rise up on site," said principal Kristin Frederickson of Reed Hilderbrand. "The Mediterranean Garden will present 70 species of plants, sourced from premiere North American nurseries, creating a world of year-round experiences that will be very special even within Longwood's awe-inspiring landscape. Our design leads guests on a journey across planted islands configured over a plane of water under glass. The garden and its architecture tell Longwood's story in a new way for our time." 

Spaces Designed for Preservation and With Purpose
Other elements of the Longwood Reimagined project well underway include the new education and administration building, which has nearly completed exterior construction, as well as the new restaurant and event spaces. Outside the historic Main Conservatory, 28 Yellowwoods (Cladrastis kentukea) will be planted in an allée at the eastern end of the Grand Promenade. This spring, Longwood will begin construction of a custom-designed conservatory to preserve the design of landscape architect's Roberto Burle Marx's only extant garden in North America. The Cascade Garden represents the first time a historic garden has ever been relocated and reconstructed. The garden by Burle Marx, first developed for Longwood in a retrofitted conservatory building in 1992, will now have a new jewel box-like glass house allowing it to thrive for many decades to come. 
About Longwood Reimagined: A New Garden Experience
Longwood Reimagined: A New Garden Experience will expand the public spaces of the renowned central grounds of Longwood Gardens and connect them from east to west, offering a newly unified but continually varied journey from lush formal gardens to views over the open meadows of Pennsylvania's Brandywine Valley. The project originates from a master plan developed in 2010 by West 8 Urban Design & Landscape Architecture with WEISS/MANFREDI Architecture/Landscape/Urbanism. Longwood has continued working with WEISS/MANFREDI as lead designer, in collaboration with Reed Hilderbrand, on Longwood Reimagined, which continues the institution's distinguished history of commissioning and collecting outstanding garden designs and glass houses. The project is managed by Bancroft Construction Company, based in Wilmington, Delaware.
In keeping with Longwood's tradition of creating beautiful environments that feature fountains and horticultural displays, the centerpiece and largest single element of Longwood Reimagined is the creation of a new 32,000-square-foot glass house, designed by WEISS/MANFREDI, with gardens and pools designed by Reed Hilderbrand. Longwood's Cascade Garden, the only extant design in North America by the great Brazilian landscape architect Roberto Burle Marx, is being relocated to an all-new, 3,800-square-foot glass house of its own, a jewel box where the tropical plantings will thrive at the heart of the conservatory ensemble. A new outdoor Bonsai Courtyard, built alongside the West Conservatory, will exhibit one of the most outstanding collections of bonsai in the country. Other elements of the Longwood Reimagined project include construction of a new education and administration building with a state-of-the-art library and classrooms; renewal of the beloved Waterlily Court designed by Sir Peter Shepheard (1913-2002); and the eventual relocation of six historic Lord & Burnham glass houses from the early 20th century, which will be used for year-round garden displays.
About Longwood Gardens
In 1906, industrialist Pierre S. du Pont (1870-1954) purchased a small farm near Kennett Square, PA, to save a collection of historic trees from being sold for lumber. Today, Longwood Gardens is one of the world's great horticultural displays, encompassing 1,100 acres of dazzling gardens, woodlands, meadows, fountains, a 10,010-pipe Aeolian organ, and grand conservatory. Longwood Gardens is the living legacy of Pierre S. du Pont, bringing joy and inspiration to everyone through the beauty of nature, conservation, and learning. Longwood is one of more than 30 gardens in the Philadelphia region known as America's Garden Capital.
About WEISS/MANFREDI
WEISS/MANFREDI Architecture/Landscape/Urbanism is a multidisciplinary design practice based in New York City. Founded by Marion Weiss and Michael Manfredi, the firm is known for the dynamic integration of architecture, art, infrastructure, and landscape design. The firm is well known for the Seattle Art Museum's celebrated Olympic Sculpture Park, named by TIME magazine as one of the top ten marvels in the world and by Architectural Record as one the "most significant works that defined architecture in our era." Other notable projects include the Women's Memorial at Arlington National Cemetery, the Brooklyn Botanic Garden Visitor Center, and Hunter's Point South Waterfront Park. The firm's current work includes the U.S. Embassy in New Delhi, India, the Artis—Naples Baker Museum and Cultural Campus, and the Tsai Center for Innovative Thinking at Yale. Most recently, the firm was selected through an international competition to reimagine the La Brea Tar Pits and Page Museum in Los Angeles.
Weiss and Manfredi have won numerous awards, including the 2020 Thomas Jefferson Foundation Medal in Architecture, the Cooper Hewitt National Design Award, the AIA President's Award, the Academy Award for Architecture from the American Academy of Arts and Letters, and the International Veronica Rudge Green Prize for Urban Design. They have also been named one of North America's "Emerging Voices" by the Architectural League of New York, received the New York City AIA Gold Medal of Honor, and were inducted into the National Academy of Design. Michael Manfredi is a Senior Critic at Harvard University and Marion Weiss is the Graham Chair Professor of Practice at the University of Pennsylvania. Three monographs on the firm's work have been published, including most recently Public Natures, and their work has been exhibited at the Venice Biennale, the São Paulo Biennale, the Guggenheim Museum and the Museum of Modern Art. For more information visit weissmanfredi.com.
About Reed Hilderbrand
Reed Hilderbrand is the award-winning landscape architecture practice founded by Douglas Reed and Gary Hilderbrand. The firm's approach seeks to connect daily life with the systems of nature and patterns of culture that together give identity to place. Recognized with more than 80 design awards, the practice is known for its great sensitivity to place and record of design excellence in collaborations with organizations, institutions, communities, and individuals. Among Reed Hilderbrand's completed works are The Clark Art Institute in Williamstown, Massachusetts; the Besthoff Sculpture Garden at the New Orleans Museum of Art; and the Leventritt Shrub and Vine Garden at the Arnold Arboretum in Boston, Massachusetts. Notable works in progress include commissions for Dumbarton Oaks Research Library and Collection, Storm King Art Center, Tanglewood Music Center, and the American Museum of Natural History, which will open its Richard Gilder Center for Science, Education, and Innovation later this spring.  The Architectural League of New York named Reed Hilderbrand one of North America's "Emerging Voices" in 2005. Douglas Reed is recipient of the 2019 ASLA Design Medal and was a 2011 Resident at the American Academy of Rome. ASLA named Reed Hilderbrand Firm of the Year in 2013. For more information visit reedhilderbrand.com.
About Bancroft Construction
Bancroft Construction is a Construction Management, General Contracting, Design-Build, Preconstruction, and Virtual Design firm serving the Mid-Atlantic region with offices in Delaware, New Jersey, and Maryland. Centered around bettering communities in which they live and work, Bancroft assists clients with projects from concept to completion while developing long-lasting relationships. Bancroft specializes in construction of facilities in various market sectors, including science + technology, cultural, higher education, k-12, multi-family housing, manufacturing, government, and healthcare. Bancroft have been proud partners in many outstanding projects—including the award-winning Revitalization of Longwood Gardens' Main Fountain Garden Revitalization at Longwood Gardens (2014-2017). For more information visit bancroftconstruction.com.